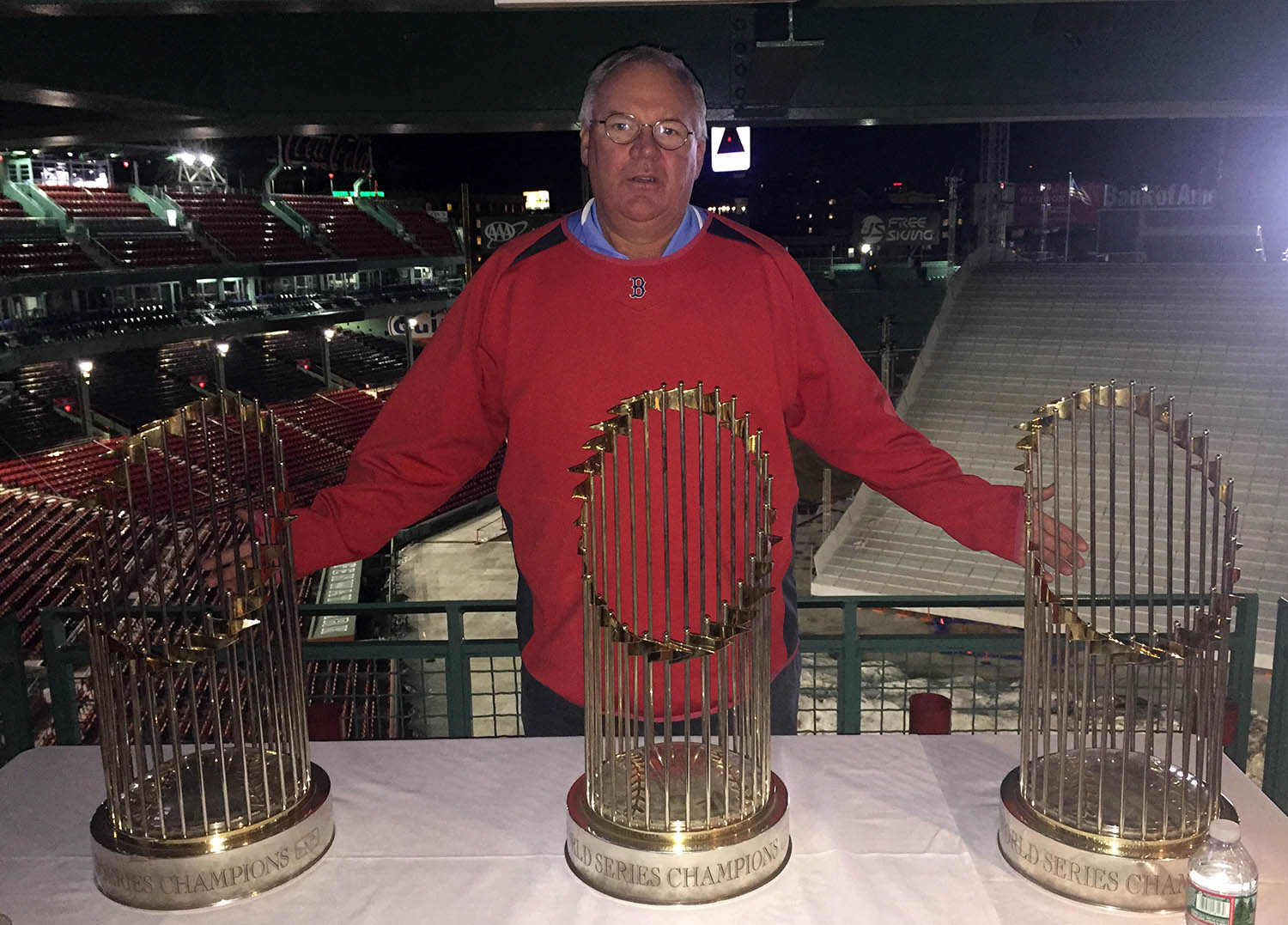 Fred Petersen is a 1978 graduate of Pius X High School and a scout for the Boston Red Sox organization.

What is your current title and workplace? Can you describe how you go about being a scout for the Red Sox (what do you look for, how do you evaluate, what areas/positions do you cover)?
My current title with the Boston Red Sox is National Scouting Coordinator / Crosschecker. I am one of four other Red Sox scouts with the same title and responsibilities. I report to our Scouting Director. The duties that have been assigned to me include seeing high school, junior college, and four year college/university prospects all over the United States as assigned. I supervise six area scouts and two part time scouts. The states that my area scouts are responsible for are; Illinois, Iowa, Indiana, Missouri, Wisconsin, Minnesota in the upper Midwest and Georgia, Florida, and Puerto Rico in the Southeast. I have also spent time in Mexico, the Dominican Republic, and Australia.
My job is to see the baseball prospects that my area scouts identify as potential Major League caliber players. Positional prospects must be athletic and have "tools" (run, throw, field, hit and raw power) and "skills" (the ability, in some combination, to utilize tools and perform at a consistent high level). Pitching prospects must be athletic with an arm action and delivery that is both durable and repeatable. My job is to scout both hitters and pitchers, project upon their future abilities, and then formulate a "Draft List" which is a regional road map to prepare for the June amateur draft. Because there are nine defensive positions on the field, and multiple roles for pitchers, it is a very involved process. We work year round preparing for the ML draft. As scouts, we visually scout the prospects abilities, do physical testing, mental testing, research the prospects mental make-up and medical history, and get to know the prospect and his family. We also generate much Sabermetric information which we use to supplement our discussion of prospects during the draft. I lean on the area scouts that I supervise. I speak them multiple times each week via phone, face to face, email, or text. I have averaged 260 nights a year on the road. Marriott properties all over the US know me well!
A typical scouting year starts in January with our organization meeting held at Fenway Park. Also in January, we also scout junior colleges and high school scrimmages in the warm weather states. Division I baseball starts in mid-February as does HS baseball in Georgia, Florida, and Puerto Rico. Cold weather HS baseball usually starts in late March. From January to mid-May we focus on prospects for that years amateur draft which held in early June. It is rare that a prospect is drafted by another organization that we don't know about.
After the June draft we begin the process of scouting HS players in regional and national showcases for the next year's draft. College players are seen in the college summer leagues. I spend at least two weeks each summer covering the Cape Cod summer college league. I also see a few of the Boston minor league affiliates during the summer as well. The fall is used to see colleges as well as to attend multiple national HS showcases held in Florida on the weekends. We hold workouts in Florida and Puerto Rico during November and early December. The process starts over in January. I get back to Fenway Park at least four times a year. I don't do much Major League work for the Red Sox (we have a big professional scouting staff that covers the Major and minor leagues). Fenway is a very special place and I am blessed to work for this organization and I respect the people who own and run our organization.
How did you get involved in professional baseball, and did you see this as a pathway when you were in high school?
Background……I played both baseball and football at Pius and knew that I wanted to play one or the other sport in college. Coach Aldrich encouraged me to walk on as a kicker and he made a few college inquires for me, but baseball was the sport that I loved the most and went in that direction. I went to UNL and attempted to walk-on there but was cut after fall workouts. I focused only on school for two years at UNL but played on a few local semi-pro baseball teams in the summer. A couple of my summer teammates encouraged me to contact UNO and pitch for the Mavericks, which I did. I transferred to Omaha where I pitched for two years. I went undrafted but was signed to minor league contract and pitched one year of minor league baseball in the Northwest League where one of my teammates was Pat Murphy. When he took a head coaching job at Claremont College he offered me the pitching coach job and I grabbed it. A year later I was hired as the Head Baseball and Assistant Football Coach at Pomona-Pitzer College. I left Pomona-Pitzer to again join up with Coach Murphy where he was the Head Baseball coach at the University of Notre Dame. I spent nearly two years at ND. Then went into scouting in 1991 when I was offered an area scouting position with the Baltimore Orioles. For nine years I scouted Illinois, Indiana, Iowa, Wisconsin, Minnesota, and all of Canada. I left the Orioles and moved back to the west coast and took an area scouting position with the Chicago Cubs. My area was Southern California, Las Vegas, Hawaii, and Australia. I was offered a Regional Crosscheck promotion by the Boston Red Sox and signed on with them in December, 2004. With the Red Sox I have supervised every region and every state and have lived in Long Beach, CA, Austin, TX, and now back home in Lincoln.
How does your faith play into your role/life?
Faith is very important to me. I seem to focus on it more as I get older. Faith offers stability and hope. I believe that I am happier and more focused when engaged with my Catholic faith. I do enjoy mass and need to improve my attendance but my travel schedule makes it extremely difficult (not a good excuse). I saw the power of faith in both of my parents who leaned heavily on the church throughout their lives. When home on a Sunday, I have slipped in and seen masses at St Teresa's, St Mary's, and the new Newman Center-St Thomas Aquinas church on UNL's campus. I seem to enjoy mass more now than when I was younger (those 20 minute masses at the VA Hospital were epic when in HS!).
When not working, what hobbies or activities do you enjoy doing?
As far as outside interests go, I like to travel and spend time with my brother and two sisters. I have a home on the water at Lake McConaughy in western Nebraska. I am a Cornhusker football and basketball season ticket holder. I like to hunt waterfowl in the fall and I need to get back into fishing for walleyes and Northern Pike when time allows in the summer. My golf game stinks but not through a lack of trying!
What memories do you have of Pius X High School?
I take a lot of pride in telling people that I am a Pius X Thunderbolt alum. I went to the Class of 1978 reunion this past August and I had a flood of memories. The school was so much smaller when I went there but the essence was very much the same. I didn't realize it forty years ago, but Pius was very good for me. I had a great home life foundation but my Pius experience reinforced it; be goal oriented, treat others with respect, be a great teammate, and be true to your faith. Coach Aldrich and Coach Culhane influenced me greatly. I think back at some of my interactions with them when they coached me (some good, some not so good!) and have come to realize that coaches are just teachers with a whistle. They presented me with some great life lessons that I have not forgotten.