Friends of Pius X Weekend
2019 Distinguished Stewardship Award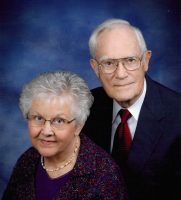 Paul and Rosemary Reinsch have been selected as the Distinguished Steward Honorees of 2019.
2019 Oustanding Alumni Award
2019 Volunteer of the Year Award
2019 Hall of Fame Inductees
Friday – August 2, 2019
4-7 P.M. ThunderBOLT Fun Run Packet pick up in the Pius X Commons
Saturday – August 3, 2019
7:45 A.M. – 9th Annual ThunderBOLT Family Fun Run at Holmes Lake Park to include a 1 mile Fun Run/Walk or a 5K Run. We encourage all ages and no running experience required.
Prizes will be awarded for top 3 male and female 5K winners, age divisions, the class with the most participants, and to the most outrageously dressed runner showing their green and gold Thunderbolt spirit.
4 P.M. – Reunion Mass

5 –  7 P.M. – All Honor Year Reunion
"Party in the Hallways!" – Hosted by Pius X High School/Alumni Department. Join us for drinks, food, fun photos, music, tours of the new addition, and a stroll down memory lane!
Sunday afternoon/evening – August 4, 2019
2-4 P.M. Friends of Pius X Appreciation Reception to honor our 2019 Outstanding Alumni honoree Stanley Garbacz '71, Distinguished Stewardship honorees Paul and Rosemary Reinsch, and Volunteer of the Year honoree Jenny Reif
Reception 4:30 p.m. / Ceremony 5:00 to 7 P.M. Athletic Hall of Fame Ceremony to induct our 2019 class to include four individuals: Gary Walker '69, Carmen (Easley) Sanchez '92, P.J. Grosserode '98, Nick Heiser '00, and two championship teams: 1978 Boys Cross Country and 1973-74 Boys Basketball
For more details and information, please e-mail Kathryn Bergen or call 402-488-1046.