'Awareness Night' at softball game promotes health
Pius X Softball held an 'Awareness Game' on September 20, 2018 vs. Lincoln East, to remind people about the importance of the importance of regular health checkups. This is the story read at the game.
Rick and Janet Schwartz are both breast cancer survivors. Janet and Rick's story started in July of 2015 after both were diagnosed with breast cancer about a week apart. Rick's journey started after having a spot that itched and shortly after it went away, finding a bump. Janet's started with a red sore spot. After a mammogram and biopsy were done, Rick was told he had male breast cancer. It was then determined that he had an aggressive form of cancer and was scheduled for a mastectomy and the removal of some lymph nodes on August 12, 2015. He ended up having one more surgery to remove additional lymph nodes.
Janet had a mammogram and was told the lump looked suspicious so surgery was recommended. There was a lump also detected on the other breast, but seemed of no concern. She decided as long as she was going in for surgery, she asked to have that lump removed as well. As it turned out, the second lump was cancerous, while the original lump was fine.
Janet only needed to have radiation done, which was five days a week for six weeks. She finished the day before Thanksgiving in 2015. Rick had to have two rounds of chemotherapy, which was once every other week for four months. That was followed up with radiation for five days a week for six weeks. He finished on April 13, 2016. Due to having so many lymph nodes removed, he does run the risk of lymphedema, which is excessive swelling in his arm.
Janet and Rick are both on medication for another couple of years, still have follow up visits, but are happy to say that they are both cancer free! They'd like to leave you with these two thoughts. First, men do get breast cancer. It's about a 1 in 1000 chance and usually in men ages 60-70, so please be aware. Second, be your own advocate for your health. Don't ever be shy, reluctant, intimidated or afraid of telling your doctor your feelings. Had Janet not said anything about removing the other lump, her outcome could have been a lot different.
Janet and Rick are grateful and thankful that they had each other for support and also the support of their family and friends. They are also grateful for Project Pink'd, an organization that helps cancer patients in many different ways, from time of diagnosis for as long as needed. They'd like to thank Pius X High School, Coach Kruger and the softball team, and their great niece Abby for allowing them to tell their story and bring awareness to breast cancer.
Have a great game!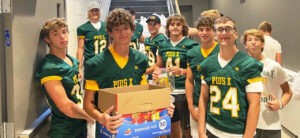 The Pius X football team and football family donated supplies and assembled sack lunches that were delivered to the People's City Mission as part of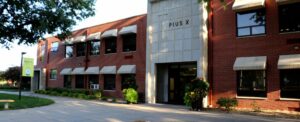 Kelsey Bugarin, Assistant Principal Kelsey Bugarin grew up in Louisville, Colorado and attended the University of Northern Colorado to earn her Bachelor of Science in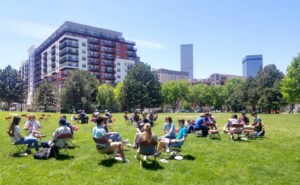 Ten Pius X students (and 4 students from Hastings St. Cecilia) traveled earlier this month to Denver to work with Christ in the City, a