Bolts honored with national 'Safe Sports' award
Pius X High School was recently awarded with the National Athletic Trainers' Association (NATA) Safe Sports School Award. The Safe Sports School Award recognizes secondary schools around the country that take the crucial steps to keep their athletes free from injuries. Drew Erks is the athletic trainer for Pius X.
In order to achieve Safe Sports School status, athletic programs must do the following:
Create a positive athletic health care administrative system
Provide or coordinate pre-participation physical examinations
Promote safe and appropriate practice and competition facilities
Plan for selection, fit function and proper maintenance of athletic equipment
Provide a permanent, appropriately equipped area to evaluate and treat injured athletes
Develop injury and illness prevention strategies, including protocols for environmental conditions
Provide or facilitate injury intervention
Create and rehearse a venue-specific Emergency Action Plan
Provide or facilitate psychosocial consultation and nutritional counseling/education
Be sure athletes and parents are educated about the potential benefits and risks in sports as well as their responsibilities
To apply, schools complete an in-depth questionnaire that assesses adherence to best practice standards and recommendations. For more information about the Safe Sports School Award, please visit www.athletictrainers.org.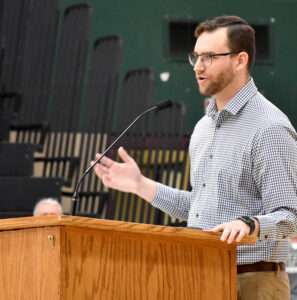 Tanner Lockhorn '12 spoke at our final Lenten prayer service, encouraging students to let go of past wrongs, and know that everyone is redeemable.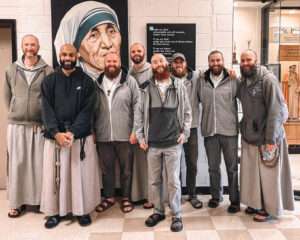 What a blessing to have four friars and four postulates from the Franciscan Friars of the Renewal within our halls! They visited every Freshman Encounter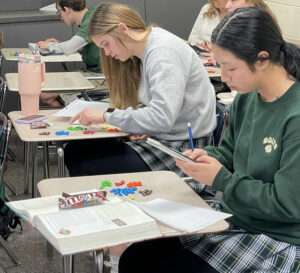 Here's a class assignment where eating the 'homework' is encouraged (just not by your dog)! Students in Brianna Olson's AP Stats class were given a