Pius X names Corey Gray as new head coach of Swimming & Diving
Corey Gray is the new Swimming & Diving Coach at Pius X High School. Tim Aylward, Pius X Athletic Director, announced the hiring after a team meeting on Thursday.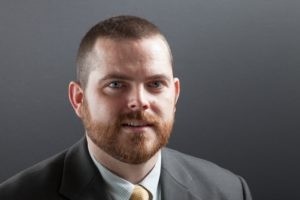 "I'm excited to have Corey take the head swimming coaching position, and he is a good fit to keep the program running at a high level," Aylward said.
Gray now serves as the Director of Career Development and Retention at Concordia University in Seward, Nebraska. He is a co-founder and the Head Coach for the Seward Swim Club. As the programs only head coach, the team has grown to serving more than 90 youth swimmers in the Seward community annually. The team has seen incredible success in the pool. They have captured league championships for five straight seasons.
"I am excited to get started and cannot thank Mr. Aylward enough for this opportunity," Gray said. "This program has already seen incredible successes in the past, and our plan is to continue performing at a very high level. We are looking forward to getting in the pool and getting to work. We are ready to give the Thunderbolt community something to be excited about. It's going to be an amazing ride!"
Gray grew up in Iowa and Nebraska, and upon graduation from high school, joined the US Army. As a Blackhawk helicopter crew chief, he spent five and a half years on active duty, to include a 16 month deployment to Baghdad, Iraq in support of Operation Iraqi Freedom and Operation Iron Sabre. He served as the battalion aquatics instructor for the Special Operations Aviation Battalion in Savannah, Georgia from 2004-2005.
In his free time, Corey announces college football and volleyball at Concordia University, works with his congregation's comfort dog, Nico, and enjoys spending time with his three daughters Ella, Audrey, and Annabelle; and his golden retriever, Grayson.
Campus Minister Claire Maly shares her story about the impact Our Lady of Guadalupe has had on her life, specifically when considering a life-changing decision.
During the language unit in psychology, students take a look at the underlying psychology of language learning by examining history, motivation, memory, and the mind.
Fr. Bedient talks about his own journey and gifts through a life of love and loss and love again thanks to God's vocation for him.