At this bazaar, you'll find deals, excitement and Spanish language
Spanish IV students were in shopping mode at their in-class bazaar. They could only speak Spanish when negotiating a price for various and random items their classmates tried to sell. This bazaar was a high-energy, bustling center for goods where the best deals were in the eye of the beholder.
During the language unit in psychology, students take a look at the underlying psychology of language learning by examining history, motivation, memory, and the mind.
Fr. Bedient talks about his own journey and gifts through a life of love and loss and love again thanks to God's vocation for him.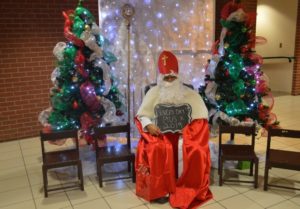 As people started to file into the commons at Pius X, there was one thing everyone had in mind. They were ready to celebrate St.