Launch Leadership event helps develop life skills for Pius X students
Twenty-one Pius X High School students went to the June and July Launch Leadership high school summer workshops held at Wayne State College in Wayne, Neb. It was a week-long workshop featuring featuring highly interactive and hands on activities regarding the practice of communication, leadership skills, time management, values clarification, and other life skills.
The seniors participated in an Activism Awareness Fair with booths designed to educate other students and share their passions, from mental health and social media to pro life.
June Delegates for Leadership Workshop
Eli Gueret, Freshman
Emma Ogea, Junior
Franklin Thomas, Junior
Julia Wordekemper, Junior
Laura Vrbka, Junior
Molly Butler, Junior
July Delegates for Advanced Leadership Workshop
Cameron Jarnagin, Senior
Sam Rice, Senior
Ethan Schepers, Senior
Noah Wilger, Senior
Barret Meeks, Senior
Nathan Snitily, Senior
Braydon Williams, Senior
Kendall Scott, Senior
Maddie Zaborowski, Junior
Ella Hagen, Junior
Maggie Barie, Junior
Clare Plachy, Sophomore
Joseph Plachy, Sophomore
Gracyn Scott, Sophomore
Aly Woita, Freshman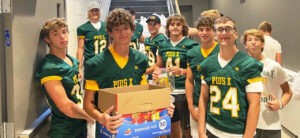 The Pius X football team and football family donated supplies and assembled sack lunches that were delivered to the People's City Mission as part of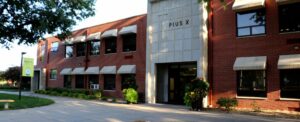 Kelsey Bugarin, Assistant Principal Kelsey Bugarin grew up in Louisville, Colorado and attended the University of Northern Colorado to earn her Bachelor of Science in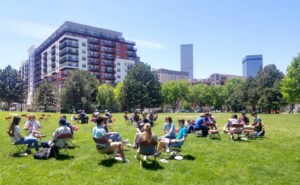 Ten Pius X students (and 4 students from Hastings St. Cecilia) traveled earlier this month to Denver to work with Christ in the City, a