Playing games as a learning exercise in Psychology class
To complete the unit on learning, Psychology students spent half of a class period playing with games and memory toys. 
Play is powerful for children, It's actually the key to learning. Researchers and educators across the world have found that play can help enrich learning and develop key skills such as inquiry, expression, experimentation, and teamwork.  Students experienced playing with the toys and then analyzed the learning style behind the specific task.
During the language unit in psychology, students take a look at the underlying psychology of language learning by examining history, motivation, memory, and the mind.
Fr. Bedient talks about his own journey and gifts through a life of love and loss and love again thanks to God's vocation for him.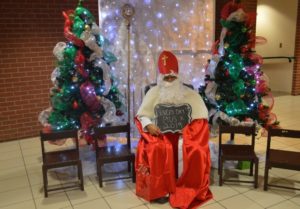 As people started to file into the commons at Pius X, there was one thing everyone had in mind. They were ready to celebrate St.