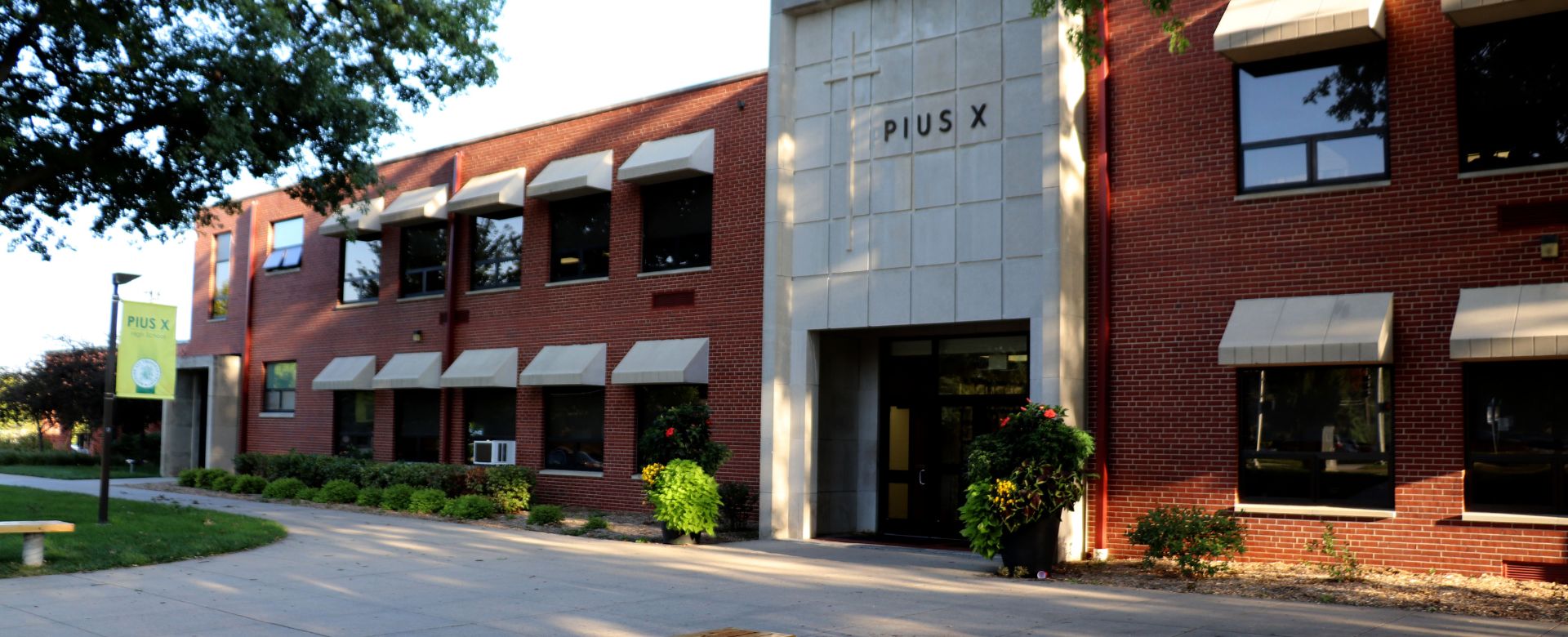 New teachers and staff at Pius X
Kelsey Bugarin, Assistant Principal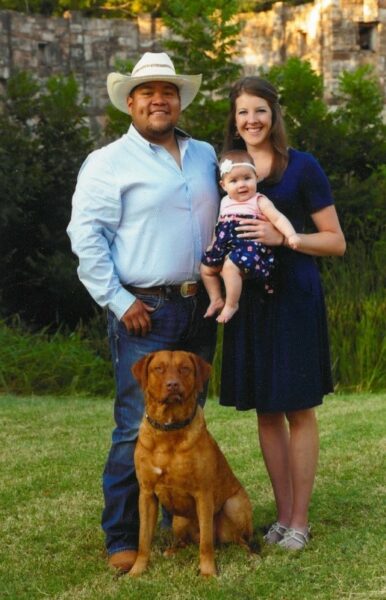 Kelsey Bugarin grew up in Louisville, Colorado and attended the University of Northern Colorado to earn her Bachelor of Science in Mathematics with a minor in sociology and teaching endorsement in 2011, and her Masters in Educational Psychology in 2015. She taught high school math for 6 years in Brighton, Colorado, where she was encouraged to support in administration. In 2017, she pursued an alternative principal license and became the Assistant Principal at Eagle Ridge Academy for 5 years. She is excited to move to Lincoln this summer with her husband, Brandon, one year-old daughter, Braya, and family dog to join the Pius X community as an Assistant Principal. Being able to live out the Catholic faith in an educational environment is a dream for her.
Matthew Sestak, Social Studies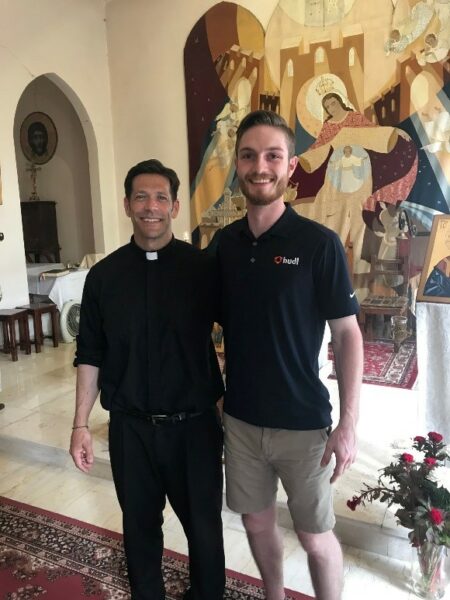 Matthew Sestak has been teaching in Lincoln for about five years. All of those years have been in the Catholic school systems at St. Patrick's and St. Joseph's. He grew up in Madrid, Nebraska, a small town out in western Nebraska. He graduated from the county school called Perkins County Schools in 2014 and attended UNL from 2014-2018 where he earned his Bachelor's degree in Secondary Social Sciences. Matthew has been coaching basketball and football at Pius for about five years as well. He is very passionate about his faith and being able to express that in a friendly environment such as Pius. One of his high school teachers, who happened to be Catholic, inspired him to grow in his faith and he hopes to inspire the same fire in his students no matter where they are in their relationship with Christ!
Brock Nutter, Middle School Band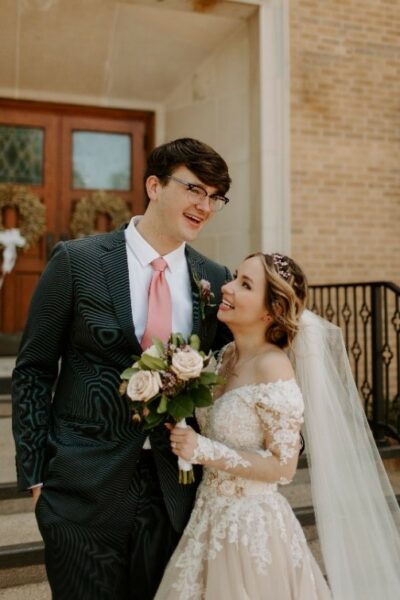 Brock has taught Spanish for the last two years at UNL while working on his Masters of Spanish. Language learning is a passion of Brock's and he's a forever student. Aside from English and Spanish, he's also studied Portuguese, Catalan, and Basque. In addition to his Spanish degrees, Brock also has a degree in music enjoys occasionally freelancing as a bassoonist in the Lincoln area. Brock feels very blessed to have the opportunity to teach both of his passions, Spanish and music, at Pius! Brock also enjoys traveling, cooking, and book collecting. Brock was recently married to Ane.
John Zach, Business & Computer Science
John has been teaching for twelve years, all twelve in the Diocese of Lincoln; the last five at St. Cecilia High School in Hastings. John has coached wrestling for over 15 years, the last four as Head Wrestling Coach at St. Cecilia. John and his wife Katie and have five children: Perpetua 7, Leo 5, Grace 4, Joseph 2, and Ignatius 6 months. John and his wife, Katie (Tasler) are both graduates of Pius ('02 and '08).
Kathryn Price, Mathematics

Kathryn is originally from Alabama.  She has a Bachelor's Degree in Criminology from Auburn University, Master's Degree in Forensic Psychology from Marymount University, and Certification to teach Secondary Mathematics from the University of Nebraska.  Prior to teaching, Kathryn worked for Court Services and Offender Supervision Agency in Washington, DC and for social service agencies in Lincoln.  Kathryn has worked for over ten years at North Star High School, where she taught Algebra, Geometry, and Advanced Algebra.  Kathryn is married to Josh, and has two children, Olivia and Ephraim, who attend St. Patrick's in Lincoln.  Kathryn is excited to join the Thunderbolt family!
Josh Kirkwood, Middle School Band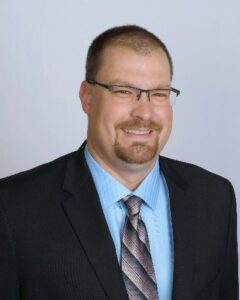 Josh has been teaching for 16 years.  He attended the University of Northern Colorado where he studied K-12 Music Education.  He also earned his master's degree in Educational Leadership from the American College of Education.  Josh has worked in elementary, middle and high schools throughout his career.  Most recently, he was blessed to open Mead High School in 2009 and moved from that school to open Soaring Heights PK-8 where he served as music department chair for both buildings.  Josh has been performing in band since 1993 and plays percussion/drum set.  He has been joyfully married to Sabrina Kirkwood since 2008 and they are blessed with three beautiful children; Madeline (10), Christopher (8) and Juliana (4).  Outside of teaching Josh loves playing cards, hiking, kayaking, enjoying libations with friends, performing music and spending time with my family and puppies.  Josh is a third degree Knight of Columbus and is excited to become a part of that community with St. Michael's. Josh will be serving as the traveling band teacher at St. Michael's, St. Peter's and one other school TBD.  Josh is very much looking forward to learning about the school, serving the staff and kids, and becoming an integral and fun part of the staff.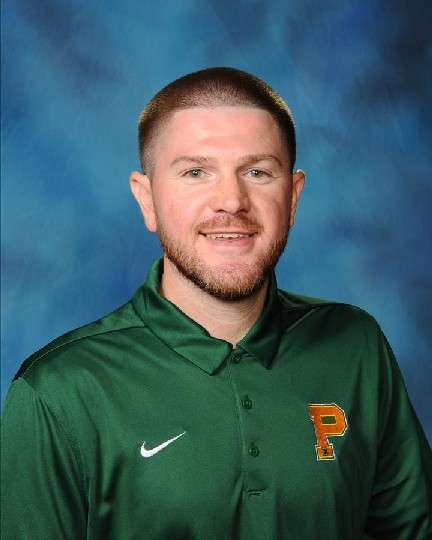 Adam joins the Pius X teaching staff after spending the last four years teaching Physical Education at St. Josephs in Lincoln.  Adam will be teaching Physical Education and Health at Pius X while also serving as the Head Boys Basketball coach. Adam is a 2004 graduate of Pius X. He and his wife Bailey have a three year old daughter, Luka.
Melissa King, Middle School Band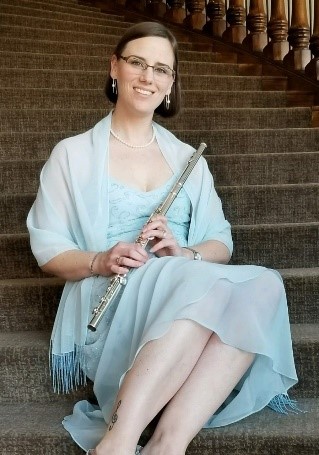 Melissa King was an adjunct professor at Wayne State College for six years before being welcomed to the Pius staff in 2022.  She has Music degrees from UNL and ISU and enjoys inspiring students through music.  She has also served as teacher, conductor, presenter and flutist across the Midwest.  Her greatest joy is her four children—Owen (11); Ethan (9); Alice (6) and Veronica (1).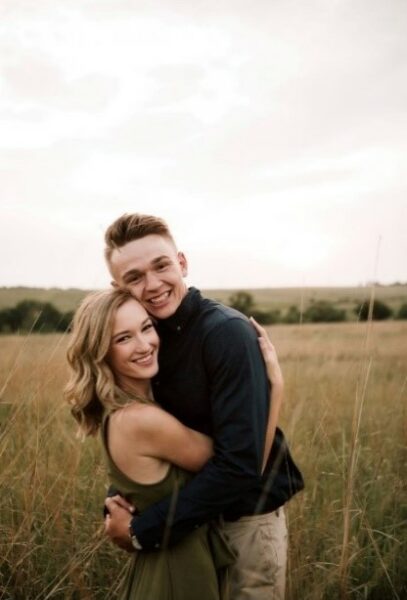 Logan was a student teacher for Pius last school year but 22-23 will be his first year teaching! Along with teaching Sophomore and Junior English, he will also be assisting with cross country this Fall and track and field in the Spring. Some other important things about Logan are that he enjoys the outdoors, especially hunting and fishing; he is a Catholic convert and loves diving deep into Church history and theology, and finally he recently married his wife, Claire, who is in graduate school studying to be a speech and language pathologist. Logan is excited for a great year. Go Bolts!
Fr. Dominic Winter, Theology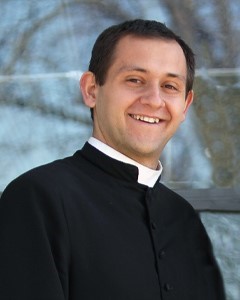 Fr. Dominic Winter, a.k.a. Padre Domingo, is assistant pastor at Cristo Rey parish in Lincoln. Ordained May 28—a "baby priest"—he will be teaching seniors this year. Fr. Winter grew up in St. Joseph's parish and was homeschooled all the way through high school. After a year at Christendom College, Virginia, he went to St. Gregory the Great Seminary for three years and then to St. Charles Borromeo Seminary, Philadelphia, for four. This is Fr. Winter's first year teaching, though he did two summers of Totus Tuus. He'd say it's an odd combo, going to Cristo Rey and teaching seniors his very first year, but he's pretty excited for it all. As one of his parishioners said, "if you can make it here, you can make it anywhere!" Bendiciones, y gracias a Dios!
Omnia ad majorem Dei gloriam per Mariam!
Tori Roberts, Campus Minister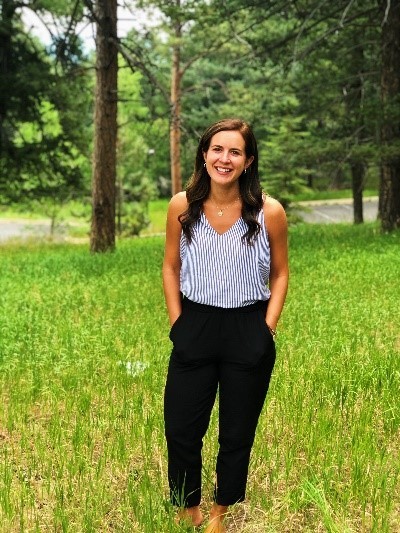 Tori Roberts is originally a Boston native. She graduated from the University of Connecticut in 2012. After working for FOCUS for 9 years both on campus and in the International Missions Department, she transitioned into working with high school students as a campus minister in Iowa this past year. She got married 8 months ago to Jordan and they are expecting their first baby in October. Tori enjoys cooking Italian food, playing the piano, reading and going for long walks. She is excited to join the Pius community!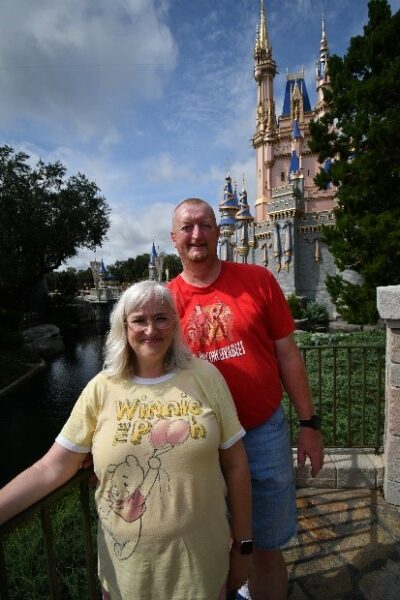 Joanna taught chemistry at Southeast High School from 1993- 2000.  She was able to spend the next 18 years at home raising her son.  In 2018, Joanna became a substitute teacher.  Joanna has been a long term sub for Pius X mostly in the science department.  She is now excited to be able to join Pius X as a full-time staff member teaching chemistry—a subject she loves to teach.  Her hobbies are reading, sewing and anything Disney.  Joanna is married to Doug.  She looks forward to getting to know the Pius X students and faculty even better.
Fr. Christian Schewnka, Theology
Fr. Christian Schwenka is from small town Minden Nebraska. He grew up on a farm and is the younger brother of Fr. Andrew Schwenka. He enjoys sports, reading and music in his free time. Fr. Schwenka studied at the University of Nebraska Lincoln, St. Gregory the Great Seminary, and Mount St. Mary's Seminary.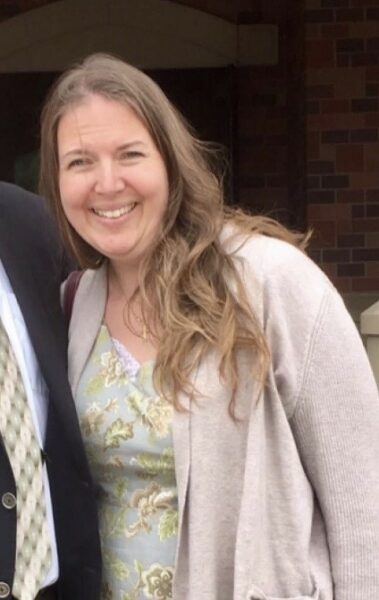 Stephanie Werner is returning to Pius as our French 1 and 2 teacher.  She earned her undergraduate degrees in French and Secondary Education from the University of Nebraska-Lincoln.  She studied in Besançon, France and worked in Lisieux, France at the Visitor Center of St. Thérèse's Basilica.   She holds a Master of Theology from Madonna University.  Stephanie and her husband Jude have 5 children: Joseph, Leo, Gus, Henry, and Grace.  She is looking forward to being back in the classroom!  
Jesse was raised in a large catholic family of twelve in Missoula, Montana.  He earned B.S. in Biology and Broadfield science education from the University of Montana and a M.Ed. in curriculum from the University of Nebraska.  Jesse and his wife moved to Lincoln in 2008, so that their six children could receive a Catholic Education, rich in faith and tradition.  Before transferring to Pius, Jesse taught biology, chemistry, physics, horticulture, paleontology, and robotics at St. Labre Catholic Indian School, UNL and LPS.  Jesse believes teaching at Pius will help him convert his teaching passion into a teaching vocation by growing his own faith as well as spreading the good news.  His goal is to teach essential skills and concepts in chemistry and biology as well as nurture the curiosity and a sense of wonder of the students at Pius.  Further, Jesse plans to cultivate his student's sense of belonging and purpose within the world of a loving God and the fabric of the Catholic family.  Jesse feels that this is best accomplished by prayer and by knowing that his role within the Pius community is to support the established culture that parents are the primary educators.  Jesse is familiar with Pius as a coach and parent.  Jesse has been an assistant coach for the Pius X Wrestling Team since 2016 and has helped coach the Thunderbolt youth wrestling club since 2009.
Fr. Chris Miller, Theology
Fr. Miller was raised on a farm near Iowa City and graduated from St. Ambrose University with a degree in Business Admin.  He spent the next six years working as a web designer in New Jersey, Ohio and Pennsylvania before returning to work in Iowa.  During that time, he had thoughts of becoming a priest and reached a point where he needed to find that answer once and for all.  Fr. Miller entered St. Gregory the Great Seminary in 2002 and was ordained a priest in 2008.  He taught at Pius from 2008-2012 while stationed at St. Josephs & St Peters.  He was the pastor at St Joseph's – Paul and St. Bernard's – Julian from 2013-2017 teaching at Lourdes Catholic High School before becoming the Pastor of St James – Trenton, Holy Family – Palisade, and St John's – Wauneta.  Fr. Miller is now the assistant at St. Patrick's and excited to be focusing on teaching and Sacraments!  Fr. Miller is happy to be back at Pius!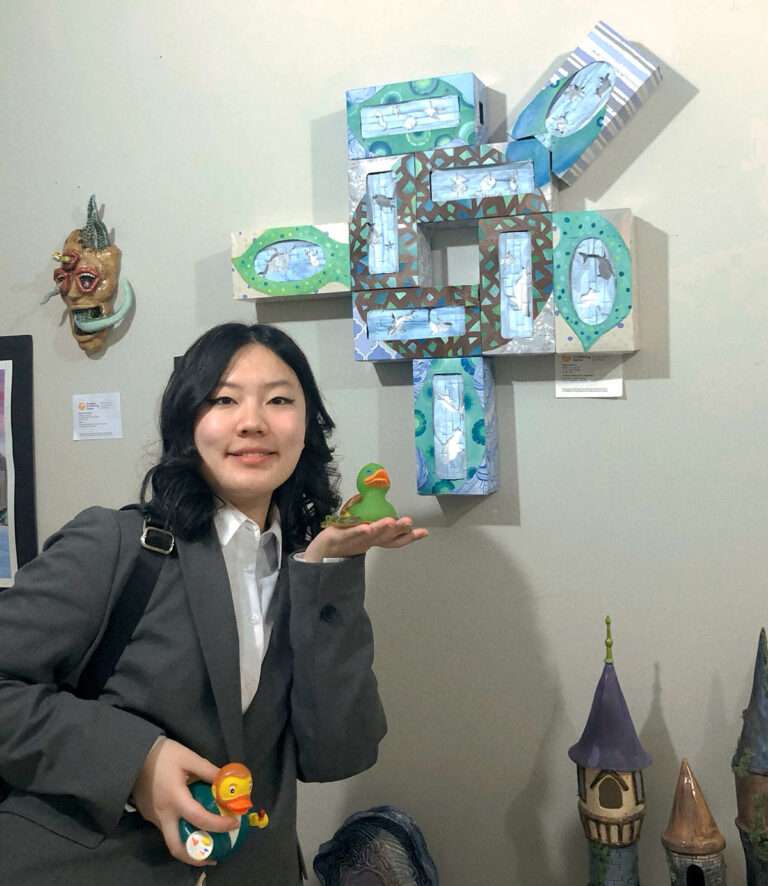 Youyang Li, a recently graduated senior at Pius X, has been awarded a silver medal by the nonprofit Alliance for Young Artists & Writers. She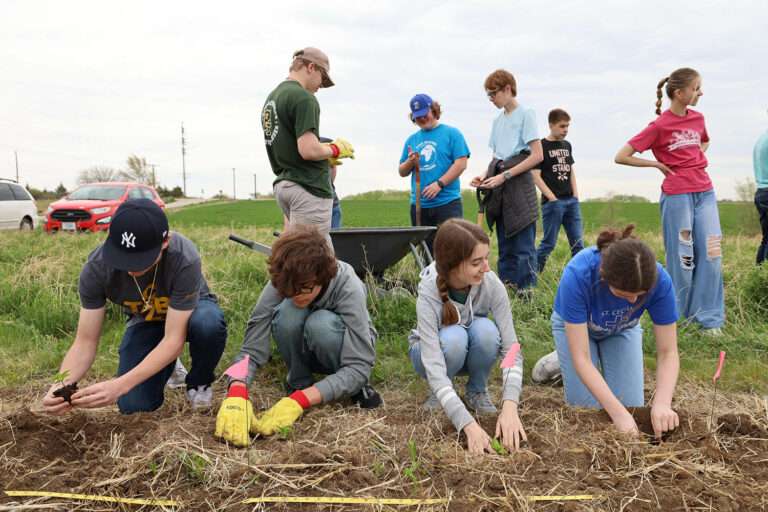 Students in AP Human Geography (taught by Shiela Sievert) and AP Environmental Science (taught by Lori Watson) visited Green School Farms and Kawasaki earlier this
Reed steps down as softball head coach Jamie Reed '09 announced she is stepping down as head softball coach at Pius X. Reed has accepted