Tvrdy earns Merit Scholarship finalist honor

Senior Kat Tvrdy has been named a a National Merit Scholarship Finalist.
Describe the process of applying for this honor? I believe it involved essay writing, and if so, what did you choose to write about?
It's fairly easy to apply for- there's just one essay, about 500 words. I chose to write mine about my transition from softball to cross country.
I played softball competitively for years. It was my entire life throughout junior high, and I had huge dreams that I would make it onto the Pius softball team and probably play in college. But I didn't make the team. So I did cross country as a way to keep in shape for a season and ended up falling in love with it. And see where that came out! Honestly, I've done better in cross country than I ever did in softball. 
What college are you planning to attend, what do you plan to study, and what is about this school and academic area that is interesting to you?
I will attend South Dakota School of Mines and study biomedical engineering. The school feels like home, and biomedical engineering allows me to combine my love for engineering with my interest in human anatomy.
What classes and/or teachers at Pius X have you found most interesting, and why?
My most interesting classes have probably been AP Biology and Anatomy and Physiology, because they're very hands on and involved.
You are involved in other activities at Pius X, and yet you continue to excel academically. How do those other activities help you become a better person and perhaps a more well-rounded person with your faith, in life and in school?
Doing as many activities as I do allows me to interact with people with many different perspectives and learn from all of them. This gives me opportunities to see God in many people that I might not get a chance to interact with otherwise.
Kat also answered questions in the fall when it was announced she was a semifinalist for this award.
Where did you go to K-8 school?
I went to Blessed Sacrament for K-4, and St. John's for 5-8.
What are your two favorite classes (1 from senior year and one from 9-11 grade) and why?
My favorite senior class is AP Biology because it's a lot of hands on and lab learning. My favorite past class was Anatomy and Physiology, because it relates well to my intended major, biomedical engineering and because it was a very interactive, fun class. Both are very challenging, which is something I enjoy in class.
What is your most favorite 'place' in school and why?
My favorite place in the school is the band room. I've made so many friends and memories there over my four years, and you can always find someone practicing for something, whether it be choir, band or something completely different, like the play or Pius' Got Talent.
What is the best part about Pius X?
The best part about Pius is how close the student body is. There's always a huge crowd at football games, and even at less "watched" sports, like cross country or show choir, there are still people who come to watch and cheer their friends and school on.
What is the best study tip or habit you use?
My best study tip is to set your own deadlines. There are always going to be big projects and papers, and the best way to keep deadlines from sneaking up is to say "I will have this much done by this day," and then sticking to it. That way, you'll get it done in sections and have plenty of time, without rushing to do it the night before.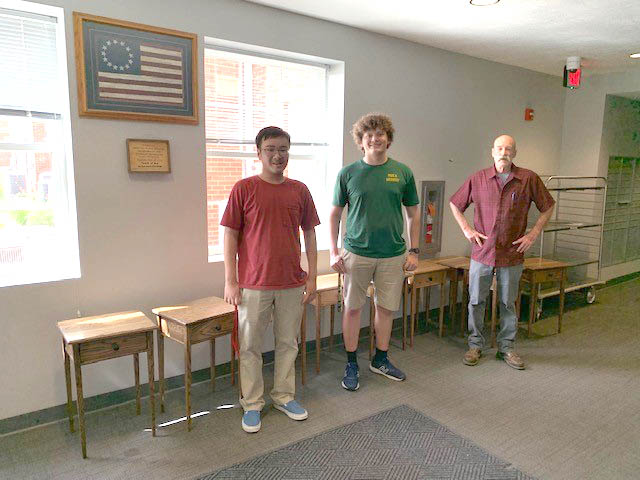 These are student-built nightstands with a long-lasting impact, thanks to the work of Machine Woodwork teacher Don McKee, who is pictured with students Dominic Nguyen
Senior Kat Tvrdy has been named a a National Merit Scholarship Finalist. Describe the process of applying for this honor? I believe it involved essay
Six Pius X journalists competed in the NSAA State Journalism contest in Norfolk. They finished in 8th place overall as a group and Pius X