Two new administrators announced for Pius X High School
Pius X High School has announced two new hires to its administrative team for the 2020-21 school year.
Greg Lesiak has been named the new Athletics / Activities Director, replacing the retiring Tim Aylward. Shelly Pick has been named the Director of Guidance, replacing the retiring Jan Frayser.
Lesiak came to Pius in fall of 1994. He served as a math teacher until 2009, when he was hired as an assistant principal. He has served the school in a variety of other capacities, including assistant volleyball and basketball coach, math/business department chair, technology coordinator, and student council sponsor. Lesiak initiated the annual alumni basketball tournament, which has become a regular tradition each March.
Pick began her work at Pius X High School in fall of 2014 as a guidance counselor. She has been in education for 25 years, including roles as a guidance counselor, dean of students, behavior interventionist, language arts teacher, and Ozanam BIST consultant. Pick holds degrees in Education Administration and Counseling. She will head the counseling department at Pius X High School and will be a member of the administrative team.
Pius X is a co-ed Catholic high school in Lincoln, Neb. The school is parochial in nature as it serves 19 parishes in and near Lincoln, providing a Catholic-based, rigorous education enriched with numerous opportunities for students to grow their faith, explore the arts, and participate in athletics and other activities. Pius X has approximately 1,200 students in grades 9-12, with more than 130 administrators, instructors, coaches and support staff employed at the school, including 15 priests and 4 religious sisters.
Anthony Nguyen won a state-wide competition for a GIS map he created about heart disease in Nebraska, a disease that has impacted his family.
It's relay day in Leah Zohner's Chemistry classes, where students are given a question to answer on a laminated note card. When they are correct,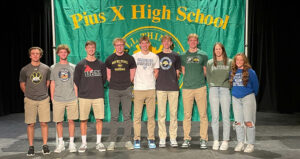 Thunderbolt student-athletes from were honored this year for having committed and signed to play a sport in college. More student-athletes in the Class of 2022