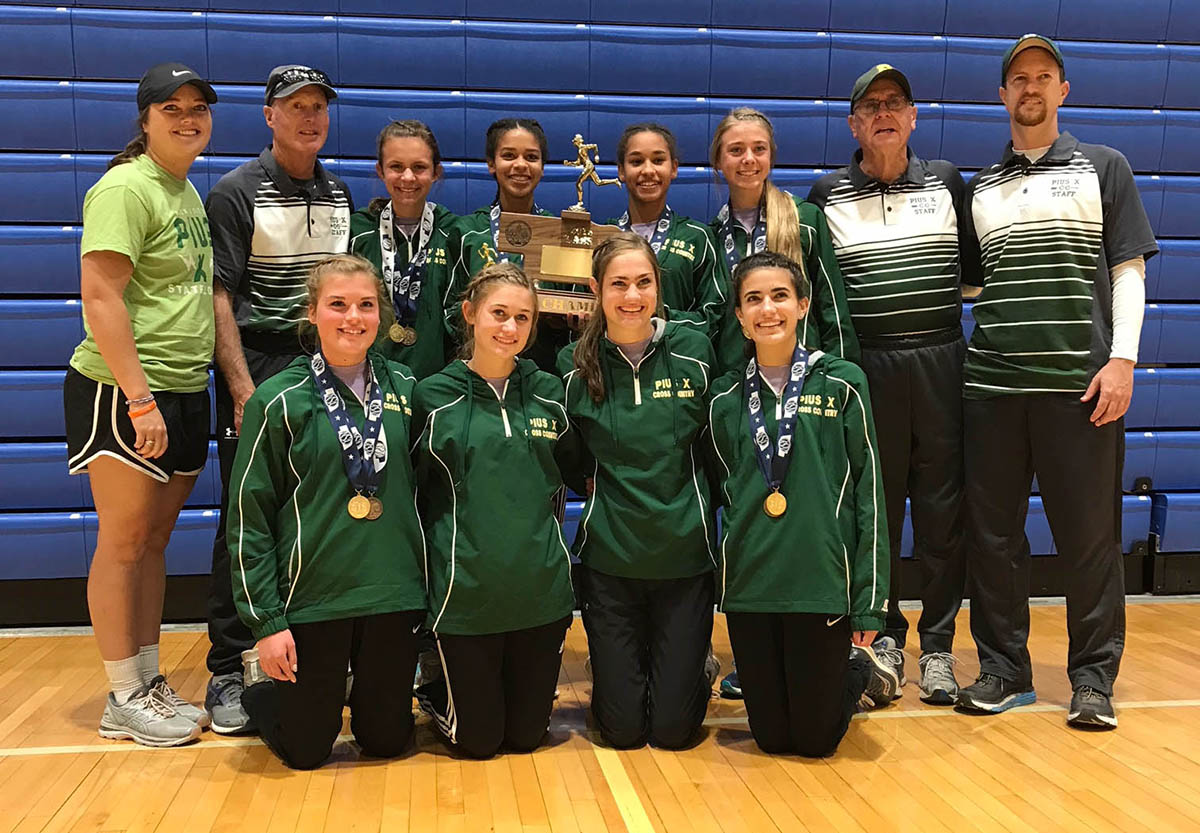 Girls cross country runs to Class B state title
The Pius X girls cross country team won State for Class B. The top finisher for Pius X was junior Laura Martin, who finished 6th with a time of 20:34.
Next was junior Adelina Herrera, who placed 12th. Sophomores Allyson Korus and Monica Hanus followed, earning 14th and 15th place, respectively. Close behind was Helena Occansey in 20th place.
For a team to win state cross country, they have to work together to get the least number of points. This was the first state win for the Pius X girls team since 2014.
"Once we found out we were Class B we knew we had a chance at winning State, so I think we all just put in the extra work this season and decided to really go for it," Martin said.
These fast times would not be possible without countless hours of hard work and motivation.
"The hardest part was to keep going and mentally prepare yourself that times are going to be hard and that you just have to push through it," Occansey said.
Hard times indeed struck the Bolts when junior Lizzy Kramer dropped out of the race. Kramer had led the team throughout the season.
"I woke up that morning not feeling very good. I actually got a fever a little bit before I had to run and I think with the warm weather and being sick, it just didn't work. My asthma was really bad so I had to stop, I couldn't breathe," Kramer said. "I had gotten far enough in the race that it helped get us the points we needed and it helped push my teammates. They saw me go down, and they just picked it up and they carried the team."
Many think running is a solo sport, but in reality it takes immense amounts of teamwork.
"I think when that happened we all realized we had to push it harder and give it our all if we still wanted to win," Korus said. "We all knew she is such a key component of our team. When we saw her drop out, it was so devastating but we knew we couldn't lose hope. We just had to try our best, and that is what we did."
Not many people can claim to run 3.1 miles in under 22 minutes, but the Pius X girls cross country team did just that.
The Pius X boys team scored 7th place in Class B. Junior Gavin Skorupa placed 3rd in the race with a time of 16:39.