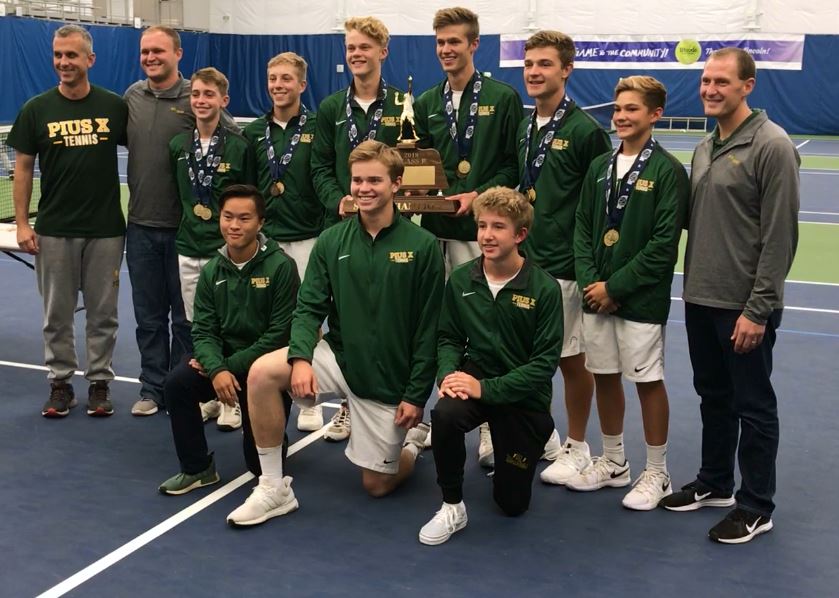 Boys tennis team nets 13th state tennis title
The boys varsity picked up their 13th win in Pius X history with the victory at the Class B state tennis tournament Oct. 12-13.
Sophomores Mason Warner and Will Ulrich won championships at No. 1 singles and No. 2 singles, respectively. Sophomore Joe Plachy and junior Will Olson finished 3rd at No. 1 doubles and senior Sam Rice and junior Thomas O'Donnell were 4th at No. 2 doubles.
Head coach Nolan DeWispelare said that when the time comes for the boys to play at State, they need to remember they are simply playing tennis. He said they need to trust their training and be mentally ready to play the best tennis of the year.
"When time comes for us to go into State, I just try to do the best I can, and that's really all I can do," Plachy said.
Plachy and Ulrich won the No. 2 doubles championship last year, but had different roles this season. That meant a new partner for Plachy, who teamed up with Olson.
"Having a new partner means having to create a new relationship on the court, but he and I work really good together," Plachy said.
DeWispelare said that they needed to put Plachy and Ulrich in separate positions to maximize their strengths and team points.
Plachy wasn't the only one who had a change of partners. Rice started the season with his partner being Olson and then finished the season off with O'Donnell.
This was Rice's first trip to State in his last season playing tennis for Pius X, and leaving this season with a win was a good feeling for him.
"I was really happy to end my last sports event with a win," Rice said.
The team knew coming in that they would be one of the favorites in Class B, but it would be a close race between them and Elkhorn South for the title.
DeWispelare said, "I knew we would have the ability to win State but I knew that it would come down to a couple matches. However, we took care of business on our end and that was enough to win."