5:30pm - 7pm
Homecoming Tailgate
Join us for food (free-will offering), fun and fellowship at our Homecoming Tailgate. Details will be announced soon.
Halftime
Festivities and Crowning
Stay for halftime band and dance team performances and the crowning of Homecoming Royalty.
Dance Team and Marching Band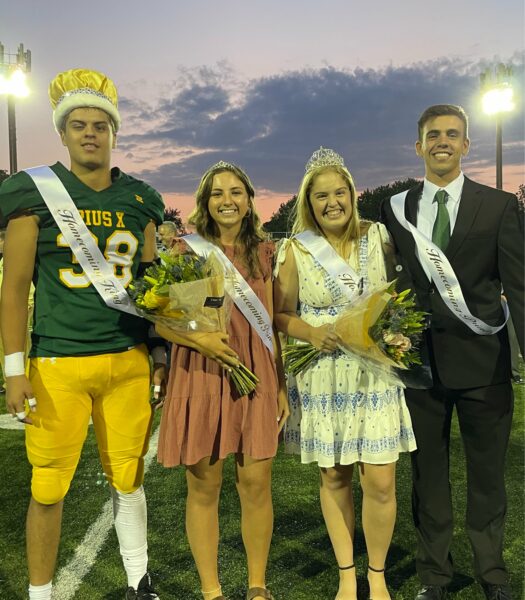 Queen Candidates
Ava Hoffschneider
Daughter of Paul and Audra Hoffschneider
Involved in: NHS, Pius Players, Speech Team, SOADA Club, Ambassadors and WRC.
Audrey Larsen
Daughter of Jim and Anne Larsen
Involved in: Golf, Student Council and SOADA Club.
Larissa Rockenbach
Daughter of John and Anita Rockenbach
Involved in: Band, Mock Trial and National Honor Society
Claire Gokie
Daughter of Terry and Jane Gokie
Involved in: Volleyball and Track
Brooklyn Shotkoski
Daughter of Damian and Elizabeth Shotkoski
Involved in: Ambassadors, Student Council, SOADA Club, National Honor Society, Soccer and Campus Ministry.
Molly Chapman
Daughter of Bill and Kelly Chapman
Involved in: Softball, Track and National Honor Society.
King Candidates
Adrian Mendez
Son of Mario and Ann Mendez
Involved in: Football and Bowling
Scotty Scow
Son of JD and Christina Harlow
Involved in: Spectrum Show Choir
Morgan Armagost
Son of Nathan and ReeAnna Armagost
Involved in: Student Council, Campus Ministry and Soccer.
Ryan Hoffschneider
Son of Paul and Audra Hoffschneider
Involved in: SOADA Club, Ambassadors, Tennis, WRC and National Honor Society.
Dominic Koperski
Son of David and Lisa Koperski
Involved in: Cross Country, Soccer, Choir and Pius Players.
Thaddeus Kucera
Son of James and Rita Kucera
Involved in: Band and Show Band