Thanks to the generosity of donors, Pius X currently has 14 endowed funds. While scholarships assist individual students with tuition, an endowed fund is established to assist a department, group of departments, or a particular activity of the school, assisting large groups of students each year. Endowed funds last forever and serve as a permanent memorial that assists current and future students. As the endowed fund balance increases, so does the amount of support distributed each year.
The following endowed funds have been established with the Pius X Foundation. Click on the name of the fund below for information about each of the endowments. You can contribute to an endowed fund by clicking the Donate Now button or by mailing a gift to Pius X. If you are interested in establishing an endowed fund, please contact Courtney Johnson or call 402-488-1046.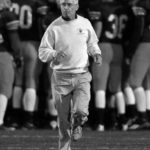 An endowed fund honoring Tim Aylward has been established by an anonymous donor to honor his commitment to Catholic education and his impact on many student-athletes at Pius X High School. Examples of what the funds for the Athletic Department may be used for include weight room equipment, hurdles, practice equipment, supplies for the athletic trainer, etc.