Strategic and Master Plans
This strategic plan was approved in 2023 under the leadership of Pius X parent Jennifer Gutierrez of JAG Consulting, Inc. Based on survey responses from Pius X stakeholders (students, parents, faculty/staff, pastors, board members and alumni), a strategic planning team noted several emergent themes from which to construct the strategic plan. 
1 - Faith Formation
2 - Academic Achievement
3 - Community Impact
4 - Fiscal Sustainability
1 - Faith Formation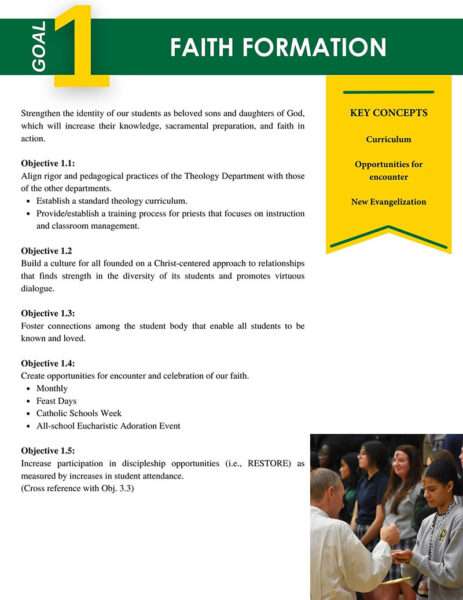 Strengthen the identity of our students as beloved sons and daughters of God, which will increase their knowledge, sacramental preparation, and faith in action.
       Objective 1.1
Align rigor and pedagogical practices of the Theology Department with those of the other departments.
Establish a standard theology curriculum.

Provide/establish a training process for priests that focuses on instruction and classroom management.
Objective 1.2
Build a culture for all founded on a Christ-centered approach to relationships that finds strength in the diversity of its students and promotes virtuous dialogue.
Objective 1.3
Foster connections among the student body that enable all students to be known and loved.
Objective 1.4
Create opportunities for encounter and celebration of our faith.
Monthly

Feast Days

Catholic Schools Week

All-school Eucharistic Adoration Event
Objective 1.5
Increase participation in discipleship opportunities (i.e., RESTORE) as measured by increases in student attendance.
(Cross reference with Obj. 3.3)
2 - Academic Achievement
3 - Community Impact
4 - Fiscal Sustainability
In 2010, the administration of Pius X High School, along with the strategic planning committee of the Board of Advisors, began working on a Strategic Plan to help chart the future course for the school during the next decade and beyond. In conjunction with the Strategic Plan, the administration also initiated an update of the school's Master Plan to ensure that adequate facilities are in place to meet the school's strategic goals.
The Master Plan recommends a 10-phase approach to meeting Pius' facilities needs now and well into the future. Immediate needs addressed in the first five phases included:
Development of new, permanent parking,
Expansion for Fine & Performing Arts,
Renovation of existing Locker Rooms and addition of new Stadium Locker Rooms,
Addition and remodel of existing Administrative Offices and addition of secure school entry,
Expansion of the existing Chapel, and
Addition of classroom spaces.
Below is an updated version of the master plan. If you have any questions, would like a copy of our master plan, or would like to discuss our master plan with us, please contact Courtney Johnson at 402-488-1046.