About Pius X Catholic High School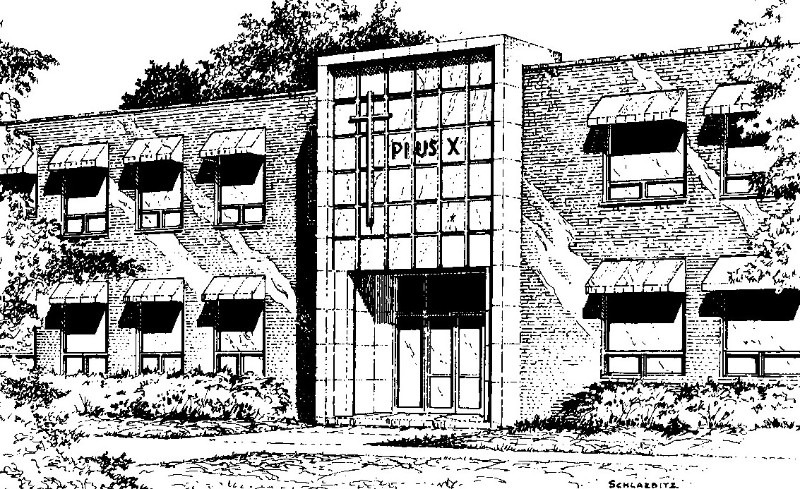 6000 A Street
Lincoln, NE 68521
Phone: (402) 488-0931
Fax (402) 488-1061
www.piusx.net
State: Nebraska
County: Lancaster
School Type: Private, Roman Catholic
Student Body Type: Co-ed
Grades Offered: 9-12
CEEB School Code 281-315
Accreditation: North Central Association, Nebraska State Board of Education
Board of Advisors
Catholic Diocese of Lincoln
Pius X Catholic High School provides an affordable, Catholic education in a positive environment. As part of the Pius X family, students deepen their faith and knowledge and have opportunities to pursue their talents and passions. Nebraska's largest Catholic high school, Pius X has served the Lincoln community for more than 60 years and works to instill six core values – excellence, service, purpose, faith, integrity and charity – into the next generation of leaders.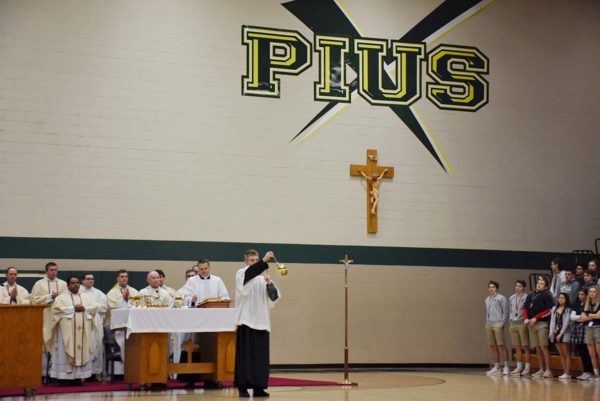 Pius X High School exists to develop the mind, heart, body, and soul of each student in partnership with parents, parishes, and the community. We do that by providing the best possible education in an authentic Catholic environment, preparing our students to transform the world for Christ.
Restore all things in Christ.
FAITH – Believing and trusting in Jesus and his Church
SERVICE – Desiring to humbly help others
PURPOSE – Using our God-given talents well
INTEGRITY – Doing what is right
CHARITY – Loving God above all things
EXCELLENCE – Fulfilling our greatest potential
About Lincoln, Nebraska
Lincoln, the state capital of Nebraska, has an approximate population of 300,000. It is the home of the University of Nebraska-Lincoln, Nebraska Wesleyan University, Union College, Southeast Community College, and several private, vocational-technical schools. The business of the city centers around government, education, insurance, banking, technology and light industry.
History of Pius X
Groundbreaking ceremonies were held on a 21.7 acre plot on October 23, 1955, for Pius X High School, a private, Catholic high school, to be owned and operated by the Lincoln Diocese. The school, originally built for 300 students, opened October 1, 1956, with 168 students in grades 10-12. Ninth grade students were not added until September of 1967. Read more about the history of Pius X Catholic High School.
Size
Pius X School traditionally serves approximately 1,200 students in grades 9-12. There are 130+ administrators, instructors, coaches and support staff employed at the school.
"Since I am the sole survivor of the foursome that was responsible for the naming of the Pius X identifying mascot, The Thunderbolts, I feel it necessary to put into writing that which I have shared over the years, but only verbally."
Read the story
Giuseppe Melchiorre Sarto was born on June 2, 1835 in Riese, Italy, to Giovanni and Margherita Sarto. He was the oldest of the eight children in the Sarto family, a family of faith that had little worldly wealth. He studied at the parish school in Riese. The pastor there noticed his gifted intellect and arranged for him to receive a scholarship to attend a secondary school not far from Riese. When Giuseppe expressed his desire to study for the priesthood, his pastor and parents encouraged him and another scholarship was arranged for his seminary studies in Padua.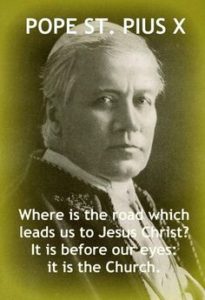 Father Sarto was ordained a priest in 1858, and later became the Bishop of Mantua (1884). Pope Leo XIII recognized the fruits of Bishop Sarto's apostolic zeal, elevated him to Cardinal and appointed him Patriarch of Venice in 1893. Cardinal Sarto was elected to be the Pope in 1903, and chose the name Pius X. His Holiness took seriously his motto: "to restore all things in Christ" (Eph. 1:10). Pope Pius X battled the errors of modernism, reformed Church music, and started the codification of Canon Law. His ardent love for the Blessed Sacrament was manifested in his encouragement of the frequent reception of Holy Communion and his decree allowing children to receive their first Communion at the age of reason. Saint Pius X is frequently called the "Pope of the Eucharist."
On August 20, 1914, Pope Pius X passed into eternal life. His tomb soon became a place of pilgrimage. Pius X was beatified on Jun 3, 1951 and canonized a Saint on May 29, 1954. His feast day is celebrated on August 21.
The inscription on his tomb in the crypt of the basilica of St. Peter's gives the most eloquent testimony to a life spent in the service of God. It reads:
Born poor and humble of heart,
Undaunted champion of the Catholic faith,
Zealous to restore all things in Christ,
Crowned a holy life with a holy death.
Verse 1 
Fight, Fight you mighty Pius Team
Fight for Pius High           
Thunderbolts crash through to win
like lightning from the sky
Verse 2
Green and Gold cheer for the Thunderbolts
Strike down from the sky
We're the fighting Thunderbolts
From mighty Pius High
Bridge:
The Thunderbolts are on the march and vict'ry is our cry
Forward brave green and gold
Go Go Go brave green and gold
For Pius do or die, Rah, Rah, Rah