Beyond the game-winning basketballs and go-ahead goals and gold-medal performances, there is the glory of using your God-given and nurtured athletic talent.
Pius X High School offers 19 sports over three seasons. Playing sports has many benefits, including learning the value of hard-work, teamwork, sportsmanship and discipline.  Our athletic coaches encourage students to play multiple sports throughout the school year for health and strategy benefits.
Athletics & Activities
Your decision to take advantage of Pius X athletics and activities co-curricular programs will be educational, rewarding and challenging. The activities department encourages you to take advantage of as many programs as your time and talent will permit.
We do not encourage specialization in one sport, but rather we encourage you to experience a variety of sports as well as other school activities.
Naturally, due to conflicts in seasons, practice times, schedules, etc., some choices will have to be made. We wish you the best as you strive to grow spiritually, mentally, socially and physically through competitive activities.
**Physicals required for all sports
All students that wish to be involved in ANY sport (19 Pius X sports in addition to Cheer & Dance) need to have a physical on file in order to participate. In order to be valid for the 2019-18 school year, the physical must have been taken on May 1, 2019 or later.  Get this important requirement completed EARLY and then turn in a copy of your physical to the main office.
Download Sports Physical Form
Pius X High School will induct four individuals and two teams into its Athletics Hall of Fame this year. The induction ceremony will be this August at Pius X. The inductees include multi-sport athletes that left...

Spring 2019 Student-Athlete Recognition Ceremony Another 14 student-athletes from Pius X High School were honored this year for having committed and signed to play a sport in college. This is in addition to the ten student-athletes...
Heartland Athletic Conference - New in 2018-19
Fremont
Grand Island
Kearney
Lincoln Southeast
Lincoln Southwest
Norfolk
Pius X
Lincoln East
Lincoln High
Lincoln North Star
Lincoln Northeast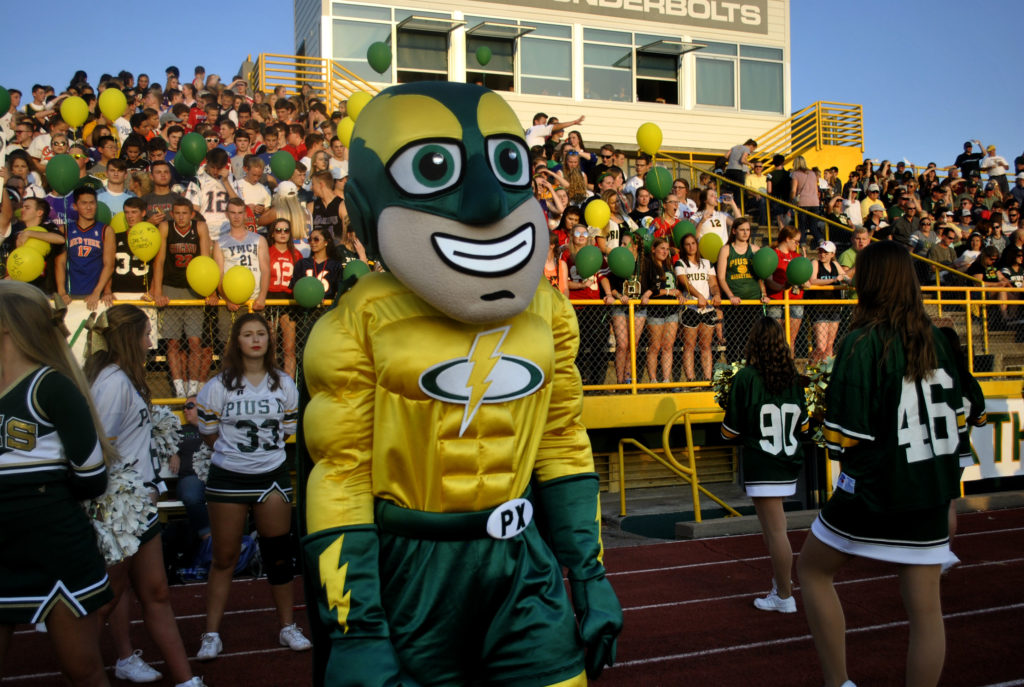 Theo the mascot
Theo the Thunderbolt has been given an upgrade. The ThunderBOLT Fun Run committee – helped by staff, volunteers and students – guided the design process, and Theo made his initial debut at the August 2017 ThunderBOLT Fun Run!
How to refer to our school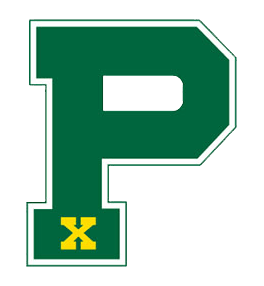 Pius X High School has established brand guides to consistently identify our school, logo and teams. Out of respect, we ask all individuals and organizations follow these basic guidelines. See our complete brand guide.
Our official name is Pius X High School (please remember to include the 'X'). All references (first, second and beyond) shall include Pius X.
When speaking, the 'X' is pronounced 'the Tenth,' and NOT as merely 'X'. This represents our namesake saint, Pope Pius X (as he was the tenth pope with the Pius name).
Our official mascot is the Thunderbolts.
Our official logo is picture at right. The only color change option is to gray/black/white when necessary.