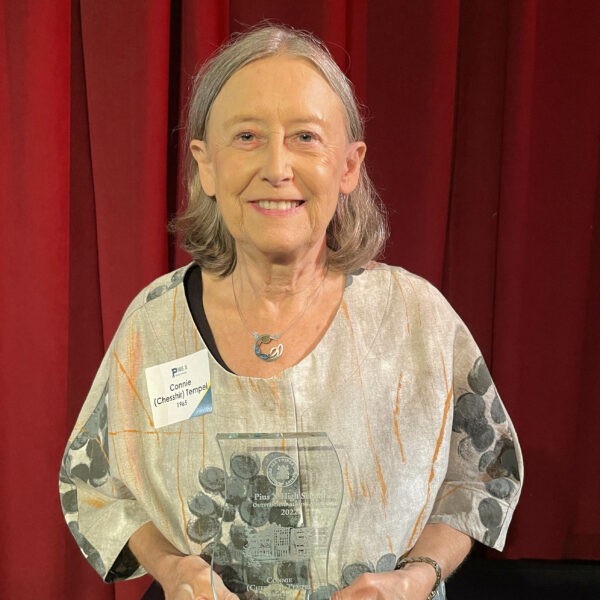 Connie was born in Sioux Falls, South Dakota. Her family moved to Lincoln, Nebraska and Connie enrolled in Pius X High School her sophomore year, and graduated in 1965. Connie's two younger brothers, Stan '68 and Kevin '72, also graduated from Pius. Her outstanding Catholic high school education inspired her to enroll at Briar Cliff College, majoring in Sociology and minoring in elementary education. Field trips lead by the Franciscan nuns inspired her to seek a career in addressing social problems.
Following graduation in 1969, Connie went to New York City for a summer internship on social justice and never left. During that first year, she began her career in city planning and married Tim Tempel, whom she met in New York and has roots in Nebraska.
Connie enrolled at Fordham University and received a master's in social work in Social Policy and Planning. She spent almost 10 years at the New York City Department of City Planning and Mayor's Office of Construction, working on neighborhood development. Connie left city government after her daughters, Kirsten and Sara, were born and eventually led the renovation of a neighborhood Catholic parochial school into a community center.
During the late 1980s, homelessness was on the rise in New York City. Fortunately, a new intervention, called supportive housing was in its infancy. By providing affordable permanent housing with support services, homeless individuals with mental illness could stabilize and prosper. Catholic Charities, Diocese of Brooklyn hired Connie to develop supportive housing, primarily utilizing former diocesan properties. Connie shaped groundbreaking projects for homeless individuals with mental illness. She also helped found and lead the SRO Providers Group to advocate on behalf of the nonprofit providers.
In 1994, Connie joined the recently created nonprofit Corporation for Supportive Housing (CSH) to head the New York office. CSH was founded to advance this new intervention. As the agency grew across the nation, so did Connie's responsibilities in providing loans, grants and technical assistance and designing policy and program initiatives. By the time she retired in 2016 as Chief Operating Officer, she was overseeing 15 local offices and national offices on consulting and training, plus policy and programs, as well as participating in approving loans. She received the most satisfaction with expanding the populations served in supportive housing including Persons with AIDS, families, persons with substance abuse history, formerly incarcerated, youth and frail elderly. While many of the new models were designed with national foundation support, Connie also led efforts to access government funds, including the $1 billion New York/New York Agreement. She also oversaw a landmark study proving the cost effectiveness of supportive housing. She was a frequent conference panelist and participated in key policy committees, such as New York State Medicaid Redesign Housing Committee, and Co-Chaired the National Initiative to End Elder Homelessness. She has received several awards including from the New York Mental Health Association, the Supportive Housing Network of New York, the Bowery Residents Committee and Project FIND.
Retirement has meant continuation of Connie's commitment to social justice through Board memberships at the Women's Community Justice Association and Project FIND, as well as advising CSH. She serves her parish, the Brooklyn Oratory Church of St. Boniface, as an officer of the Parish Pastoral Council and through the Social Justice Action and Anti-Racism committees and Hospitality.
Retirement has also meant traveling with Tim to Europe, South Africa, Latin and Central America, and throughout the US. Connie also joins her dear Pius X friends annually, usually near to where one of them lives. Connie keeps up with her field through her daughter, Sara, who has followed in her tracks. Kirsten has provided treatments in her specialty, Chinese Medicine. And finally, Kirsten and David's year-old son and Tim and Connie's grandson, Jack, brightens their days.