This award is presented in appreciation of Daniel J. Elsener who has been an outstanding representative of Pius X High School, and along with his wife, Beth '73, serves as an example of leadership and service to family, friends, community and country.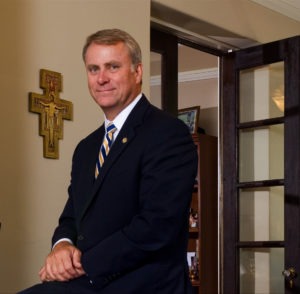 Dan Elsener, a 1973 graduate of Pius X High School, was one of six children born to Nick and Rosemary Elsener in Omaha, Neb. Dan experienced the benefits of a strong Catholic education from an early age, attending Holy Name School in Omaha before moving to St. Teresa School in Lincoln and then to Pius X. Armed with a solid foundation of knowledge, Dan enrolled in Nebraska Wesleyan University and, four years later, graduated with a Bachelor's of Science in Political Science and Education. In December of his junior year (1975), Dan married Beth Waite. Through 38 happy years of marriage, they have been blessed with nine children and 17 grandchildren, and a shared, deep commitment to the mission of Catholic education.
Dan's career began as a teacher at Daniel J. Gross High School in Omaha. He immediately pursued graduate studies at the University of Nebraska from which he earned a Master's of Science in Education Administration. Later Dan continued his graduate studies at Kansas State and Wichita State Universities. After six years at Gross High School, he accepted a position as the first lay principal of Hayden High School in Topeka, Kan. In 1987, Dan became Superintendent of Catholic Schools for the Diocese of Wichita.
In 1992, Dan was asked to serve the Archdiocese of Indianapolis, Ind., as the Secretary of Catholic Education and Superintendent of Schools, overseeing all aspects of Catholic education and leading 71 schools. During this time, the enrollment grew from 18,000 to 25,000 students. In 1999, Dan became Executive Director of the Christel DeHaan Family Foundation and Project E Indiana.
In 2001, Marian College began a search for its eighth president and Dan accepted the call to serve at this Franciscan Catholic liberal arts institution as a "non-traditional" president. Over the past 11 years, he has overseen the transformation of Marian from college to university status, expanded enrollment from 1,000 to the present number of 3,000 students, opened the College of Osteopathic Medicine, supported numerous nationally-ranked championship athletic teams and created and expanded a variety of new undergraduate and graduate programs. Dan has also overseen more than $100 million in building construction and more than tenfold growth in endowments through exceptional fundraising. Throughout his tenure, Dan has made the integration of faith, values, ethics, and character development central to all aspects of the University's pursuit to build a "Great Catholic University in a Great American City."
Through the good example of their parents and prayerful discernment, Dan and Beth have been resolute in their commitment to advance the mission of Catholic education. As a member of the Indiana State Board of Education and numerous other non-profit and corporate boards, Dan has contributed considerably to advancing the social, cultural and economic wellbeing of the larger community and nation.