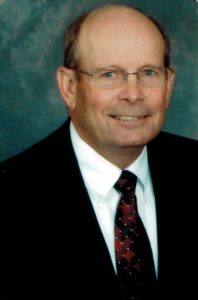 The 2018 Outstanding Alumni award was presented to Bernie Rempe ('63) for consistently demonstrating the Pius X core values throughout his distinguished career with The Clark Enerson Partners, and through his exemplary leadership and service to his family, community, and country.
Born in 1944 to Art and Rita Rempe in Bostwick Nebraska, Bernie and his six siblings – all graduates of Pius X – benefitted from their parents' strong commitment to Catholic education, attending Catholic schools in Bostwick (St. Stephens) and Hebron (Sacred Heart) after moving there in 1953. When the Rempe's pastor, Msgr. Crowley, was named pastor of Holy Family Parish in 1958, he convinced Art and Rita to move to Lincoln and work in his parish (now Cathedral of the Risen Christ).
Bernie graduated from Holy Family School in 1960 and graduated from Pius X in 1963, where he met his future wife, Betty DeMars ('63), served on the student council, and lettered in baseball, basketball and football. Bernie graduated from the UNL College of Architecture in 1969, earning the AIA School of Architecture Faculty Award and membership in the Tau Sigma Delta Honor Society in Architecture and Allied Arts.
In 1968 Bernie married his high school sweetheart Betty DeMars. The two Pius X alumni had three children who also graduated from Pius X: Brian '87 (Amy), Angela '89 (Eric '89 Schafers) and Julie '95 (Yuri '95 Veomett). Three of the Rempe's eight grandchildren are also alumni, and one is currently attending. In addition to their family tradition at Pius X, Bernie and Betty are among the founding family members of St. Joseph Parish Community where Bernie has served as an installed Lector for 35 years and as a member of the Knights of Columbus.
In 1969 Bernie enlisted in the U.S. Marine Corps Reserves. Upon returning to Lincoln after completing six months active duty he accepted a full-time position with The Clark Enersen Partners Architectural/Engineering/Landscape Firm, where he had worked as an intern while attending UNL. Bernie served in many management capacities including election to The Clark Enersen Partners Board of Directors. In 1992 he was elected to serve as Chairman of the Board, and retired with that title in 2007.
Bernie received his Nebraska Professional Architectural Registration in 1973 and gained additional state registrations in Kansas, Missouri, Wyoming, North and South Dakota. He earned recognitions for 25-year membership in the American Institute of Architects, Council of Educational Facility Planners and the National Council of Architectural Registration Board.
During nearly 50 years with The Clark Enersen Partners, Bernie served as project architect across the state designing and enhancing many notable buildings including Memorial Stadium, three Catholic schools, the Marian Motherhouse and Bonacum House additions, parking garages, post offices, St. Joseph Catholic Church, Lewis and Clark Visitors Center at Gavins Point Dam (Winner of the Corps of Engineers Distinguished Design Award), and many more. Bernie was also known throughout the region for his community involvement, including service on the Lincoln Community Development Task Force and participation in Leadership Lincoln. He was also vice chairman of the Lancaster Manor Advisory Committee, a member and past president of the Lincoln Serra Club, and past president and life member of the Lincoln Sertoma Club.
Bernie has generously shared his architectural talents to support Pius X High School's growth for over 42 years, working with four superintendents including Msgr. Vap, Msgr. Barr, Fr. Morin and Fr. Meysenburg. Bernie contributed to numerous facilities enhancements, including the Learning & Performing Arts Center (LPAC) ('77); new windows and sun screens earning the Community Improvement Award ('86); chapel and gym additions ('90); development of the first Pius X Facilities Master Plan ('93); and additions for classroom/music ('95), the commons ('07), and the kitchen ('10). The new Monsignor James D. Dawson Learning Center is also scheduled to open in fall 2019. In addition to his significant contributions to enhance the school's facilities, Bernie has also served on the Pius X Foundation Board of Directors ('92-'04) and the high school's Board of Advisors ('04-'18). Both Bernie and Betty served on the B.O.L.T. Coordinating Committee ('90-'91).
In retirement, Bernie continues to actively support Pius X and enjoys designing and building anything, particularly furniture. He is an avid golfer, and also enjoys spending time with family and attending his grandchildren's sporting activities.