This award is presented in appreciation of Larry Arth who has been a tireless ambassador for Pius X High School and serves as an example of leadership and service to his family, friends, community and country.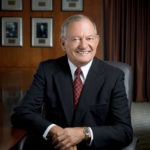 Larry Arth graduated from Pius X in 1961. While at Pius X, he was a three sport letterman in football, basketball, and track & field. After earning a BA degree in Business in 1965, Larry served over two years in the U.S. Navy. He returned to Lincoln in 1968, joined Ameritas Life Insurance Corp. (then Bankers Life Nebraska), and proceeded to earn a master's degree in 1969 from UNL. Over the years, he held various leadership positions within the financial department, including CFO. In 1988, he was elected president and chief operating officer, a position he held until 1995, when he was elected chairman of the board and chief executive officer. After 40 years with the company, Larry retired in July 2008.
Larry has devoted time and leadership to many local and regional charitable and philanthropic organizations, healthcare facilities, financial institutions, and foundations. On a national level, he has served and chaired many industry and association boards.
Larry has made a lasting impact on the community. His involvement in over two dozen organizations includes past President of Catholic Social Services, Chair of Bishop Bruskewitz's Charity and Stewardship Appeal, Director of Catholic Diocese of Lincoln Foundation, Governor of Knights of Ak-sar-ben, Governor of Nebraska Wesleyan University, President of Lincoln Chamber of Commerce, Chair of St. Elizabeth Community Health Center, Chair of Madonna Centers, and President of Junior Achievement. He currently serves as Director of the Vision 2015 Board and is chair-elect of the University of Nebraska Foundation. Larry and his wife, Mary, served on the leadership committee for Pius X's A Tradition of Faith campaign in 2006 and were instrumental to its success.
He has been the recipient of countless honors and awards, including the 2002 University of Nebraska Foundation Perry Branch Award, 2004 Leadership Lincoln Community Pillar Award, 2005 Nebraska Business Hall of Fame, 2007 University of Nebraska College of Business Lifetime Achievement Award, and 2007 Ak-sar-ben Court of Honor recipient.