This award is presented in appreciation of Mary Jo "Sharrar" Rodeno who has been a tireless ambassador for Pius X High School and serves as an example of leadership and service to her family, friends, community and country.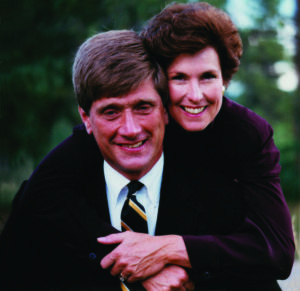 Mary Jo Sharrar grew up in Lincoln, attending grade school at Blessed Sacrament. She graduated from Pius X High School in 1964. She attended the University of Nebraska, and was a member of the Delta Gamma Sorority. She graduated in 1968, receiving a Bachelor of Science degree in Education.
Mary Jo and Tom Rodeno were married in 1968. They lived in both Pittsburgh and Cleveland, before settling in Castle Rock, Colo. They have two children and 5 grandchildren.
The Rodeno's lost their daughter, Amy, to Cystic Fibrosis in 1977, and established a scholarship, the Amy Rodeno Scholarship in Memory of Dr. and Mrs. Lynn Sharrar, at Pius X to continue Amy's memory and to honor Mary Jo's parents. They also became actively involved in finding a cure for this disease. They have dedicated more than 30 years to the Cystic Fibrosis Foundation. Both Tom and Mary Jo have served on the National Board of Trustees and have chaired and been involved in countless events to help raise money. Tom and Mary Jo Rodeo were also honored for their work and dedication to the Cystic Fibrosis Foundation with the Breath of Life Award for 2009.