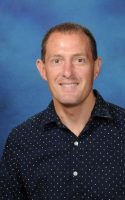 Nolan DeWispelare
Head Coach
Brianna Olson
Assistant Coach
Ways to improve your game before tryouts
Take lessons at Woods, Lincoln Racquet Club, or any other club throughout the city.
Play tournaments – check USTA for a list of tournament opportunities throughout the state or check out this list of tournaments.
Lift weights, work on strength, flexibility, and agility.
Go to tennis camps and clinics.
Play a lot of tennis.  Play tennis every day.
Go Bolts!
Tuesday, March 26

2:30 pm - Tennis: Girls JV vs. Gretna East'>Multiple Schools (Home) at Lincoln Pius X High School

4:00 pm - Tennis: Girls Varsity vs. Gretna East">Multiple Schools (Away) at Squire John Thomas Elementary School

Thursday, March 28

4:00 pm - Tennis: Girls Varsity vs. Lincoln East (Away) at Woods Tennis Center

Tuesday, April 2

2:00 pm - Tennis: Girls Varsity vs. Papillion-La Vista">Multiple Schools (Away) at Papillion-LaVista South High School

2:00 pm - Tennis: Girls JV vs. Papillion-La Vista South">Multiple Schools (Away) at Papillion-LaVista High School

Thursday, April 4

4:00 pm - Tennis: Girls JV vs. Lincoln High (Home) at Lincoln Pius X High School

Friday, April 5

8:00 am - Tennis: Girls Varsity vs. Omaha Westside (Away) at Koch Tennis Center, Tranquility Park
Champions
Team Titles: 1988, 1991, 1995, 1996, 1997, 1998, 2004, 2021
Class A No. 1 Singles
2021-Clare Plachy
Class B No. 1 Singles
2000-Laura Nigro
1999-Laura Nigro
1998-Laura Nigro
1997-Laura Nigro
1988-Shelley Matisons
Class A No. 2 Singles
2021-Cece Ulrich
Class B No. 2 Singles
1998-Maggie Gabelman, Lincoln Pius X
1997-Maggie Gabelman, Lincoln Pius X
1996-Jeniffer Nigro, Lincoln Pius X
1995-Christina Nigro, Lincoln Pius X
1989-Jane Higgins, Lincoln Pius X
Class A No. 2 Doubles
2017-Abby Sullivan/Brooke Shreve
2016-Brooke Shreve/Abby Sullivan
Class B No. 1 Doubles
2005-Stephanie Sutton/Elizabeth Sutton
1998-Christina Nigro/Jeniffer Nigro
1997-Christina Nigro/Jeniffer Nigro
1995-Nan Strait/Jeniffer Nigro
1994-Colleen Matisons/Nan Strait
1991-Aralea Witte/Christina Merten
Class B No. 2 Doubles
1995-Sheana Karre/Jenny Heiser
1988-Cindy Hartman/Lucy Caputo
1982-Ann Byington/Bridget Spethman
Hall of Fame Athletes, Coaches & Teams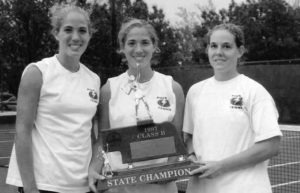 The Nigro name became synonymous with gold medals during the late 1990s and early 2000s. Twin sisters Jeniffer and Christina ('98) accompanied younger sister Laura