What is an Athletic Trainer?
Athletic trainers (ATs) are highly qualified, multi-skilled health care professionals who collaborate with physicians to provide preventative services, emergency care, clinical diagnosis, therapeutic intervention and rehabilitation of injuries and medical conditions
Go to the following website for more info on How Athletic Trainers can help student athletes: https://www.atyourownrisk.org/.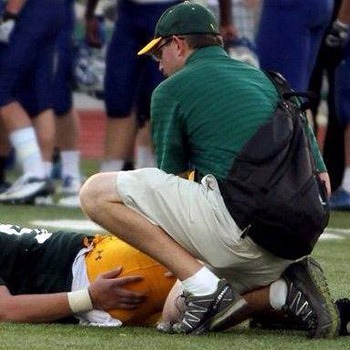 Athletic Packet Information (please return the Pius X Office before 1st day of practice):
Forms to Submit (ALL Athletes):
1. Cover Page
2. Concussion Information Form
3. Assumption of Risk Form
4. Medical Consent to Treat Form
5. Physical Form Completed at Physician's Office (Must be an NSAA approved form). Must be completed AFTER May 1st, 2021.
For Contact Sports (Football, Volleyball, Softball, Basketball, Wrestling, Divers, Baseball, Soccer, Pole Vaulters, and Cheerleaders):
1. SWAY baseline test prior to first practice for ALL Freshmen and Juniors.
If you have any questions please contact Drew Erks, Athletic Trainer
Drew Erks, MSEd, ATC has been providing Athletic Training services to the Pius X Community for 11 years, and has been an Athletic Trainer for over 19 years.  Collaborating with other Healthcare Providers (Physical Therapists, Orthopaedic Surgeons, Family Practice Dr's, Physcian Assistants, etc).  Pius X Students have primary access to Sports Medicine care on a daily basis.  This includes, but is not limited to:  On-Field Emergency Care,  Injury Assessments, Nuerocognitive  (SWAY) testing, Rehabilitation, Injury Prevention, and referrals to other licensed Healthcare Providers.