What is an Athletic Trainer?
Athletic trainers (ATs) are highly qualified, multi-skilled health care professionals who collaborate with physicians to provide preventative services, emergency care, clinical diagnosis, therapeutic intervention and rehabilitation of injuries and medical conditions.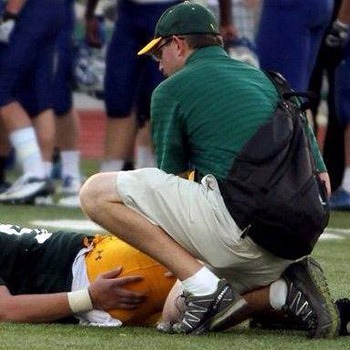 Summer Hours by Appointment Only
May/Summer ImPACT Test Dates and Times:
May 7th and 20th: 4 pm Room 260
June 5th, 12th, and 19th:  During Summer Conditioning
July 10th, 17th, adn 24th:  During Summer Conditioning
Pius X High School Safety Protocols
Drew Erks, MSEd, ATC has been providing Athletic Training services to the Pius X Community for 7 years, and has been an Athletic Trainer for over 15 years.  Collaborating with other Healthcare Providers (Physical Therapists, Orthopaedic Surgeons, Family Practice Dr's, Physcian Assistants, etc), Pius X Students have primary access to Sports Medicine care on a daily basis.  This includes, but is not limited to:  On-Field Emergency Care,  Injury Assessments, Nuerocognitive  (ImPACT) testing, Rehabilitation, Injury Prevention, and referrals to other licensed Healthcare Providers.