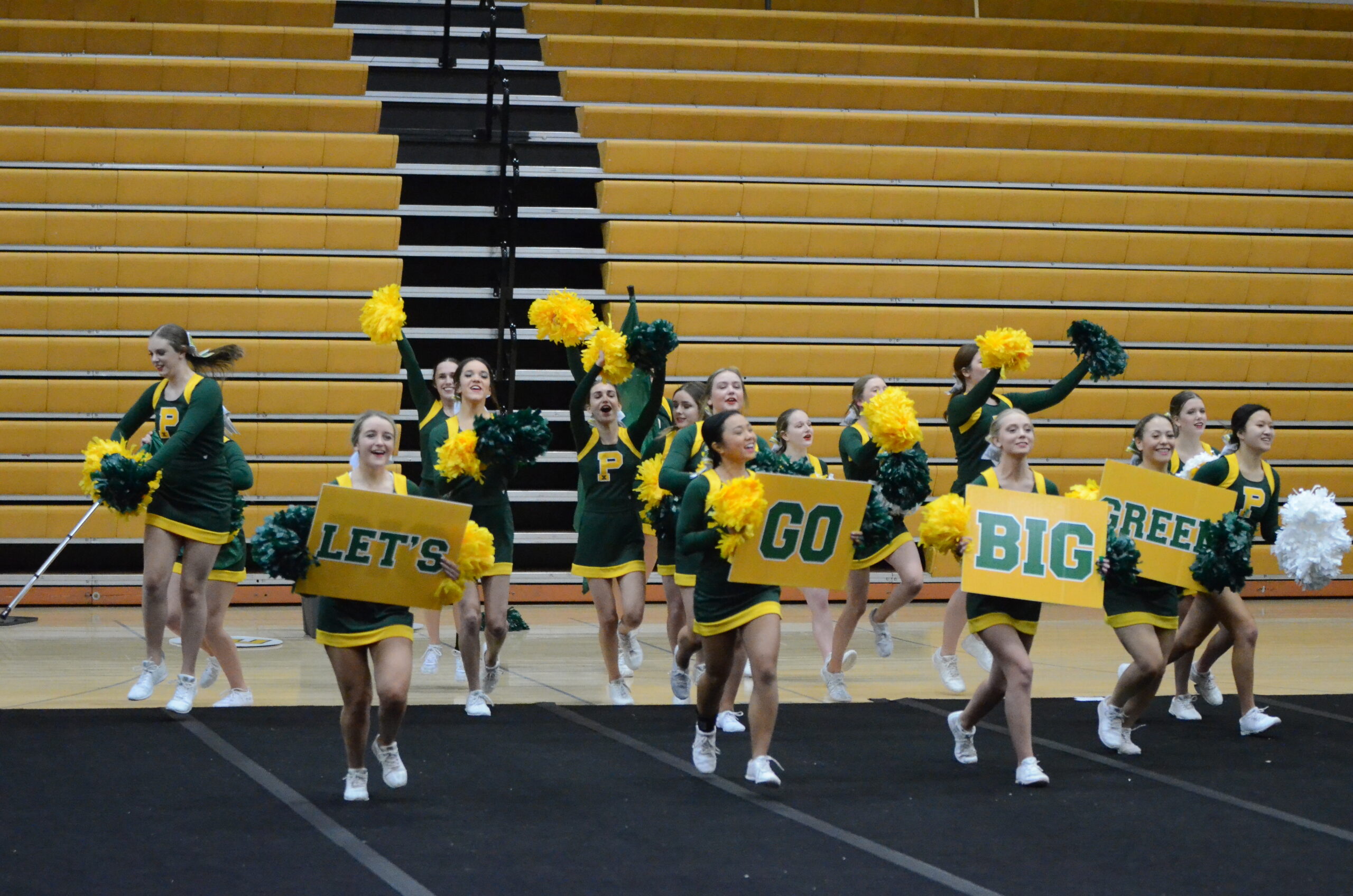 Cheerleading emphasizes support of school activities; teaches responsibility, leadership, spirit and commitment; and helps to develop creativity and confidence. There are three squads—Varsity, Junior Varsity, and Reserve. Varsity is open to junior and senior girls, as well as freshman and sophomore girls who have tumbling. Junior Varsity is open to freshman, sophomore, junior, and senior girls. Reserve is open to freshman and sophomore girls. The School Mascot is also a part of the cheerleading squad. This position is open to seniors only. Students are selected through tryouts in the spring.
Caycee Hays – Head Coach; Main Varsity
Maya Arrigo – Asst. Coach; Main JV
Halie Tenopir – Asst. Coach; Main Reserve
Delanne Carlson – Asst. Coach
VARSITY: Sandra Awin, Piper Bryce, McKenna Callahan, Braxtin Ceballos, Elise Collins, Avery Hagen, Izzy Hobelman, Kenna Kramer, Tricia Le, Jacey McConnell, Hannah Reinke, Lidia Reinke, Bailey Slattery, Londyn Thorne, Maebh Young.
JUNIOR VARSITY: Emma Cleaver, Lorena Cobian, Chloee Delancey, Karen Do, Maggie Kidwell, Dayanna Nava Panzi, Aubree Nguyen, Leslie Rodriguez, Felicity Rockenbach, Piper Skorupa, Caylee Schaultman, Libby Schinstock.
RESERVE: Chloe Arnold, Chloe Bachle, Elaine Ho, Alyssa Montecuollo, Kaelin Ta, Michelle Solis, Jasmin Solano.
Important Tryout Date Reminders
Informational Meeting: Monday, March 21 @ 6:30pm in the PXHS Commons
Tryout Application is due by Friday, March 25
Clinic Week: March 28-April 1
Teams will be posted on April 1 by 10:00pm via the PXHS Front Doors
2023 Season
Traditional Performance: 3rd Place (Won Choreography Award!)
Game Day: 4th Place
2022 Season
Traditional Performance: 3rd Place
Game Day: 9th Place
2021 Season
Traditional Performance: 4th Place
Game Day: 12th Place
2020 Season
Traditional Performance: 4th Place
Game Day: 4th Place