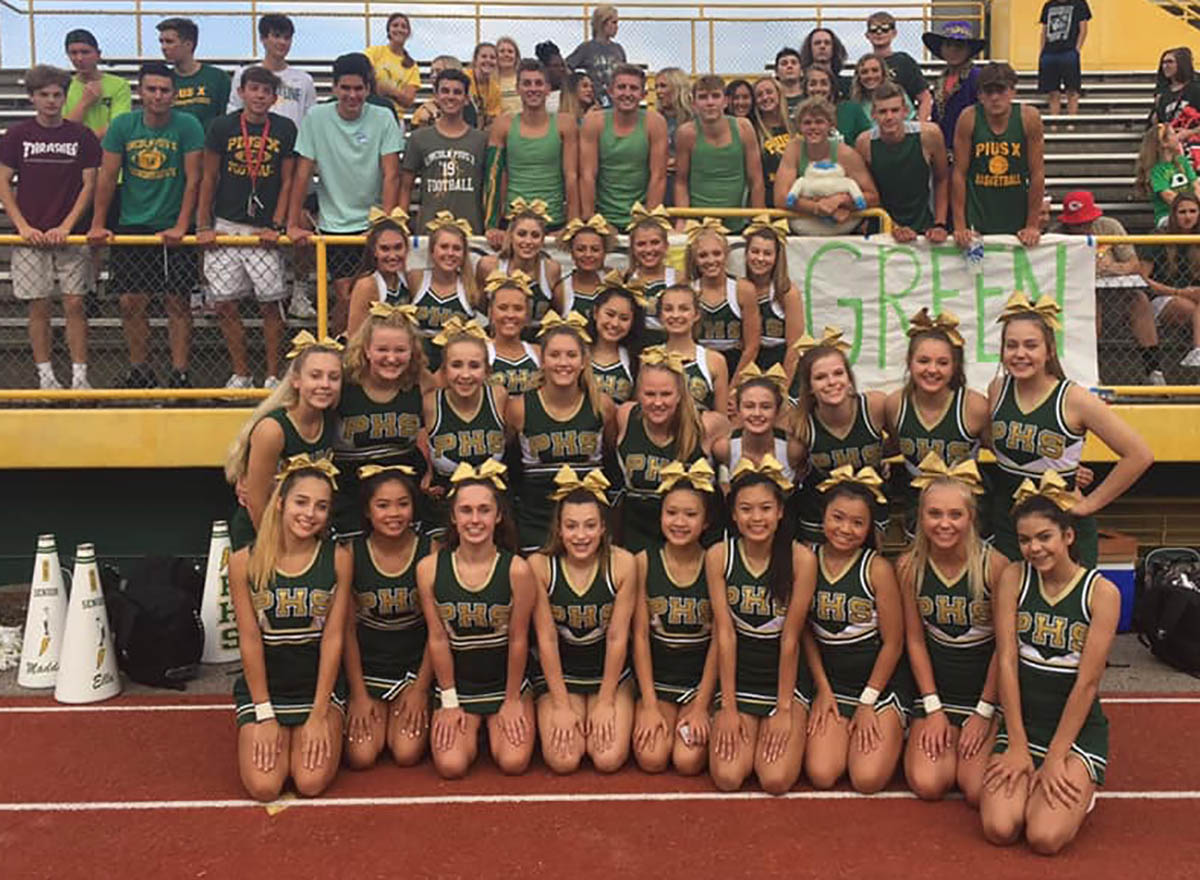 Cheerleading emphasizes support of school activities; teaches responsibility, leadership, spirit and commitment; and helps to develop creativity and confidence. There are three squads—Varsity , Junior Varsity, and Reserve. Varsity is open to sophomore, junior and senior girls. Junior Varsity is open to freshman, sophomore and junior girls. Reserve is open to freshman and sophomore girls. The School Mascot is also a part of the cheerleading squad. This position is open to seniors only. Students are selected through tryouts in the spring.
Due to the ongoing uncertainty of school closures, cheerleading tryouts are being postponed until May unless school resumes earlier. As of now we do not have an exact date but will continue to update as more information becomes available. Check the Pius cheer Instagram @px_cheer for messages and preparation ideas.
Please feel free to contact any member of PXHS cheer coaching staff if you have any questions.
Join Px Cheer on their Instagram (@Px_Cheer) on Wednesday, March 25 @ 5pm. They will be going LIVE to talk about the 2020-2021 Season.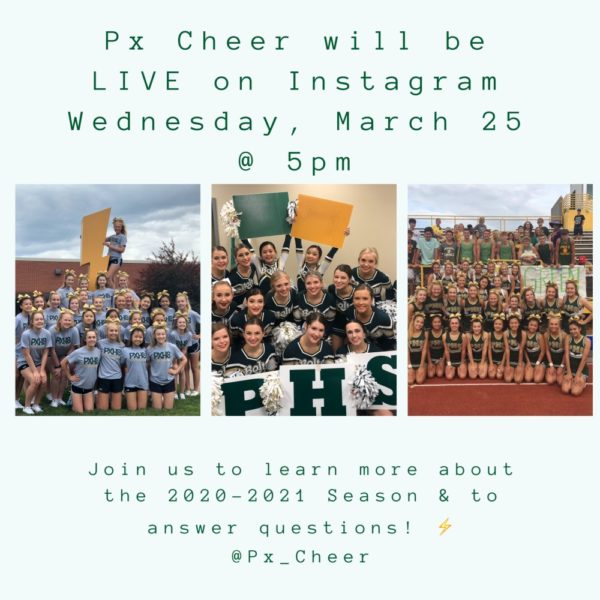 Varsity
Caitlin Alesh
Ella Hagen
Elizabeth Nguyen
Lyndsay Olson
Bailey Pagels
Lauren Parker
Skyler Rolfes
Maia Ross
AnnaRuth Wenzl
Reagan Winsor
Maddie Zaborowski
Junior Varsity
Makenna Adams
Alyssa Dunlap
Mikayla Fowler
Ella Guerra
Lindsay Nguyen
Kaitlyn Pagels
Hannah Reinke
Hadley Schell
Jocelyn Vo
Reserve
Halle Bialas
McKenna Callahan
Elise Collins
Sofi Kouma
Sarah Lang
Tricia Le
Londyn Thorne
Maebh Young
Px Cheer had a great showing at the 2020 From the Nebraska State Cheerleading competition:
Game Day: 4th out of 16;
Traditional Performance.:4th out of 9 (only 0.5 away from 3rd!).