Through the literature and writing courses offered within the English Department, students will:
Develop an understanding and appreciation of literature
Compare the values found in literature to basic Christian values
Discover and understand the correlation between situations in
literature and in life
Become sensitive to and aware of cultural biases and prejudice
Learn the various literary terms and techniques through a 4-year sequential plan
Experience a variety of opportunities to express themselves orally
Experience a variety of written assignments ranging from the most subjective to the most objective
Be encouraged to express their ideas with clarity and mechanical correctness in both their written and oral communication
Experience the composition process of pre-writing, writing, and post-writing
Learn how this language is organized and structured through the sequential study and the rules of grammar and proper usage
Improve vocabulary and spelling skills both systematically and sequentially
Develop various study skills
Learn and apply various library reference skills.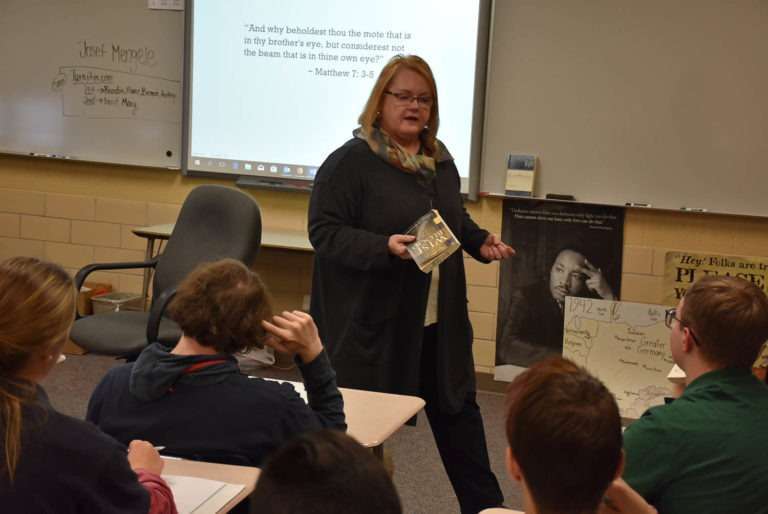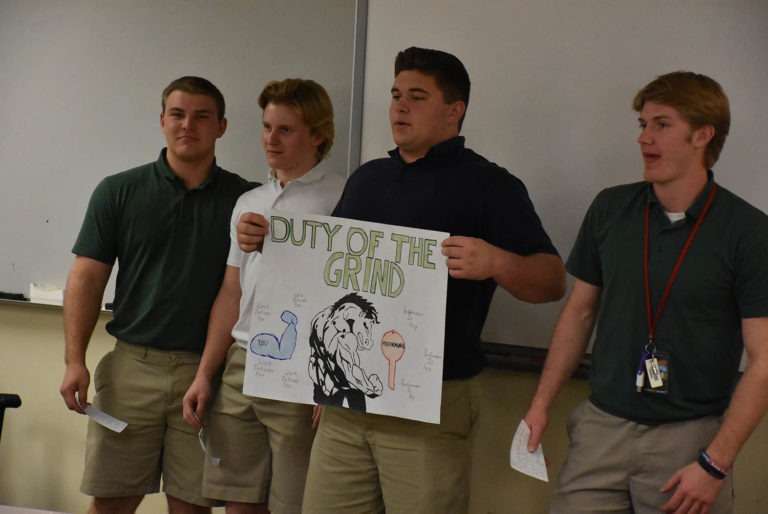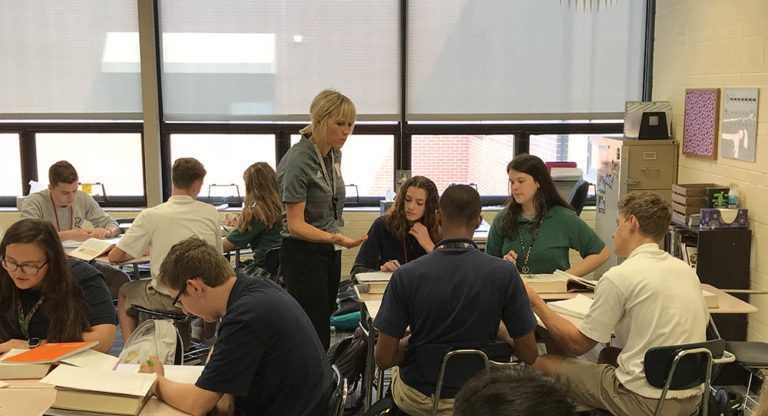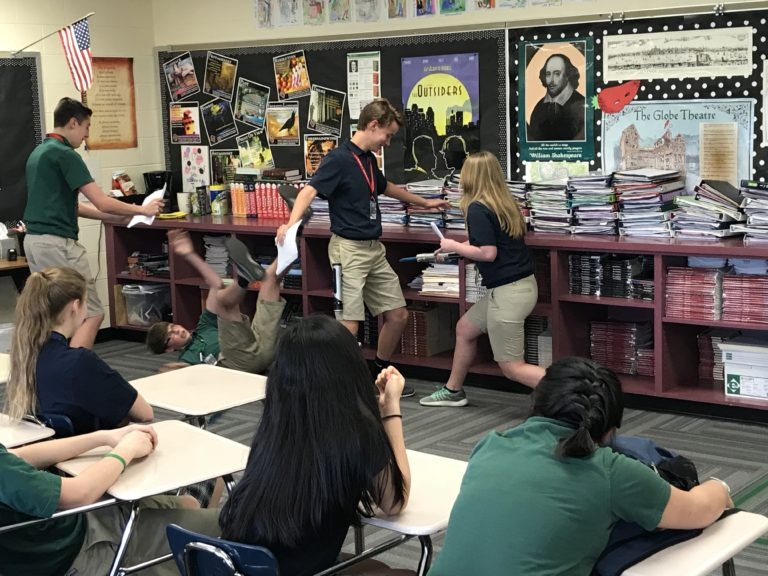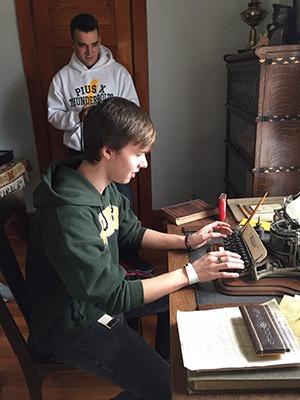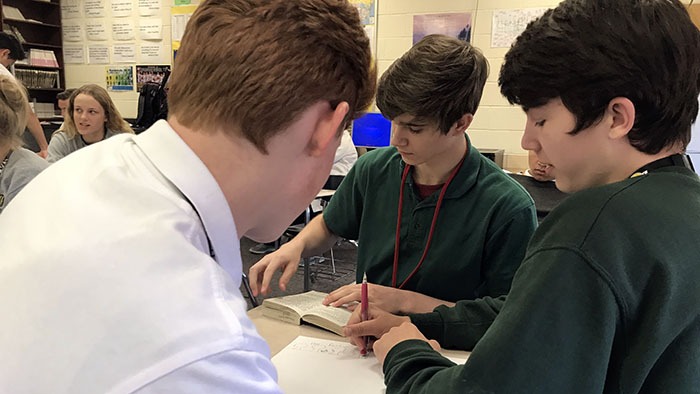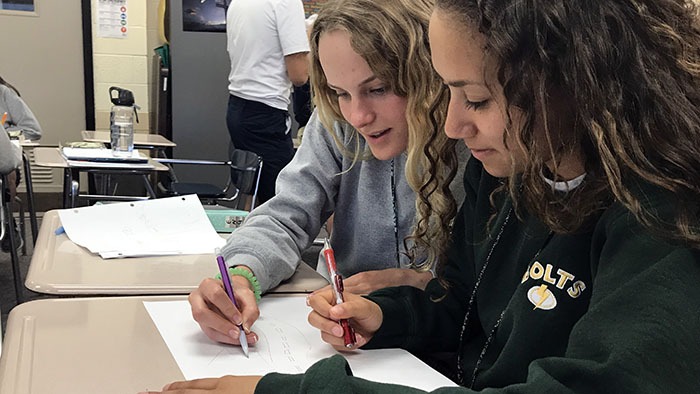 English I
English II
College Prep Writing
American Literature
Modern Literature
Creative Writing
Classical Literature I
Classical Literature II
Social Literature
AP English Literature
Journalism I
Journalism II
Yearbook
Academic Decathlon
Stories from English classes
While reading and studying 'The Raven' in English 1 taught by Jen Sander, students created their own pages to illustrate various parts of the story.
ENGLISH I – 9 – (Yr. – 10 credits)
English I students will study punctuation, vocabulary, composition, and short stories with an emphasis on literary elements. Students will have the opportunity to choose from a selection of books offered for literature discussions. Students will also engage in the study of poetry and the play Romeo and Juliet. An intense study of writing occurs this year which includes the utilization of the six traits of writing. All students will go through the writing process as they prepare a five paragraph essay and learn the elements of an MLA research paper.
ENGLISH II – 10 – (Yr. – 10 credits)
English II revolves around an anthology with a literary analysis approach concentrating on short stories, non-fiction, poetry, drama including "I Never Sang For My Father" & Julius Caesar, legends, and the novel To Kill A Mockingbird. Grammar and writing skills are emphasized throughout both semesters using the literary studies as a basis. To encourage diversified reading and critical reading, students participate in two book clubs each year. There are multiple writing experiences each semester.
COLLEGE PREP WRITING – 11, 12 – (Sem. – 5 credits)
This advanced writing course is designed to prepare students for the composition and research expectations of higher education. Students will continue to develop advanced writing skills through critical analysis of credible sources; annotating for comprehension; use of purposeful, academic language; database usage; and an exploration of diverse writing styles. Students will also develop documents to assist with the college application process.
AMERICAN LITERATURE – SEMESTER 1 and 2 – 11, 12 – (Sem. – 5 credits)
This course may be taken all year for ten credits or either semester for five credits. The course offers a chronological survey of American Literature from the colonial period to the present. Students will study fictional and nonfictional works in relation to their historical and cultural contexts. Prose, poetry, drama, and one novel each semester will be selected from a diverse group of authors for what they reveal and reflect about the evolving American experience and identity. Students will expand their analytical and critical thinking skills through the readings. This course includes multiple writing opportunities, including a formal literary analysis.
MODERN LITERATURE – SEMESTER 1 and 2 – 11, 12 – (Sem. – 5 credits)
This course may be taken all year for ten credits or one semester for five credits. Modern Literature introduces students to literature and composition from the scope of the political and cultural forces that shaped the world during the Modern period (1912-1965). Students will explore critical thinking concepts and literary elements through novel studies and literature circles. They will expand their analytical skills through literary analysis and shorter writing projects. Students will have direct interaction with a variety of texts, write for a variety of purposes and audiences, and will have multiple opportunities to experience authentic, engaging discussions, both formal and informal in nature.
CLASSIC LITERATURE II – 11, 12 – (Year – 10 credits) [Prerequisite: Classic Literature I]
This course consists of the reading and analysis of play scripts as pieces of literature, with particular attention to drama as a unique literary genre. The plays studied in this class range from the ancient Greek period to the modern period. When appropriate, major events in history will be examined to provide context to particular works. Basic elements of the theatrical arts will be studied and analyzed, as well as the traditional literary elements of plot development, characterization, literary and dramatic style, and so on. Formal writing assignments will include a literary analysis of Tennessee Williams' The Glass Menagerie, a formal film analysis of one of the semester's assigned plays, and a critical review of a live theatrical performance.
CREATIVE WRITING – 11, 12 – (Sem. – 5 credits)
This course aims to help students refine their writing and critical thinking skills, while providing an opportunity to learn literary techniques that will enhance their natural creativity. Students will write in a variety of genres, and will be graded on the Six Traits of Good Writing, a nationally accepted standard for writing, as well as tenets specific to each genre.
CLASSIC LITERATURE I – 11, 12 – (Yr. – 10 credits)
This course introduces students to the best that has been thought and said throughout the centuries. Students will read texts from the ancient Greeks up to selections from contemporary literature. The class is discussion based, with writing as the primary form of assessment. By reading and discussing the great books, students will learn how to discern the truth, how to distinguish it from error, and how to defend it. At the end of this course, students will have had direct interaction with a variety of texts, have written for a variety of purposes and audiences, and will have had multiple opportunities to experience authentic, engaging discussions, both formal and informal in nature.
SOCIAL LITERATURE – SEMESTER 1 and 2 – 12 – (Sem. – 5 credits)
This course may be taken all year for ten credits or either semester for five credits. Social Literature allows students to become more aware of current social problems through the study of fiction and biography. Units raise the student's awareness in the areas of ethnicity, cultures, politics, the future, technology, the aged, women's issues, family, and civil rights. Four or five books are read each semester. Daily reading assignments and class participation are required. Writing projects are also an integral part of this course including a multi-genre project.
AP ENGLISH LITERATURE – 12 – (Yr. – 10 credits)
This course is designed to mimic the rigor and style of a college level English course. It is organized around the theme of The Other, using various critical lenses such as Post–colonialism, Gender, Historical, Futuristic, etc. to examine the ways in which Otherness and privilege are prominent in both literature and society and are impacted over the course of time. This class explores various authors from the 18thcentury to the early 21stcentury,with authors including Achebe, Miller, Wiesel, Austen, Shakespeare, O'Brien, and Huxley. Poetry, short stories, and non-fiction documents are incorporated into each unit with a novel or play as the central text. One independent choice novel is also read each semester. AP test prep will be incorporated into the class for those wishing to take the exam in May.As preparation for the rigor of AP English Literature, students will have a summer reading requirement of two novels analyzed through an essay. During the semester, daily reading assignments, class participation, analytical papers, and a multi-genre project are required elements of this course.In order to take the AP exam, students must enroll in both semesters.
JOURNALISM – 9, 10, 11, 12 – (Yr. – 10 credits)
Students in Journalism will be responsible for regularly publishing the Pius X-Change, Pius' official student publication. Students will choose newsworthy materials, interview people, write and edit stories, take and print photographs and layout the newspaper. Students are also responsible for raising funds through advertising sales. Students with strong writing skills, photographic skills or artistic a bilities are encouraged to apply. This is a year-long course, but qualified students may be able to sign up at semester. Two years of Journalism can satisfy one semester of English credit, or may be used as an elective for graduation.
JOURNALISM II – 10, 11, 12 – (Yr. – 10 credits) [Prerequisite: Journalism I]
This course is intended for the serious journalism student who wishes to receive additional instruction and practice in this particular area of study. Journalism II students may be eligible for editorial/leadership positions and may work on more in-depth projects. This class is highly recommended for students who are preparing portfolios for admission to a college journalism program. This course is offered concurrently with
Journalism I. Two years of Journalism can satisfy one semester of English credit, or may be used as an elective for graduation.
YEARBOOK – 10, 11, 12 – (Yr. – 10 credits)
Teacher Permission
Students in the Yearbook class will be responsible for putting together the yearbook for Pius. Work will include creating a visual and written record that reflects the nature of our school. Students will design individual pages and will be required to attend extra-curricular events to take photographs. The course requires students to be self-motivated and have an ability to work well with others, especially in pressure situations. Course work in Journalism, Graphic Design and Photography is highly recommended. Students registered for these courses or students with strong interests in these areas are encouraged to apply. This class does not fulfill the English credit requirement, but may be used as an elective for graduation. Students are accepted through application to the instructor.
ACADEMIC DECATHLON – 9, 10, 11, 12 – (Yr. – 10 credits)
Academic Decathlon is an accelerated and intensive year-long course of study in science, social studies, math, English (literature, critical reading, and writing), art, music, speech and economics. A new theme focuses the study each year, so a student may take this course more than once. Students are encouraged to participate in at least one scrimmage the first semester. A select group of twelve students will compete in Regional, and if successful, State, and possibly National Competitions. Because students in Academic Decathlon must come from three academic levels (A, B, and C or below) as determined by selected portions of their GPA, students of varying ability and grade will be in class together. Grading standards for this course are adjusted for grade and ability. Summer reading is encouraged.