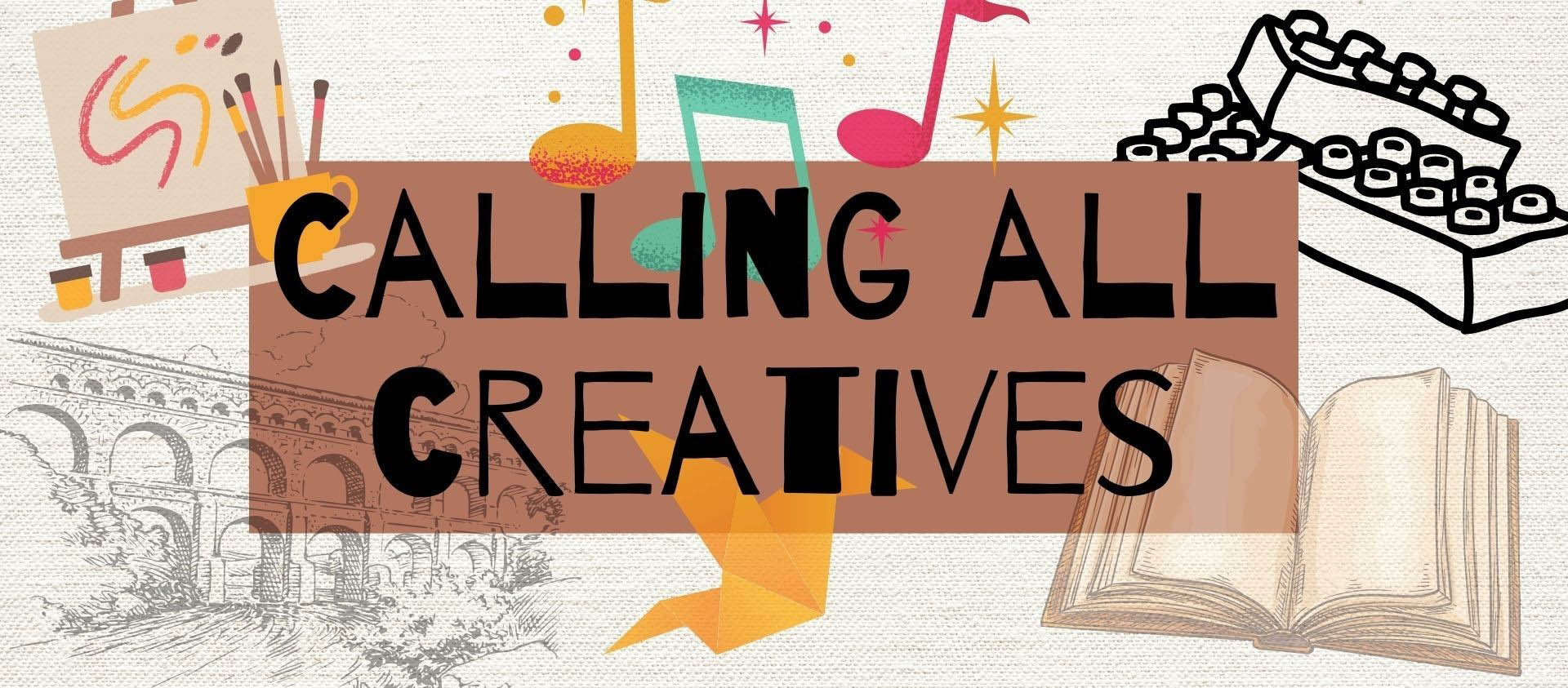 Content from Alumni Creators
Collene Hake '85 - Joshua Tree, Calif.
I am inspired by good luck charms, religious iconography, & existential experiences. I still have my diaries (even from when I was age 7) & sometimes I mine them for poems to include in my art. There are many homesteader cabins in Joshua Tree, CA (where I live) that only allow space for small pieces of art, so I started creating beneditos, or cabin blessings. I had a stockpile of wrought-iron trivet frames leftover from when I had used the tiles for mosaic murals. So I worked within each iron frame from the outside in, & included a horseshoe, a poem, & various charms. The intention was for my beneditos to offer good luck & protection to home sweet homes. See more on her website – www.lamatadoragallery.org.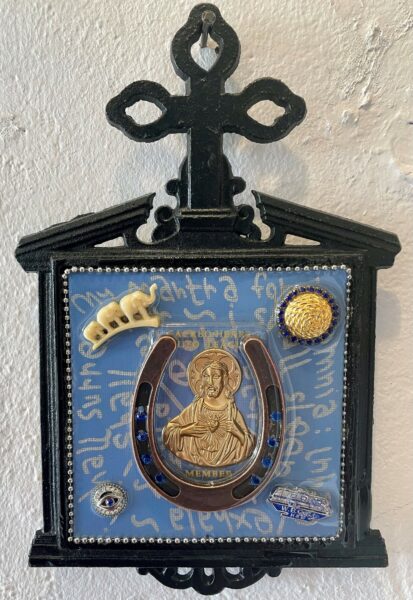 "no more room at the rusty nail inn/ her relief like a tetanus shot went unnoticed/ so she left her drama in the sand" by Colleena Hake (Mixed media cabin blessing 5″x7″)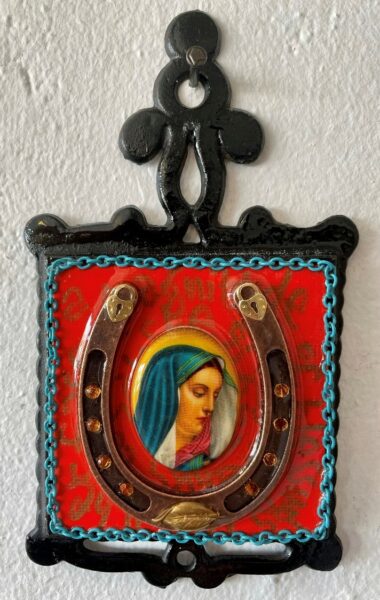 "a magnitude of blessings befall her face/ she gives thanks to saving grace"
by Colleena Hake (Mixed media cabin blessing 3″x5″)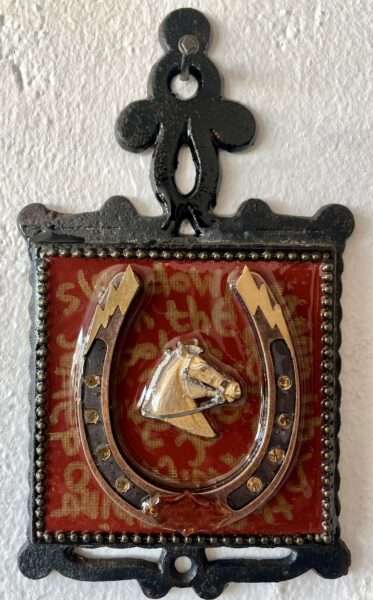 "sun down ~ moon up/ evening dawns on desert/ & with it a cool crisp of an air"
by Colleena Hake (Mixed media cabin blessing 3″x5″) 
Kim Fitzekam '76 - Lincoln, Neb.
Serving Hands Reflect Helping Hearts This is a Lincoln public art project that was commissioned by Campus Life Lincoln, NE along with 39 other "serving hands" that were commissioned by local patrons or businesses. After completion, it was displayed in front of the downtown Haymarket post office until it was auctioned in October 2019 and resides permanently in front of Southlake Village Rehabilitation & Care Center in Lincoln. Mirrors were used to inspire personal reflection and the fused glass hearts were used to demonstrate reflection while using one's heart.
Avry Victor '19 - Lincoln, Neb.
My painting project was to create a piece that merged 3 eras in whichever way we wanted. I chose to combine a 17th century French painting, Art Nouveau, and 21st century inspiration. I built my own canvas stretcher and stretched the canvas for this oil painting. I chose to paint one of my favorite music artists Brent Faiyaz. I think it's important to see people of color in artwork and that's something I focus on in every piece I create. This one is no exception. Painted in the context of the 17th century when people of color would be painted in the background, often in roles of servitude, my painting offers a different reality.
Jason Kolbas '21 - Lincoln, Neb.
I didn't think I had such a passion for Art until I took classes with Mrs. Rodaway & Mrs. Wallish.

This painting was simply an assignment in Rodaway's class, but it ended up being one of my favorite pieces I have ever painted. The assignment was clear, I was only allowed to use black and white acrylics as my medium. This piece was something I was excited to wake up for.

Pottery was an unexpected love for me. Mrs. Wallish saw something in me that I didn't know I had, and really brought it out of me. I have made almost a hundred pots in the art room but there are just a couple of pieces that I extremely enjoyed making. These two pieces aren't necessarily my best work, but they pushed my expectations as to what I'm capable of accomplishing, and they are now priceless works of art to me.


Sean Bottger '05 - Lincoln, Neb.
My career path lead me to becoming a Carpenter and Contractor for my own company. I truly enjoy woodworking which lead me to making crucifixes in my free time. While my wife was home on maternity leave we took on the adventure of making a wall rosary for our home. My wife fell in love with the joy of making the rosaries which in turn helped her start her own Etsy shop committed to Catholic decor. While wanting to give back to the Catholic community, a portion of each purchase goes to St. Gianna's women's home here in Lincoln. We are based out of here in Lincoln, but we ship our rosaries and items all throughout the United States. Evangelize one bead at a time.

https://www.etsy.com/shop/CatholicCarpenter
Elizabeth (Bolkovac) Mitton '77 - Missouri City, Texas
These are a sample of the paintings I have done during past three years. I have no formal training but enjoy the creative outlet. My favorite mediums are oil and acrylic on canvas. I started painting as something to do for fun. Just for me. I give them, primarily, to friends and family. It's peaceful to develop a hobby that allows me to be still and learn to appreciate the beauty around us for a bit every week.
Corbie Gauthier '73 - Lincoln, Neb.
"Father and Son", 2002, Oil on Linen Canvas, 28" x 36"
(Published as a limited edition print by Mill Pond Press. Original owned by the artist.)
Like many others I have a special devotion to St. Joseph.  The painting is meant to show the Love between Father's and Son.  Joseph, foster Father of Jesus and God the Father, symbolized by the light streaming in the window.
Emma & Trevon McGill '11 - Rochester, Minn.
Our Etsy shop (rosewoodsign) has allowed my husband and I the opportunity to use our creativity to make custom products for others and has also been a means of evangelization for us. We have a passion for creating seasonal products with an emphasis on the Christian family life. Many of our products are designed as interactive activities for children and their parents. We are so grateful to have this opportunity to share our creative side with others!
Alehna Taylor '08 - Denver, Colo.
website: alehnasart.com
-What makes you want to paint/what do you enjoy about it? – I love getting a vision in my mind of the next painting, and find so much enjoyment seeing it come to life in a way that I interpret colors.  It's also very meditative to me when I am placing colors on a canvas
How did you first come to love painting?- I have always enjoyed drawing as a kid, my mom was a bit of an artist as well.  I had a childhood best friend that was always down to be creative, so we'd spend hours recreating drawings we found online of our favorite celebrities.  Eventually, I branched out to oil painting and fell in love with its ability to blend
Why do you choose the subjects that you paint? – I paint people I know the best, myself and people that have an impact on me.  I like to capture their being and spend time painting them and thinking about what I love about them
Ellen Budell '17 - Lincoln, Neb.
Explore Atchison: Beautiful, Historic; Public Mural; 8'x8′; Atchison, Kansas; 2019: "Explore Atchison…" is a public, outdoor mural project created for the Spring Venture Group of Atchison, Kansas in 2019. This piece depicts some of the major highlights and history of the city of Atchison, Kansas.
Atchison "Inside Out"; Public Mural / Digital Photography; Atchison, Kansas; 2020: "Atchison "Inside Out" was a public, outdoor mural project by and for the city of Atchison. This work was done through the international organization, "Inside Out", whose artist-led mission is to provide a platform for people to transform their personal stories and messages into public works of art.
The aim of the project is to collaborate with the people of Atchison by photographing those who participate as well as volunteer in services provided by the community such as the Kansas Special Olympics, Atchison Public Library, Project Atchison, Benedictine College Hunger Coalition, and COR+ at the Atchison YMCA. 55 portraits enlarged into posters were displayed as a large-scale mural in the city. This mural is a celebration of the ways that the Atchison community is coming together, growing, and telling their story."
But as I am Becoming; oil on canvas; 4'x8′; Atchison, Kansas 2021: "But as I am Becoming" is a response to the painting, "Not as I will Be" and features the reality and hope of becoming new creation. Created purposefully during the season of Lent and Holy Week, "But as I am Becoming" reflects on the beauty of the Shroud of Turin in the abstract.
Grace Seeman '19 - Lincoln, Neb.
Catholic in College covers conversations about common struggles and experiences of Catholic college students.
It is a forum to show students that they are not alone in practicing their faith by sharing student testimonies. Guests also include those who have made it through college who can give advice and encourage listeners to be open, be present and be loved.
Joseph Warner '99 - Lincoln, Neb.
I've always been fascinating with Good Friday, it's a very special time for all of us Catholics, so I wanted to paint something that showed the exact moment our sins have been wiped away by Christ dying on the cross. I also wanted to add some images of the Garden of Eden and the great flood, kind of signifying mankind's sins being washed away.
My little sister, Angela (Warner) Davison started painting a few years back.  After seeing some of her paintings, I decided to give it a shot. I'm a cheapskate so I just painted this on a piece of wood I had in my garage and some paint/brushes from the Dollar Tree. 
Tony Nguyen '07 - Austin, Texas
As a kid I would draw along while watching Power Rangers and create my own crazy monsters. Haven't stopped. I've always enjoyed life drawing and portraiture and my focus the last several years has been studying the figure, portraiture and more recently, the costumed figure. I use charcoal because I love getting my hands messy. It's hard to control and to master it has been a fun challenge. Because of the nature of charcoal, sometimes it leaves behind fingerprints and smudges on the work. Depending on the piece, sometimes I leave these marks because they show the drawing process which is equally important to telling the story of the art. (See more at www.tonyisdrawing.com.)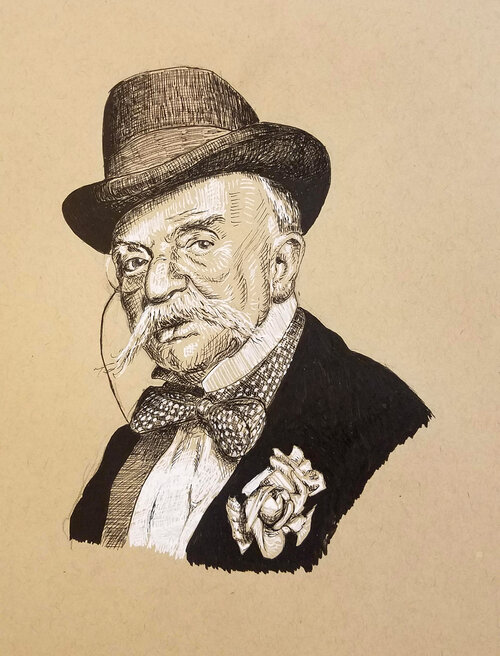 Angela Davison '02 - Lincoln, Neb.
About 4 years ago, I suffered an eye occlusion in my left eye. This is basically a stroke in my eye. This is extremely rare for someone my age and in pretty good health. I was really scared and thought I was going to lose my eye sight in my left eye. I started to receive treatment while still very frightened that this may happen again. Since there was a possibility that I could lose my sight I decided that while I can still see, I wanted to create beautiful paintings. The more I read about painting the more I was drawn to it. When I paint, I try to make this more about praying and finding peace with the Lord. My father prays the Divine Mercy Chaplet almost daily and I wanted to paint something for him to put in his prayer corner. I used acrylic paints and all sorts of different brushes. This painting gave me so much peace of mind and I poured so much of my prayers into this painting. This is one of my favorite paintings, not only because it is beautiful, but because this painting helped me transfer my pain and suffering to Jesus.