Pius X Connections Magazine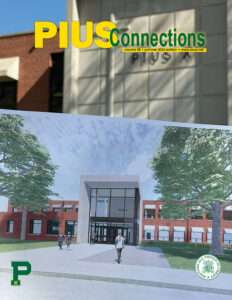 Pius Connections is a bi-annual publication for alumni, parents and friends of Pius X High School. The magazine features both in-depth articles and brief highlights about Pius X alumni, as well as news stories about current events, students, faculty and staff. The publication is mailed out twice a year to more than 10,000 alumni, parents, parents of alumni, and friends of Pius X.
Share Items
An important purpose of Pius Connections is to keep our alumni connected to each other and to your alma mater. All alumni are encouraged to share your whereabouts, wedding pictures, new baby pictures, new job, anniversary information, awards, honors, or other information. Contact Kristin (Edwards) Heath '91 or call 402-488-0931 ext. 132.
Promote your business
If you have would like to advertise in Pius Connections, please contact Zachary Baehr at 402-488-0931 or zachary.baehr@piusx.net.
Connections - Summer 2023