Days until the 2019-20 school year begins
Preparing for the School Year
This school year will begin on Friday, Aug. 16 at 9 a.m. We will celebrate an all-school mass.
1st Day of School Bell Times
1 – 9:00–9:20
2 – 9:25–9:45
Mass / Class Meetings – 9:50–11:37
3 – 11:42–12:02
4 – 12:07–12:27
5A – 12:32–12:56
5B – 12:56–1:21
5C – 1:21–1:46
5D – 1:46–2:11
6 – 2:16–2:36
7 – 2:41–3:01
8 – 3:06–3:26
The new addition is called the Msgr. James D. Dawson Learning Center. Inside is the Msgr. Ivan F. Vap Industrial Arts Center. The subjects taught in the new classrooms include Industrial Arts, Visual Arts, Social Studies, Family & Consumer Sciences and some music ensembles. Other classes throughout the school have been shifted. And we are most excited to report that the portable classrooms are gone!
Finding Your Way To Class
This year, each classroom has been given a new number. But there's an easy way to navigate:
the first number is the floor (first or second floor),
the second number is the hallway number (#1 hallway is closest to the front of the school, #2 is the middle; #3 is toward the back),
the third and fourth numbers are the room numbers, with even numbers on the south side of the school, and the odd numbers to the north.
Also, wayfair signs have been posted throughout the school to help.
If you had meal money left in your account from the last school year, it's still there! Deposit new funds in one of two ways:
Bring check/cash to school front office (include student ID#)
Use the MySchoolBucks website (fee may apply)
Use the MySchoolBuck app for smartphone (fee may apply)
The supplies needed for the school year depend on the classes students are enrolled in. However, you can get a glimpse of that list in our School Supply List (PDF).
All student-athletes must have a completed health physical dated after May 1, 2019 in order to try-out or practice for any sport. Turn in completed forms to the school's front office or the athletics office.
The first official day of the fall sports preseason is Monday, Aug. 12. Tryout and practice information will be posted here as they become available.
Aug. 12-14 –  Practice at 3:30 p.m.
Aug. 15 – 8 a.m. Mass at school followed by practice
Aug. 16 – Practice after school
Parent meeting:
July 29th @ 7pm in Pius X commons 
Equipment checkout (in wrestling room):
Senior- July 29th @ 8am
Junior- July 30th @ 8am
Sophomores- July 31st @ 9am
Freshmen- Aug. 1st @ 9am
First day of practice:
Aug. 12th @3:45
Updated Aug. 13, 3 p.m.
– Aug. 12 – Jim Ager, Jr. Golf Course, 4 p.m.
– Aug. 13 – Jim Ager, Jr. Golf Course, 4 p.m.
– Aug. 14 – practice/play on own
– Aug. 15 – Holmes Golf Course at 10 a.m. (9 holes for JV/18 holes for Varsity)
– Aug. 16 – Holmes Golf Course, 4 p.m.
Tryouts start Aug. 12th at 3 p.m. on the softball field. Students should bring their equipment, water, and tennis shoes with them to the first day.
Monday, Aug. 12 – Tryouts 3:30-6:00 pm
Tuesday, Aug. 13 – Tryouts 3:30-6:00 pm
Wednesday, Aug. 14 – Tryouts 3:30-6:00 pm – team will be posted by 9 p.m.
Thursday, Aug. 15 – Assumption Mass – 8 am (New Gym), team practice afterwards until 11:30 am
Friday, Aug. 16 – Practice 3:30-5:30 pm – parent/player meeting at 5:30 pm in the commons
Players must be present at all three tryout sessions to be eligible for the team.  Physicals must be turned in to the Pius X office by Aug. 1. Players must provide their own racquets.
First tryouts are from 4 to 7 p.m. on Monday, Aug. 12th.
Picking Up Your 2018-19 Yearbook
The 2018-2019 yearbooks will be available for pickup during picture/schedule day on August 7 from 8 a.m. to 3 p.m. in the Pius X commons. If you did not pre-order a yearbook and want to be placed on the wait list, send $75 to Mr. DeWispelare at Pius X and extra books will be handed out in the order they were reserved.
Class Schedules and School Photos
Student pictures, locker assignments, demerit card and schedule pickup will be Aug. 7 from  8:30 a.m. to 3:30 p.m at the school. You are strongly encouraged to come for these important tasks.
If you can't make it during this day, you may stop by the main office anytime before school begins from 7:30 a.m. to 2:30p.m. Monday through Friday to pickup your schedule.
Here is a list of reminders for proper appearance for picture day:
– Men – Clean shaved; Hair – must be not touching their collar and to the middle of the ear; Sideburns – must be to the middle of the ear; No earrings or piercings; Nice shirt or polo is preferred; If you are wearing a t-shirt no writing can be on the shirt.
– Women – No piercings other than ears; No cleavage; Shoulders must be covered; No shirts with writing on them.
– Pictures are a head-and-shoulder shot only. Students will bring home a picture card with your order codes. You may order directly from Pegasus.
Registration for Parking and Lockers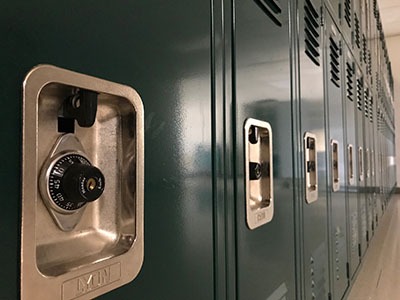 The registration time for lockers and parking spots will begin Tuesday, July 23. The last day for online sign-ups is July 31. Each student will be assigned a locker, but there are a limited amount of parking spots available and are awarded via a lottery system. This year, we will have about 50 more spots than last year (removal of construction zone and portable classrooms).
If space allows, some spots may be awarded to sophomores and freshmen. Students are asked to consider carpooling with siblings, friends and neighbors. Students who park on side streets near the school are responsible for following the posted street signs related to parking.
For more on parking at Pius X, see page 29 of the Student Handbook.
The Pius X Freshmen Retreat will take place Sunday, August 11th from 6pm to 9pm and Monday, August 12th from 8am to noon. All freshmen are required to attend. This is a great opportunity for freshmen to meet other students, become familiar with the school, and be given time for reflection and prayer. Parents should receive a postcard and several emails with more information. Email Claire.Maly@piusx.net if you have any questions!