Paul and Rosemary Reinsch were honored as Distinguished Stewards in 2019 for demonstrating exemplary commitment to Pius X High School, serving as role models to our community and as leaders in fulfilling the Pius X mission, and for generously sharing their time, talent and treasure.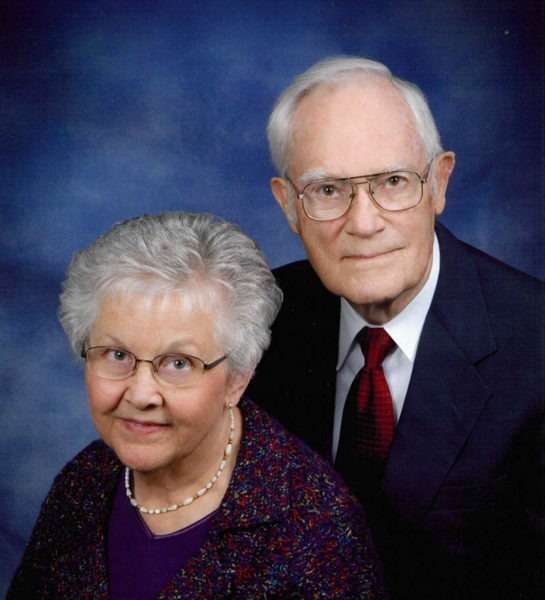 Parishioners of Cathedral of the Risen Christ, Paul and Rosemary have been married for 68 years. All eight of their children attended Catholic elementary schools (Blessed Sacrament and Cathedral) and are Pius X graduates. In addition to their dedicated service and leadership, Paul and Rosemary have also been incredibly generous supporters of Catholic education.
Their ongoing investments in Pius X span decades, including support for capital improvements, establishment of the Paul and Rosemary Reinsch Pius X Scholarship Fund for Cathedral students, and membership in the St. Pius X Legacy Society.
Paul William Reinsch Sr. was born in 1928 and grew up in Geneva, Nebraska. Rosemary Ann (Kavan) Reinsch was born in 1929 and grew up on a farm near Wahoo, Nebraska. Both Paul and Rosemary attended Catholic parochial schools through the eighth grade. Upon graduating from Geneva High School in 1946, Paul worked for two years at the Geneva State Bank, and then attended Creighton University in Omaha. He received a bachelor's degree in accounting in 1951. Paul was commissioned a 2nd Lt. in the U.S. Army through the R.O.T.C program at Creighton. After graduating from Wahoo High School in 1947, Rosemary attended St. Elizabeth School of Nursing in Lincoln and graduated in 1950. She worked at St. Elizabeth Hospital in Lincoln, St. Joseph Hospital in Omaha, and then at the Fairbury Hospital, in Fairbury, Nebraska.
Paul and Rosemary met in the fall of 1949 at the St. Elizabeth School of Nursing, when Paul was visiting his sister, who was also a nursing student. Paul and Rosemary married in March of 1951, and were blessed with six sons and two daughters. Paul served in the U.S. Army from 1951 to 1953. He spent the majority of his service in Germany. Rosemary was able to be with him in Germany for almost a year, and during that time they visited Rome (January 1953) and several family members living in Germany.
Upon completing his service in the U.S. Army, Paul worked as a certified public accountant for the accounting firm Miller & Moore CPAs (now BKD) for 37 years, serving as a partner for 30 years, and as past president and treasurer until his retirement in 1990. He was a member of the Nebraska Society of CPAs, the AICPA, and the Lincoln Independent Business Association. Rosemary enjoyed working as a floor nurse, and as their family grew, "transitioned into being a domestic engineer, and even got her own CPA (cleaning, pressing, alterations)." She enjoyed sewing, taking classes to learn to make drapes, clothing and formals, and sewed her daughter's wedding gown. Paul also enjoyed hunting, fishing, and touring the National Parks with family and friends.
Currently Paul and Rosemary enjoy family gatherings and gardening with their grandchildren who either live in the area or have attended the University of Nebraska.
The Reinschs have advanced the mission of numerous Catholic and community organizations in Lincoln through numerous years of dedicated service and leadership. In addition to serving on the Pius X Foundation Board of Directors, the Pius X High School Advisory Board, and as the Pius X High School 20th Anniversary Development Program campaign treasurer, Paul volunteered for special projects for Superintendent Morin and compiled monthly financial reports and other materials for the Pius X Foundation for approximately 20 years. He has also served as Diocesan Development Program co-chair, as president for the Bishop Lay Committee for Vocations, as BSA scout master and treasurer (troops 44 and 54), as vice president and first non-Omaha alumni member of the Creighton University alumni council, as a board member for Catholic Social Services and for Madonna Rehabilitation Hospital, and as president and treasurer for the Serra Club of Lincoln.
Paul's current memberships include the Serra Club of Lincoln and the American Legion Lincoln Post #3 (both since 1963), and the Knights of Columbus.
Rosemary's service and leadership includes membership in the St. Elizabeth Alumni Association, past president for the Cathedral Parish Council of Catholic Women (Altar Society), past president for the Lincoln Deanery of Diocesan Councils of Catholic Women, and serving as a Cub Scout den mother for her sons and as a Girl Scout leader for her daughters. Rosemary continues to be an active member of the Cathedral Altar Society. Together, Paul and Rosemary delivered Meals on Wheels sponsored by the Knights of Columbus for 25 years.
Their devotion to their Catholic faith included regular Holy Hour commitments and Paul's service as an usher and acolyte.
Photo Gallery