The youngest of 10 children, James J. Meysenburg was raised on a farm by Bellwood, NE. A highly respected priest and educational leader, Fr. Jim Meysenburg has left an indelible legacy as the 7th superintendent/chief administrative officer (CAO) of Pius X High School. Fr. Meysenburg was ordained a priest May 27, 1989 at the Cathedral of the Risen Christ in Lincoln, and has been involved in education throughout his priesthood. Quickly promoted from teaching, he served as an administrator in K-12 schools for 28 years throughout the Diocese of Lincoln, and led Pius X High School as superintendent/chief administrative officer from June, 2007 to June, 2021.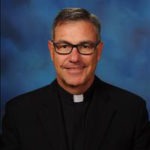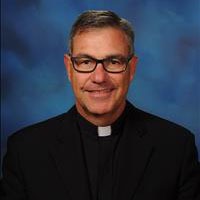 Fr. Meysenburg helped maintain and expand the strong Catholic identify for which Pius X has received national recognition. Two religious sisters – Sr. Abigail Marie Fuenning, M.S. '07 and Sr. Cecilia Joseph (Mai) Nguyen CMRM, '10 – professed final vows, and 12 priests were ordained, many of whom returned as Pius X teachers. Nearly all Pius X alumni currently in religious formation attended the school during Fr. Meysenburg's tenure, including 12 seminarians and 8 women pursuing religious formation. Pius X was honored as a School of Excellence three times by the Cardinal Newman Society Catholic Honor Roll (2006, 2007, 2014), twice under Fr. Meysenburg's leadership.
In addition to his commitment to growing the Kingdom of God, Fr. Meysenburg has also continued Pius X's tradition of excellence in academics and activities. With a long history of students earning the top ACT scores amongst Lincoln's high schools, a 99% graduation rate and a 96% post-secondary enrollment rate, Fr. Meysenburg also oversaw the launch of the school's acclaimed Academic Decathlon program. Many new classes were also added under Fr. Meysenburg such as Latin I-IV, Trigonometry and Statistics, AP Art History, and many more. Students with diverse needs also received additional assistance, with the addition of an Academic Success Coordinator and the expansion of Advanced Placement (AP) course offerings and other opportunities for students to earn college credit during high school. The number of NSAA Varsity Sports increased to 21 with the addition of Swimming and Diving (2010) and Bowling (2020), and Pole Vault was also added to Track and Field in 2020-21. Twenty-five state championships were earned during Fr. Meysenburg's time.
Under Fr. Meysenburg's leadership and through the generous support of our Pius X family members, benefactors and community partners, Pius X was blessed with many enhancements throughout the past 14 years, including adding new field turf to Aldrich Field in 2010 ($500K), building a high quality kitchen 2010-11 ($1.2M), adding new bleachers to the practice gym and adding a new softball practice field in 2011, renovating the Chemistry Labs and improving locker rooms, the wrestling room and weight room in 2012-13, and replacing the old gym roof ($150K) and adding the A/C system, kitchen and bathrooms renovations in 2014-16. In the summer of 2019, the $5.8M Monsignor James D. Dawson Learning Center and the Monsignor Ivan F. Vap Industrial Arts Center added 22,000 sq. ft. to substantially expand Pius X High School.  With his skillful stewardship of the school's finances, together with the Pius X Foundation Board of Directors and the Advancement Office, the Foundation endowment has also tripled; growing from $5.6M as of June 30, 2006 to reach more than $19M by June 30, 2021.
Fr. Meysenburg also ensured tuition remained as affordable as possible while improving compensation for our hard-working educators.  With more than 100 staff members under his care, Fr. Meysenburg helped Pius X reach a long-term goal of bringing faculty salaries to 90% (aggregate) of Lincoln Public Schools by 2017-18, and continuously advocated to improve employee benefits. Fr. Meysenburg's "genuine love for others" could be seen in many ways, from ensuring the financial health and long-term stability of the school, to countless hours spent plowing snow to clear the school's parking lots, to personally refurbishing a Mother's Room for staff who are nursing mothers.
Many have expressed their appreciation for Father Meysenburg's extraordinary service to Pius X by donating to a new endowment in his name. Initial distributions from the Fr. Meysenburg Endowed Fund will go towards a new Performing Arts Center for the school, an initiative that was always close to Fr. Meysenburg's heart. Later distributions will support a discretionary fund for the Chief Administrative Officer, to provide flexibility to address needs impacting students and the school as they arise.