News from Pius X High School
At around 6 pm on Friday, March 13, Pius X's Academic Decathlon coach Ann Kotopka sent out a text with an update about the Alaska Nationals trip. "Sad news but expected…we will not be traveling to Alaska," Kotopka's text read. Nationals will continue as planned, but the testing will take
Emily Daniel shared part of her life story during a Pius X Lenten Talk. Her story centered around seeking God's mercy while remembering that one's failure is not final. Photo Gallery More Audio Stories
At around 6 pm on Friday, March 13, Pius X's Academic Decathlon coach Ann Kotopka sent out a text with an update about the Alaska Nationals trip. "Sad news but expected…we will not be traveling to Alaska," Kotopka's text read. Nationals will continue as planned, but the testing will take
Roaring towards …BOLT: Prohibition and Pearls! This year's annual BOLT Gala will feature the 20s, as in the 1920s. Join us for a night to support the Bolts. What we're celebrating: AcaDeca! Pius X won its second straight state title,
Senior Joe Finder shares his own story of how he finds forgiveness and peace after life's difficult moments. More Audio Stories
In the audience today are fellow students, but some of these students will be chosen to read to students in elementary schools.
"Remember that you are dust, and to dust you shall return."
Pius X won the State Championship in the Academic Decathlon, the school's second straight title. The state event was held Friday and Saturday at the University of Nebraska-Omaha. The team was led by junior Clare Oldenburg, the individual state champion,
Students in Building Construction class taught by Don McKee are making wooden sawhorses for customers. Orders for the Spring semester are limited to the first 10 submitted. (A waiting list will be made available after 10 orders have been received.)
Tom Seib – teacher, coach, principal and mentor at Pius X High School – will retire at the end of the 2019-20 school year. Seib will be honored during tonight's basketball games. Seib began teaching in 1974, and began teaching
Catholic speaker Jason Evert shared a powerful message to our students today, focusing on God's love for them, the gift of chastity, reclaiming purity, and lots more. His humor kept all engaged, his stories of breakthrough moments from others showed
Musicians from Pius X performed a five-stop tour in one school day! Every year, student musicians visit Catholic schools in Lincoln to perform for their students. As many of our Pius students are alums of these schools, it is often
Photos from our annual New Student Open House Latest Stories
Pius X High School has announced two new hires to its administrative team for the 2020-21 school year. Greg Lesiak has been named the new Athletics / Activities Director, replacing the retiring Tim Aylward. Shelly Pick has been named the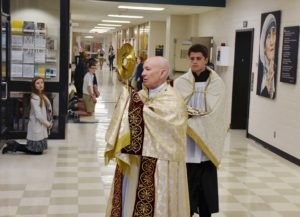 Photos from our Eucharistic Procession and All School Mass during Catholic Schools Week 2020.
Pius X Library will be hosting a live broadcast of the 2020 ALA Youth Media Awards Monday, January 27, starting at 7am. Come for donuts and coffee and be the first to see the next great titles in Young Adult
Teacher Jim Bertrand has students explore the impact of drag and lift and wings and weight using a computer simulation in his Physical Science class.
Our second semester started with our annual Epiphany Mass. Students with family ties to countries around the world carry that country's flag in a procession before mass. In his homily, Fr. Bernardo said each flag is important because it makes
The Thunderettes dance team put on their annual Finals Week Survival Kits fundraiser December 16. The bags ranged anywhere between five to fifteen dollars per student. Depending on what exact kit the student wanted. "The bags all have snacks, drinks,
Sophomore Gage Campbell has been accepted into the Young Lions Big Band. It is an honor band for musicians age 21-and-under. Campbell plays the baritone saxophone. On February 1, he will be performing with the Young Lions Big Band opening
Teresa Raun spoke at our Advent Service about the many gifts God gives us all, while sharing the story of her late son, Nathan.
Campus Minister Claire Maly shares her story about the impact Our Lady of Guadalupe has had on her life, specifically when considering a life-changing decision.
The following students earned a medal in the December Academic Decathlon Scrimmage held at Creighton Prep High School this past Saturday. The fields tested were Economic, Music, Science. Nineteen Pius students participated. HONORS Economics Music Science Andrew Kotopka – BRONZE GOLD Clare
During the language unit in psychology, students take a look at the underlying psychology of language learning by examining history, motivation, memory, and the mind.
Fr. Bedient talks about his own journey and gifts through a life of love and loss and love again thanks to God's vocation for him.
The Lincoln Pius X High School Christmas Choir Concert at St. Patrick's Church in Lincoln, Neb. 2019 Photo Gallery Latest Stories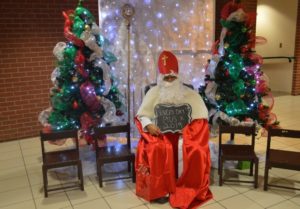 As people started to file into the commons at Pius X, there was one thing everyone had in mind. They were ready to celebrate St. Nick during the Foundation Department's annual St. Nick at Night event. The celebration started at
The Pius X guidance office is hosting their annual Scholarship Social event December 3-5. Each day, seniors can go down to the Mother Teresa Conference Room and learn information about scholarships they're eligible for, how to apply for them, and
Log Pages for the PXK Challenge during the month of December and get a prize. Visit the the library to pick up your minty lip balm!
Senior Claire Wackel (Saint Joseph School) spoke at today's Advent Service of her own journey to accept God's unique gifts for her.
Spanish IV students were in shopping mode at their in-class bazaar. They could only speak Spanish when negotiating a price for various and random items their classmates tried to sell. This bazaar was a high-energy, bustling center for goods where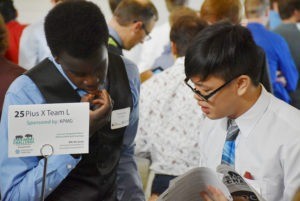 What do Sunbucks, Apollo Athletics, and Orange, Inc. all have in common? They are fictional companies in the Junior Achievement Stock Market Challenge. Students from Alex Hain's Academic Decathlon class and Ryan Psota's Economics class participated in the fifth annual
About 60 Pius X students participated in Tuesday's Junior Achievement Stock Market Challenge on Innovation Campus at the University of Nebraska – Lincoln. Their goal was to work in teams to invest in a fictional stock market, using tips, news
To complete the unit on learning, Psychology students spent half of a class period playing with games and memory toys. Play is powerful for children, It's actually the key to learning. Researchers and educators across the world have found that
Fall 2019 Student-Athlete Recognition Ceremony Eleven student-athletes recognized for committing to play a sport in college Eleven student-athletes from Pius X High School were recognized on November 13 for having committed and signed to play a sport in college. A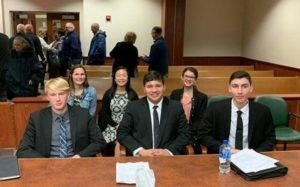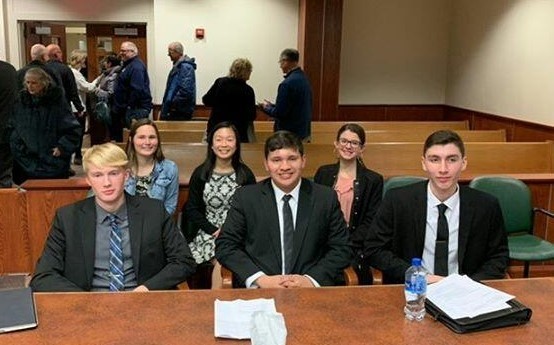 The Pius X mock trial Team One competed against York in Districts at the Lancaster County courthouse on Tuesday, Nov. 12. This was the first time a Pius X team has advanced to Districts since 2016. The team consisted of
Two Pius X students took part in a medical job shadowing experience to provide insight into a possible future career. Seniors Jacylan Doering and Maddie Birch answered questions about their experiences. Where did you have your shadowing experience? Jacylan: My
On Monday, Nov. 4, we held our annual All Souls Mass for the families of our deceased Alumni of Cathedral and Pius X High School, and the special intentions of our students, faculty and staff.
On November 6, Pius X had their annual blood drive for Nebraska Community Blood Bank. Student Council sponsor Susan Kelly, who oversaw the blood drive, said, "The people at the blood bank gave us a goal and Pius X students
Jesse Adame, a junior, conducted research and wrote a paper about food sustainability and then competed with students from all over Nebraska and was chosen as one of 6 Nebraska delegates to attend the Youth Institute at the World Food
The Pius X Academic Decathlon team participated in November Academic Decathlon Scrimmage held at Gross High School. The fields tested were Art History, Language & Literature, and Math. Thirty-four Pius students participated. Super Quiz: GOLD-Clare Oldenburg, Ben Blankeau, Ashton Ivanov, Marcos Oyler, Garrett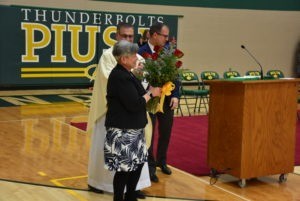 Tim Aylward, the school's athletic director, and Jan Frayser, the Director of Guidance, will both retire at the end of the 2019-20 school year.
Tess Timmerman, a student at Pius X High School, has been named the winner of a state essay contest for ninth-grade students. She won the 2019 Nebraska State Pro Life Essay Contest sponsored by the Nebraska Knights of Columbus State
In Culinary Arts, students are working on 'food preparation,' so to liven up the unit on eggs, teacher Amy Shonka created a culinary competition – Deviled Egg Duals – in which each student team selected their own deviled egg recipe
The members of Latinos Unidos here at Pius have put this ofrenda together to celebrate day of the dead.
The 2019 Yearbook has been awarded a Cornhusker Award from the Nebraska High School Press Association. This is the highest award for a high school publication on the state level. "The students put in a ton of work to make
New books are arriving on the shelves daily. Visit the library often to check out new titles! The following new releases were recommended by Pius X students and faculty:
Pius X High School students in the Class of 2019 matched the school's all-time highest ACT composite score, in a report released Wednesday. The scores reflect the students' achievements in the curriculum-based assessment. This year's composite score of 24.8 matches
The State Golf Championships are in the books with the Pius X girls team finishing in 4th place in Class A! Two student-athletes earned medals: freshman Nicole Kolbas finished with the silver medal, and senior Lauren Carr finished tenth. Congrats!
The Young Adult Library Services Association holds an annual competition to determine the best YA Literature published in the prior year. The book nominees are determined by teams of high school students throughout the country who read and review Advance
The Pius X High School speech and debate team has earned membership in a prestigious club. The National Speech & Debate Association (National Forensic League) has given the program membership into its 100 Club. The association said this accomplishment demonstrates
Our Junior Retreat Day was all about service and reflection in our community. The Class of 2021 spread throughout the community, including Calvary Cemetery, Food Fort and Sunken Gardens. Latest Stories
Aca Deca took their annual fall trip to New York City to further study their theme of "In Sickness and In Health." In just five days the students did the following activities: Walked across the Brooklyn Bridge, toured The Cloisters,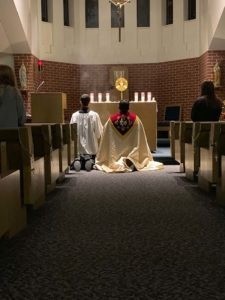 The Pius X Campus Ministry team arranges praise and worship events called Restore. These exhibitions provide Pius X students the experience of hearing fellow students' testimonies and adoration and confessions in a community setting. Restore is held the first Wednesday
Congratulations to our Top 10 PxK Teams! 33,687 pages – The Baking Bunch 12,481 pages – Five of Crows 11,584 pages – TBD1 9,552 pages – Team AcaDeca 8,560 pages – Moms of Boys 7,832 pages- Crazy Ducklings 6,545 pages
How should we celebrate the Feast Day of the Patron Saint of Libraries? Read Scripture! Read assiduously and learn as much as you can. Let sleep find you holding your Bible, and when your head nods, let it be resting
Today marks the end of Banned Books Week 2019. This annual celebration calls attention to our freedom to seek information and express ideas through books. The modern, progressive function of Banned Books Week is to champion books that have been
We celebrated our Founders and our grandparents with a special all-school Mass on Sept. 27. A special thanks to all of our special guests for blessing us with their presence and continued prayers. Latest Stories
Good food, good people and a relaxing time is how Pius X chaplain Fr. Joseph Bernardo described the Pius X tailgate. Pius X's homecoming football game and tailgate happened last Friday with the tailgate starting at 5:30 and the game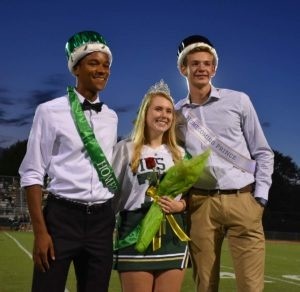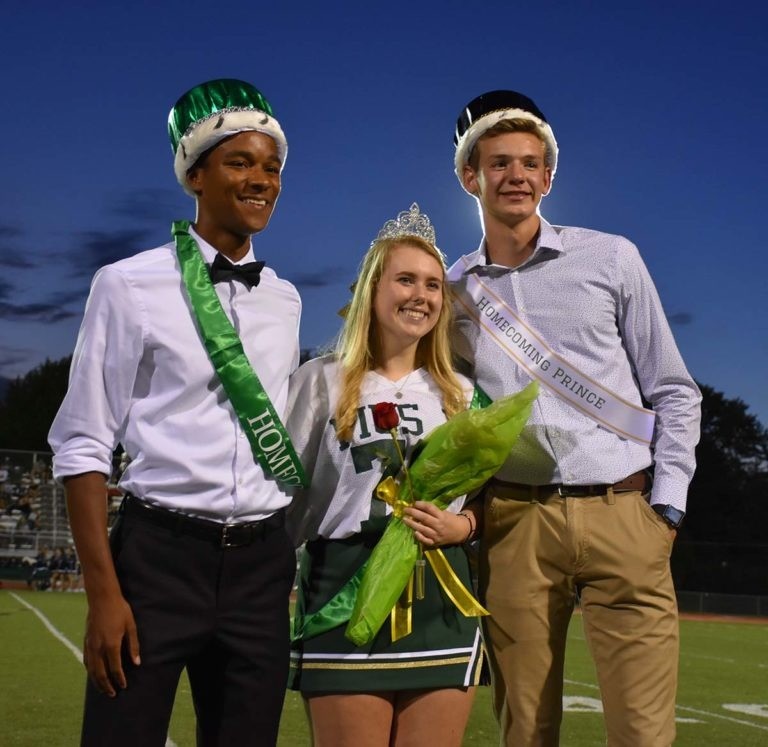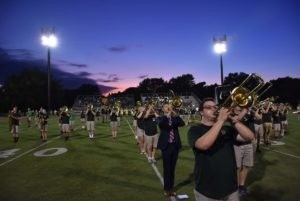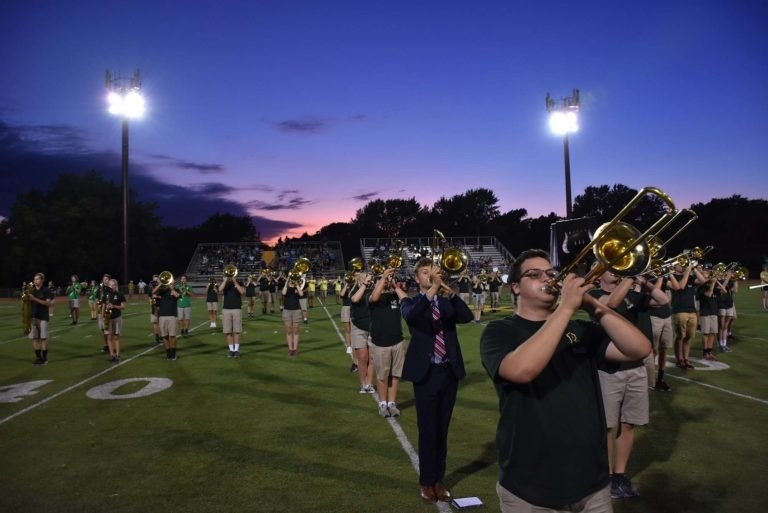 The Pius X Foundation staff has moved from three offices to one office inside of Pius X High School. With the new classroom addition, the Family and Consumer Science department had new classroom space. The former FCS classroom (formerly Room
Studying latitude and longitude – combined with creative lesson planning by science teacher Lori Watson – led to a geocaching activity for students in Earth, Energy and Environment.
The page totals from the first 10 days of the PxK Team Reading Challenge have been calculated and the Top 10 Teams are: Baking Bunch – 5,553 pages Five of Crows – 5,471 pages Team AcaDeca – 5,225 pages All
A group of Pius X Academic Decathlon students took a trip to the Joslyn art museum in Omaha last Saturday. The main reason for this Saturday morning trip was because the Joslyn holds a painting by John Singer Sargent, one
Academic Decathlon wrapped up its study of Art History this week with a tour of Omaha's Joslyn Art Gallery.
Mike Witt has stepped down as the head coach of Swimming & Diving at Pius X High School to take a coaching position in Texas. Witt coached the Thunderbolts for five years, leading the girls teams to three-straight top-three finishes,
As the Friday night lights beam down on Aldrich Field and the band begins to play, there's one performer who stands out from the rest. Maddie Ames is a junior at Pius X and began twirling at 5 years old.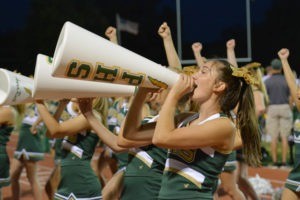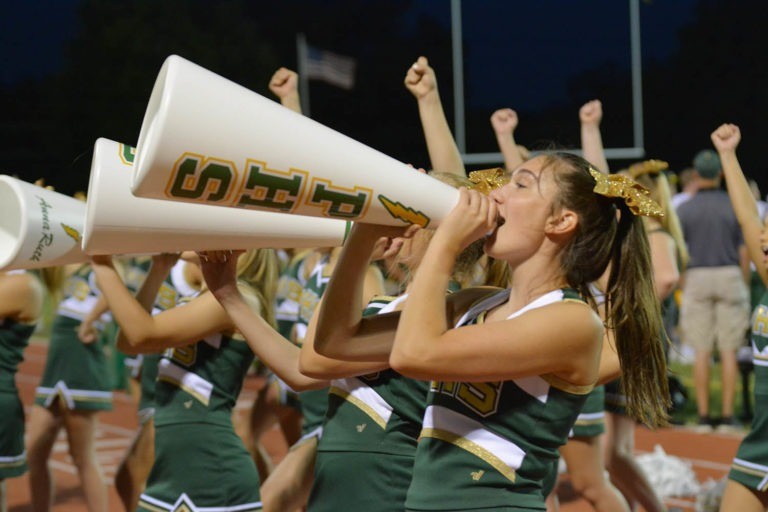 Most of these photos were taken by a Yearbook photographer, once again showing the amazing talent in front of and behind the camera!
The school library is a vibrant, active place of learning throughout each school day. Below are great reasons to visit the library. Students are required to scan in/out with their ID cards through the library check-in system. *To READ or
Nolan DeWispelare, a teacher and coach at Pius X High School, was selected and served in the final round judge pool of the 2019 National Speech & Debate Tournament, the largest academic competition in the world. "I consider selection as
Student Council members had a welcome back retreat today, even though they were rained out from their usual picnic at Holmes Lake! They welcomed the new freshmen members, distributed T shirts, shared lunch, and did some team building! Each fall
Six students from Pius X High School participated in Boys State / Girls State this summer: Maggie Barie, Madeline Boothe, Abby Russman, Sean Freudenberg, Carlos Gutierrez, Nick McElroy. They answered questions about their experiences and the impact on them as
1 Mile: Photos | Results5K: Photos | ResultsMore about the Thunderbolt Fun Run
1 Mile: Photos | Results5K: Photos | ResultsMore about the Thunderbolt Fun Run
Landon Novosad is a junior at Pius X High School. He completed a landscaping project outside the Commons as a way to help the school and take a big step toward earning his Eagle Scout. What was the work you
Luke Tomes had a goal and a plan for the ACT: Practice, use what he learned in classes at Pius X, and practice some more. His hard work paid off with a perfect 36 score! For his senior year, he'll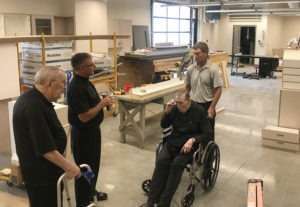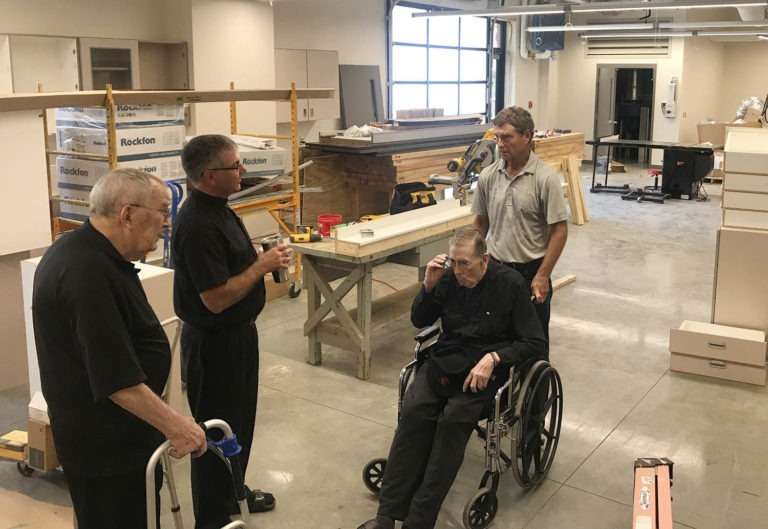 While they were touring, they were surprised by teacher Don McKee with a historical artifact, an old electric jig saw. In-scripted on the handle …
Clare Oldenburg, a junior-to-be this fall at Pius X, earned a perfect 36 score on an ACT exam during her sophomore year!
Students from our first-ever Marketing Camp explored our campus with cameras and captured it's God-given beauty!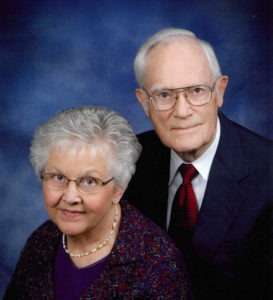 Paul and Rosemary Reinsch were honored as Distinguished Stewards in 2019 for demonstrating exemplary commitment to Pius X High School, serving as role models to our community and as leaders in fulfilling the Pius X mission, and for generously sharing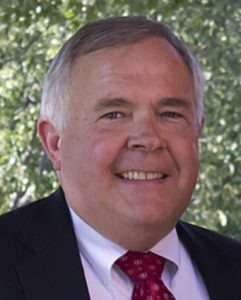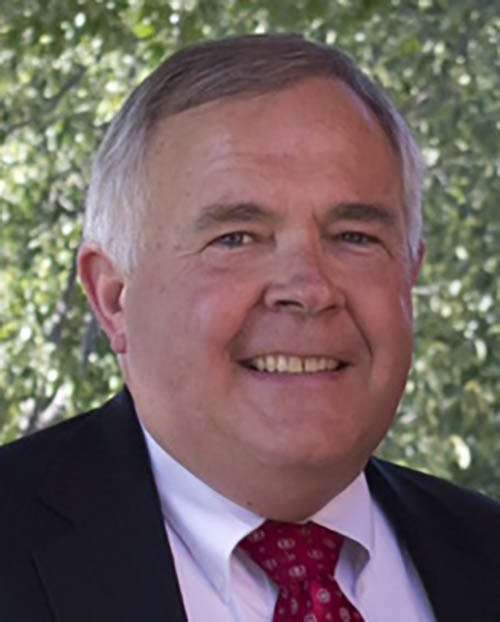 Outstanding Alumni – 2019
Senior Andrew Socha competed this month in Louisville, Ken., for the Pius X Archery Club. He shot a 285 in the NASP Eastern Nationals archery competition under the direction of coach Mark Stoley. Other club members competed at the state
Pius X High School will induct four individuals and two teams into its Athletics Hall of Fame this year. The induction ceremony will be this August at Pius X. The inductees include multi-sport athletes that left their mark for the
View our photos from the 2019 Graduation Ceremony on May 19.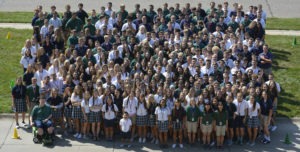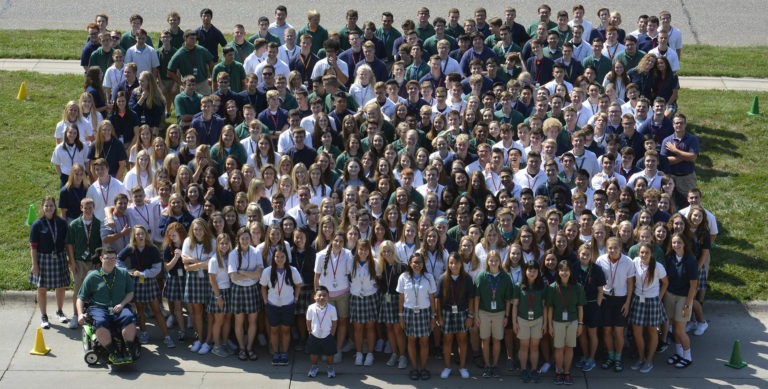 The Class of 2019 shares their favorite classes, activities, places on campus, and the impact Pius X had on their faith. Read about the many colleges and career paths that await.
The 2019 Senior Mass & Breakfast (at St. Joseph Catholic Church and Embassy Suites) celebrated the success of our students and the journey of faith for us all. Readers included Matthew Maguire, Abigail Mitchell and Nick Hanus. Gift Bearers were
Name recognition matters, but how about the design of the signs: From the funny, to the slightly silly, to the simple and straightforward, here's some of what students came up with this week.
The Class of 2019 processed with flowers for Mary leading up to our May Crowning Mass.
Physics students in Jeremy Scheffler's physics classes test launched rockets they created.
Pius X High School's Academic Decathlon team represented the state of Nebraska at the National Competition in Minneapolis April 25-27. The team placed 6th nationally and brought home 10 individual medals in the fields of Art History, Essay, Science, Music,
Senior Kate Linderman and junior Olivia Nelson took home honors at the Class A State Journalism competition in Norfolk. Linderman earned second place in Newspaper Sports Feature Writing. Linderman qualified for a story on Hayden Higgins, then had to write
After a one year hiatus, student council hosted the 'Mr. Bolt' competition Thursday evening, April 25. The Mr. Bolt performance night is a tradition at Pius X, allowing Pius men the opportunity to perform in a pageant-style format! Eight Pius