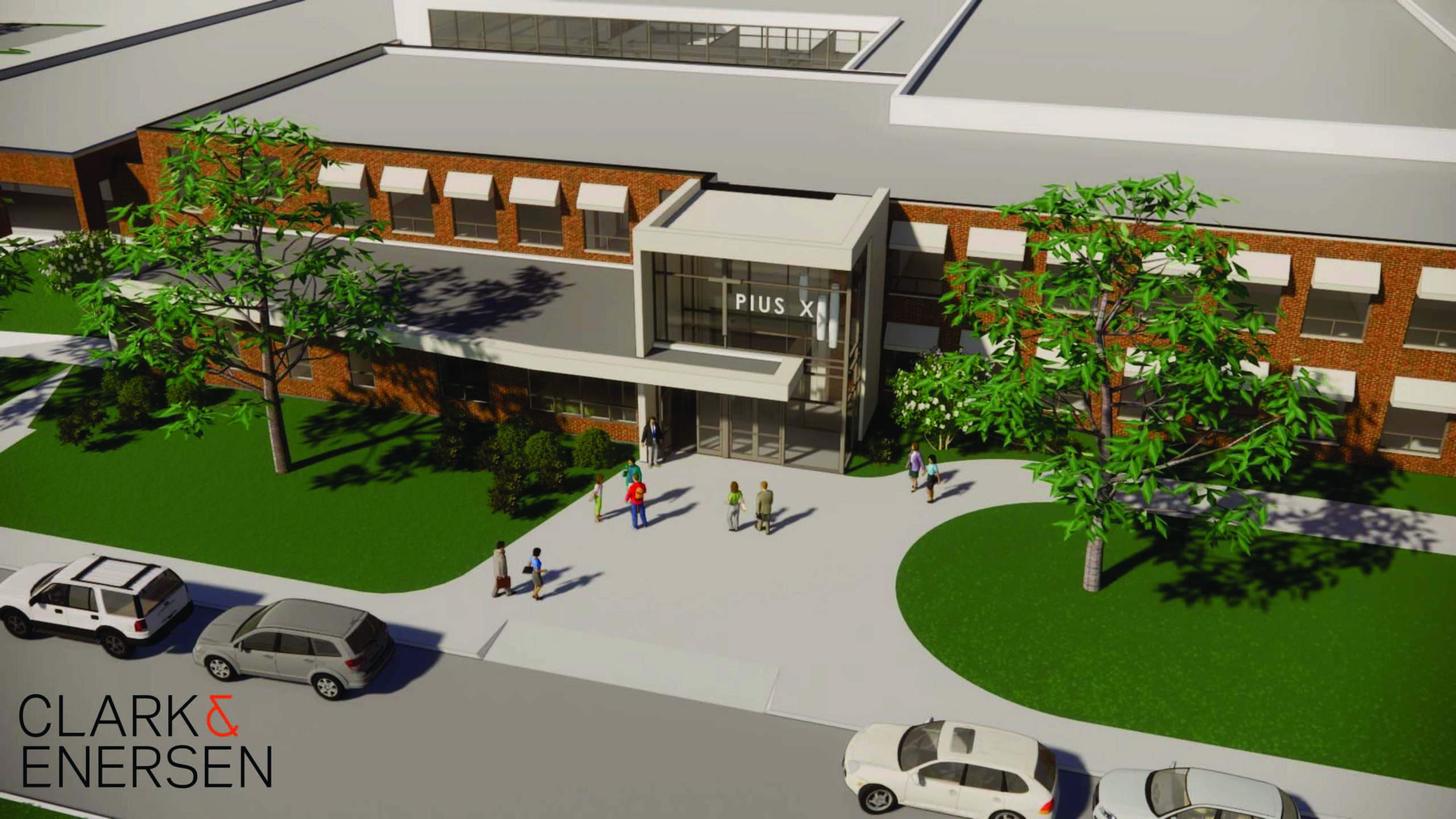 New Secure Front Entrance & Welcome Center: Project launched with $100,000 won in UBT's 'The Big Give
Pius X Foundation was thrilled to be among 10 Lincoln non-profits selected to receive $100,000 each during Union Bank & Trust's $1M philanthropic initiative, "The Big Give." Thanks to UBT's tremendous generosity and the Pius X family members and friends near and far who voted during The Big Give, the school will soon be able to build a new Front Entrance & Welcome Center.
CAO Tom Korta shared, "I'd like to say to the community and those who voted for us, thank you so much. Pius has been a part of the Lincoln community for over 65 years, so I'm just grateful for that partnership. Being able to share in the thrill with all of our students and our families…we had a lot of big smiles on the faces in the hallways."
As part of Pius X's commitment to the safety and security of our students, families, and community members who visit our school, we are grateful for the opportunity to move forward on more than a decade of planning for an expanded school entrance that will incorporate 21st century safety and security standards.
The new front entry design will enhance the experience of school visitors through a centralized "Welcome Center" that beautifully integrates with the school's existing architecture, including security glass that offers high visibility and increased safety.
Extending the front entrance to our school will provide an important improvement to enhance both security and hospitality. Currently, the building entrance is not set up to allow visitors to enter directly into the main office so they can be greeted and directed to the appropriate location by front office staff. There is also not currently enough space for the school's essential staff. The school nurse is housed in a small office in the gym, and there is not sufficient space for the administrative team and office manager to work with students and their families.
This project will allow for a much-needed expansion that will enhance the school's safety and security, while also creating a welcoming center for students' families and community members visiting the school.
The 3,000 sq. ft. project will expand the front entry and renovate existing spaces, to:
Create a Student Interaction area that is separated from Guest Interaction, so guests can be welcomed and screened before they enter areas of the school where students are
Expand the Front Office, Administrative Office, and Nurse Office/Exam Room areas of the school
Establish multi-door access areas, similar to designs used by schools recently built in Lincoln, based on recommendations from school security experts
Building off UBT's $100,000 gift to launch the project, funds raised during upcoming BOLT and Give to Lincoln Day events will join with other fundraising efforts for the estimated $1.3M project. Construction for the new safe and secure front entrance for the school is planned to begin summer 2023, and should open in winter 2024.