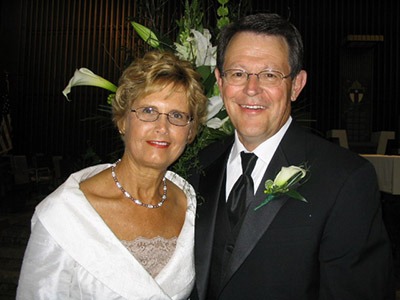 In appreciation of Keith & Pat May who have been great ambassadors for Pius X High School and who have made a significant contribution to the enhancement of Pius X by sharing their gifts of time, talent and treasure.
Keith and Pat are both 1966 graduates of Pius X High School. Keith has been a Pius X board member since 1982 and has served as parish chairperson of the "Continuing the Commitment" campaign. Keith and Pat were board chairs of the "Embrace the Future" campaign and have both served on BOLT throughout the years.
Beyond the Pius community, Keith and Pat served as chair couple of the 1999 Diocesan "Crossing the Threshold" campaign, and are both members of the Catholic business organization, Legatus. Keith is also a long time member of the Lincoln Serra Club and past member of the Diocesan Foundation Board.