This award is presented in appreciation of John and Joann Grosserode who have been great ambassadors for Pius X High School and have made a significant contribution to the enhancement of Pius X by sharing their gifts of time, talent and treasure.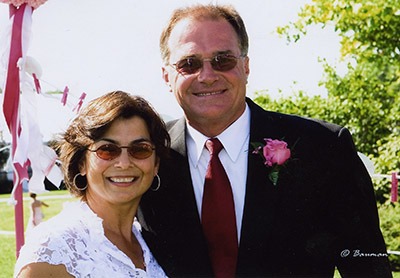 John and Joann are both 1978 graduates of Pius X High School. John is serving as vice president of the Booster Club in 2008 and Joann is also a very active board member who recently established the student physical program that brought in more than 150 students in its first year. John and Joann were both instrumental during the refurbishment of the track, stadium and Aldrich Field in 2006. They coordinated the building of the press and sky boxes, and funded the project with memorial donations that were given in memory of their son, Matt, a 2000 graduate of Pius X High School.
Beyond the Pius X community, John and Joann are very active in St. Joseph's parish, where John regularly serves as an usher. They started the parish's scrip program and are chairs of the grief ministry program. Outside of the parish, John volunteers with the YMCA youth basketball program and Joann is a volunteer for the Lincoln Youth Track Club.