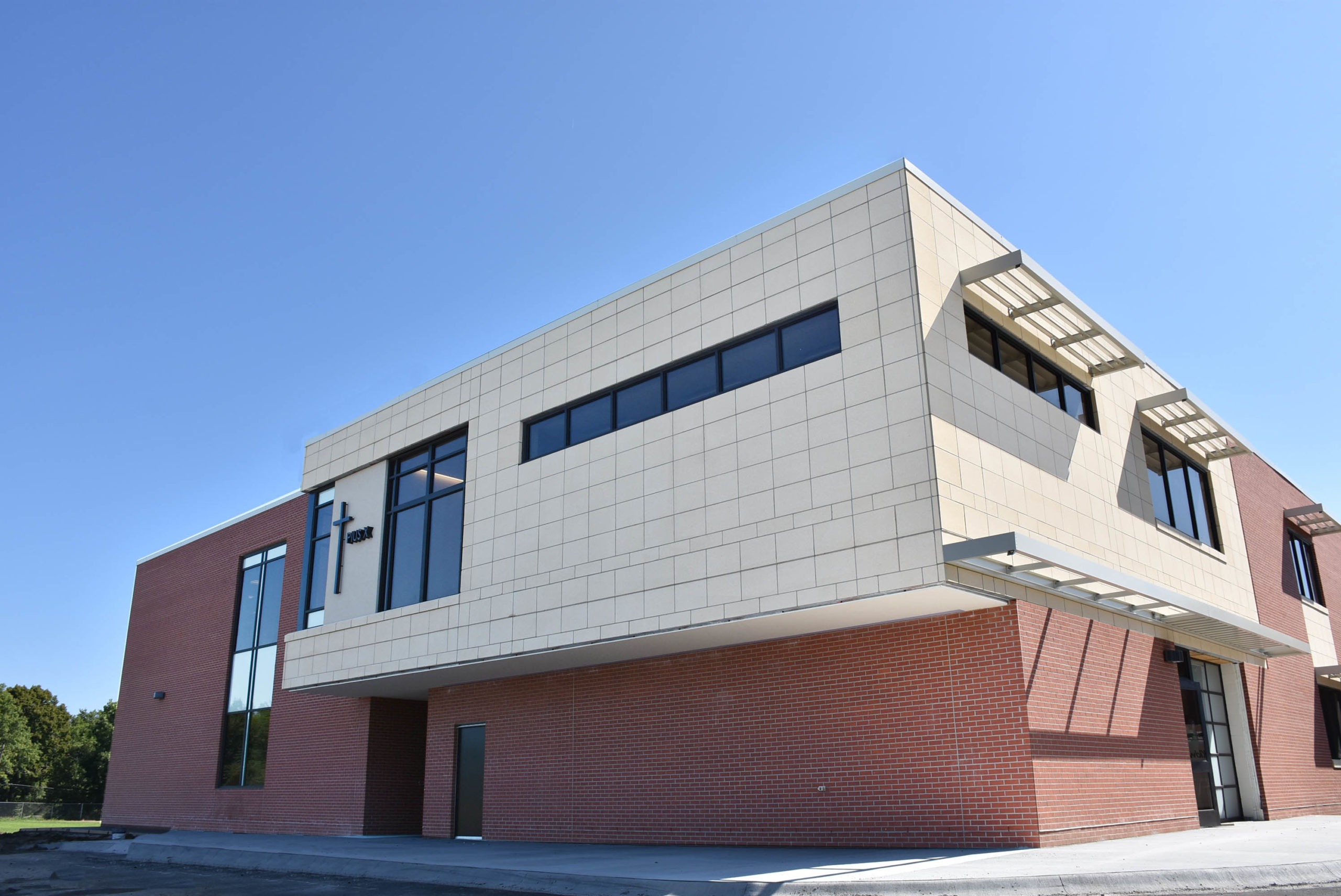 16-Classroom Addition - Opened Fall 2019
Msgr. James D. Dawson Learning Center
New addition adds
classrooms and opportunities
Lincoln Pius X High School added 16 new classroom in the Fall of 2019 s thanks to strong community support. The school and its foundation recently received $5.8 million in donations that enabled construction of the new classroom wing to begin in the spring of 2018. The classrooms were opened when school began in the fall of 2019.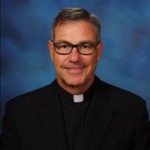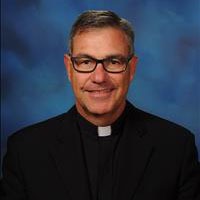 Fr. Meysenburg, the school's Chief Administrative Officer, said the additional classroom space has been a part of the school's master facility plan for almost seven years. With the significant growth in student population in the last five years, the timing of this new addition is spot on. Father Meysenburg is edified by the generosity of Pius X supporters for this project.
"Pius X is truly blessed to have such wonderful support," Fr. Meysenburg said. "The additional classrooms will allow for continued growth and the assurance that no student desiring to receive a Catholic education will be denied enrollment.
The new classroom addition extends the northwest corner of the current building. Additional parking on the east side replaced the section of current parking where the new classrooms will be built.
Enrollment has risen in recent years at Pius X, and that growth is expected to continue – a trend fueled by Lincoln's expansion, interest in high quality Catholic education, and the affordability of Pius X tuition. As the state's largest Catholic co-ed high school and the only Catholic high school serving the city of Lincoln, Pius X is prepared to address the growing demand by providing these 16 new classrooms, while continuing to offer tuition assistance for families.
"The Lincoln Catholic community has a history of supporting our school's efforts to build up the Church by forming disciples in a rigorous academic setting," Principal Tom Korta said. "We focus on preparing our students to have the heart to love and serve others along with the mind to contribute well in whatever vocation lies before them. The number of classrooms and the types of classrooms being added reflect our desire to seek ways to provide a quality education to as many students as we can."
Benefits of the Classroom Expansion
As the new classrooms are built, existing classroom spaces will be renovated and re-purposed. Adding new classrooms and updating the Computer Aided Drafting and Design (CADD), Industrial Arts, Fine Arts and Consumer Science classrooms with contemporary learning spaces will help to inspire students for the next generation.
The additional classrooms will benefit teachers by allowing for a more continuous use of learning space and reducing the need to share classrooms with other teachers. In turn, this addition will allow for more teacher and student interaction, enhancing learning opportunities.
Two classrooms in the new addition will be named after the first industrial arts teacher and former superintendent at Pius X High School, Msgr. Ivan Vap.
CADD and Industrial Arts
Having the CADD lab and industrial arts shop/classroom near each other will provide a greater opportunity for students.  This will also make the present CADD computer lab more available for other classes.
Ensemble Classroom
and Practice Area
An ensemble room allows for a dedicated space for small group instruction and rehearsal for band and vocal students. Musical groups will no longer need to seek out hallways or other makeshift spaces for rehearsal. 
Family & Consumer Science
Replacement of the current location will include four kitchen work stations, modern appliances, necessary work space, improved lighting and ventilation, and adequate storage. The combined spaces will increase student engagement and hands-on learning.
Art
Relocation of the Art area will create two additional classrooms in its current location and provide a modern, state-of-the-art, creative space with a designated room for the kiln, work area, and storage room.
Conference Room/Classroom
A new 400 sq. ft. space will accommodate the needs of groups for conferences, staff meetings, small group projects, and study/class preparation, along with Bible studies and spiritual direction.
Teacher Workroom
When displaced from classrooms, teachers lack a convenient, usable space to compose lesson plans, make copies, collaborate with colleagues, and execute other duties.  This workroom will help our teachers work more effectively and efficiently.
New Addition,
New Opportunities