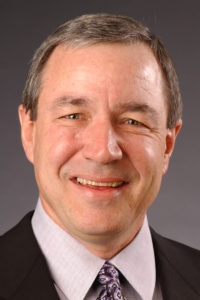 This award is presented in appreciation of Dale M. Jensen who has been a great ambassador for Pius X High School and has made a significant contribution to the enhancement of Pius X by sharing his gifts of time, talent and treasure.
Dale is a 1968 graduate of Pius X High School where he participated in football, basketball and track. He also had lead roles in the two musicals "Lil' Abner" and "Bye Bye Birdie." Dale was a founding Board member of the Pius X Foundation. As general co-chair of the Continuing the Commitment campaign in 1988, he helped enhance the Foundation's endowment fund. Dale's lead gift in the Embrace the Future campaign in 1993 ensured its success.
Dale began his career as the youngest vice president of The National Bank of Commerce at the age of 23. After only three years, he co-founded Information Technology, a computer software and solutions provider for banks and savings institutions. Revolutionizing the banking industry at a time when rarely anyone could afford a computer, his software and systems are now utilized in one in four banks across the country. He sold Information Technology in 1996, retiring from his 20-year role as executive vice president to pursue other opportunities.
He and his wife, Vicki, live in Paradise Valley, Arizona.