This award is presented in appreciation of Tom & Rhonda Peed who have been tireless ambassadors for Pius X High School and Catholic schools throughout the Diocese of Lincoln. They serve as an exemplary example of leadership and service to their family, friends, community and country.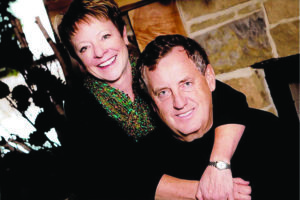 "Without schools, you don't have a church." That philosophy serves as the foundation for the work Tom and Rhonda Peed have contributed toward keeping Catholic schools affordable to all. It's a philosophy that was instilled in the Peeds by the late Bishop Glennon Flavin, who helped them understand how vibrant, affordable Catholic Schools are essential not only for the good of families and parishes, but also for the formation of vocations to the priesthood and consecrated religious life.
Born and raised in the Fort Dodge, Iowa area, Tom and Rhonda were married in 1977 and in 1978, founded Sandhills Publishing Company in an old blacksmith shop in Webster City, Iowa. The company's rapid growth led them to relocate to Lincoln, Nebraska, in 1985. From the company's early days, Tom and Rhonda understood the gifts they were given came from God and strived to live as stewards of those gifts by sharing their time, talent, and treasure.
As members of St. Joseph's Parish in Lincoln, Tom and Rhonda have been active in their local parish and school since moving to the city. They have three sons, Shawn, Shane, and Zachary, who graduated from St. Joseph Catholic School and Pius X High School.
Tom and Rhonda have been long-time supporters of Pius X High School and Catholic schools throughout the diocese, contributing time, talent, and treasure through building construction, matching grant programs, teacher pay enhancements, and other funding to help ensure Catholic schools don't simply become private schools that only the wealthy can afford. The Peeds have supported Pius X in other ways, including an annual sponsorship of BOLT, hosting the annual Fund For Pius X phone-a-thon, sponsoring Post Prom, and, indirectly, by employing many Pius X graduates and parents of Pius X students. The Diocesan Education Technology Initiative, which the Peeds began in 1996, provides standardized, current technology to diocesan schools and institutions along with ongoing support and training for teachers and staff. In September of 2013, they established two funds with Nebraska Wesleyan University to assist Pius X families with financial aid to help pay for a portion of their college education.
For Tom and Rhonda, helping the Diocese of Lincoln maintain the tradition of affordable Catholic education and being actively involved in helping others to give remains at the forefront of their stewardship and expression of their Catholic faith.