This award is presented in appreciation of Monsignor Ivan Vap who has been a great ambassador for Pius X High School and has made a significant contribution to the enhancement of Pius X by sharing his gifts of time, talent and treasure.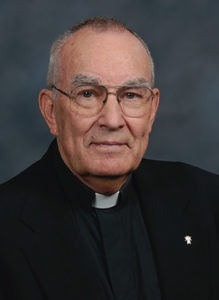 Msgr. Vap was born and raised in Hastings, Neb. After graduating From Hastings St. Cecelia in 1964, he attended Prep Seminary in St. Louis, Mo. for three years and then completed his final five years at the major seminary in St. Paul, Minn.
He was ordained by Bishop Kucera at St. Cecilia Church on May 27, 1954 and assigned as assistant in Fairbury, Neb. After a year and a half in Fairbury, he was assigned to the first faculty at Pius X. To prepare for his assignment at Pius X, he attended the University of Nebraska to obtain an endorsement in Industrial Arts and began teaching when Pius X opened its doors on October 1, 1956.
In 1963 Msgr. Vap helped in developing Bishop Neumann High School in Wahoo, Neb. In June of 1964 he was assigned as Superintendent of Pius X. In the following years the stadium at Aldrich Field was built, as well as added classrooms and the learning and performing arts center (L/PAC).
He left Pius X when he was assigned to Shelby, Neb. in 1981. Afterward he served in Hastings, Lincoln and Geneva and retired in 2004.