This award is presented in appreciation of Joe & Agnes Hanigan who have been tireless ambassadors for Pius X High School and Catholic schools throughout the Diocese of Lincoln. They serve as an exemplary example of leadership and service to their family, friends, community and country.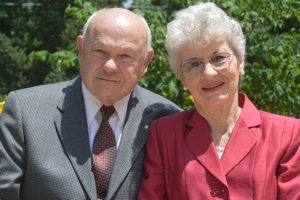 St. Therese of Lisieux, wrote that "To love is to give everything and to give oneself." The Little Flower of Jesus aptly describes the spirit with which Joe and Agnes Hanigan have approached their 55 years as servants in the Diocese of Lincoln and supporters of Pius X High School. Their selfless work has been a reflection of the value they place on the importance and transformational power of Catholic education.
Agnes (Zimmer) Hanigan is a native of Munich, North Dakota. Joe Hanigan was born in Spalding, Nebraska, and raised in Portland, Oregon. The couple married in North Dakota in 1960 and began their married life in Lincoln, Nebraska, raising eight children who would all graduate from Pius X High School: Richard '80 (Linda) Hanigan, Mary '81 (Peter and Lori) Morin, Joan '83 (Matt) Tasler, Betty '84 (Stefano) Costantini, Ann '87 (Mike) Kotopka, Jean '88 (Peter) Timmerman, Kristie '91 (Leland) Schroll and Kerry '91 (Glenn) Benes. Joe and Agnes have forty-six grandchildren and a growing number of great-grandchildren. Soon, more than twenty grandchildren will continue a growing family tree of Pius X graduates rooted in Agnes and Joe's devotion to the Catholic school community.
Joe created Midland Medical and AAA Rents, both successful businesses, and would develop property for State Farm Insurance later in his career. Joe and Agnes have been active leaders in numerous parish organizations over the years. Agnes currently serves on the Pink Sister's Executive Board, and volunteers in the St. Teresa Thrift Shop. Joe has been a member of the Serra Club for 53 years. His business acumen was sought by many diocesan boards, including Catholic Social Services, Madonna Professional Care Center, the Bishop's Lay Committee for Vocations, and St. Thomas Aquinas Newman Center. Joe facilitated a number of financial stewardship drives including the fund to build the first addition to St. Joseph School and the fund to build a new convent for the Teaching Sisters of Christ the King.
The Hanigans and their peers helped lay a foundation for much of the current growth and development evident in the financial support system existing at Pius X. They helped reorganize and develop financial stability for the Athletic Booster Club rooted in the school's origins in the 1950s. Joe and Agnes were also instrumental in the development of the annual BOLT dinner and the fundraising drives that produced the school library and locker rooms. The Hanigans' devotion and stewardship to the Catholic Diocese of Lincoln and Pius X High School ensure a legacy of relationships and fiscal stability that will continue to perpetuate Catholic education for future generations.