This award is presented in appreciation of Monsignor Liam Barr who has been a tireless ambassador for Pius X High School and serves as an example of leadership and service to his family, friends, community and country.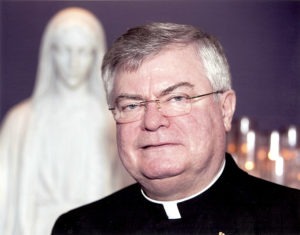 Monsignor Liam Barr was born and raised in Ballina, County Mayo, Ireland. He first attended the seminary at St. Patrick's College in Maynooth, Ireland. He left Ireland and attended the Pontifical Irish College in Rome, where he earned Bachelor's Degrees in both Theology and Philosophy. During this time, he was also able to continue his love of theatre by acting in and directing several plays at the Pontifical Irish College.
Monsignor thereafter moved to the United States and continued his education at the Pontifical College Josephinum in Columbus, Ohio, where he earned his Masters Degree in Theology.
In 1974, Monsignor Barr was ordained to the priesthood at St. George's Cathedral in London, England. In 2007, he was honored with the title of Monsignor. Over the past 39 years, he has served in many capacities. He was the superintendent of the Lourdes Catholic Schools in Nebraska City from 1977 through 1981 and then served as the Superintendent of Pius X High School in Lincoln for 13 years (1981-1994). While acting as Superintendent of Pius X, Monsignor also taught each year and developed a curriculum for seniors in social justice.
Monsignor Barr has served as Pastor of numerous parishes throughout the Diocese of Lincoln during his priesthood. He was appointed Pastor of St. Joseph Church in 2003, where he presently serves. Additionally, he serves as Director of Stewardship and Development for the Diocese of Lincoln.
Monsignor Barr has been involved in leading capital campaign and endowment drives within the Diocese. Over a period of 30 years, these efforts have raised in excess of $40 million. He also worked closely with Bishop Bruskewitz in establishing the Catholic Foundation of the Diocese of Lincoln, and then served as its first Executive Director. He also served as the Executive Director of the Progress for People, LLC, a corporation established for the purpose of building low income housing for families with children, called Paul VI Heights. In total, 28 three-bedroom units were built and subsequently dedicated on November 30, 1997. He also served as Director of Development at the Ava Maria School of Law in Ann Arbor, Mich., from 2000 through 2003.