This award is presented in appreciation of Monsignor James D. Dawson, a tireless ambassador for Pius X High School and Catholic schools throughout the Diocese of Lincoln. He serves as an excellent example of leadership, stewardship and service to family, friends, community and country.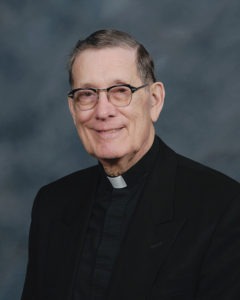 Monsignor Dawson was born near McCool, Nebraska, in 1929 to Harold and Sarah Dawson. He was one of five children in the Dawson family and graduated from Fairmont High School in 1946. He had the opportunity to become a teacher or a banker but chose instead to become a priest. For two years he studied at Saint Benedict College in Atchison, Kansas, and then six years at the St. Paul Seminary in St. Paul, Minnesota, where he was the youngest in an ordination class of 70. He received degrees in philosophy and theology from St. Paul Seminary and became ordained as a priest on June 9, 1954 in Saint Joseph Church in York, Nebraska.
Monsignor Dawson's first assignments as a priest were to Holy Family parish in Lincoln followed by service to Saint Cecilia in Hastings and Saint Teresa in Lincoln. He later earned his degree in educational administration at Catholic University of America in Washington, D.C. and in 1961 started his long-running role as Diocesan Superintendent of Catholic Schools in the Lincoln Diocese. He saw the addition of many new schools in the diocese during his 29 year tenure. The founding of Villa Marie School, a boarding school for handicapped children, remains an accomplishment that Monsignor Dawson holds close to his heart. Monsignor Dawson served as principal of Pius X High School in 1959 for a period of two years. In 1961 he was named Diocesan Superintendent of Catholic Schools. In 1964, concurrent with his Diocesan duties, Monsignor Dawson served as Superintendent of Pius X High School for one year.
During the journey of more than 60 years in the priesthood, his service has also included roles as Vicar General of the Lincoln Diocese, Diocesan Consultor, Diocesan Director of the Confraternity of Christian Doctrine, Diocesan Director of the Bureau of Information, and Board of Directors of the Diocesan Housing Ministries, Inc. Monsignor managed to somehow also find the time to travel to 45 countries, frequently as chaplain for a group.
Monsignor Dawson also served as pastor of Saint Mary Parish in Denton, as well as the parishes of Saint Mary and Cathedral of the Risen Christ in Lincoln, and Saint Michael (Cheney).
He retired in 2005 and lived at the Bonacum House, a building that Bishop Flavin appointed him to work on. Monsignor later moved to a residence at Madonna Rehabilitation Hospital, where he currently resides. It is without question that Monsignor Dawson touched the lives of many and will continue to do so. A 2004 story in the Lincoln Journal Star gave the following summation of his life: "The beautiful thing about being a priest is being able to go into the confessional, hear people's confessions and then tell people that their sins are forgiven. The sacraments and serving those in need -that's my life."