This award is presented in appreciation of Verlyn Westra, a tireless ambassador…
Verlyn Westra was born during a snowstorm, at a family farm, in Larchwood, Iowa on February 17, 1936. A doctor rode in on horseback to deliver the 4th of 6 children born to Cornelius and Ethel Westra; a loving Dutch Lutheran couple, known for their hard work and humble faithfulness.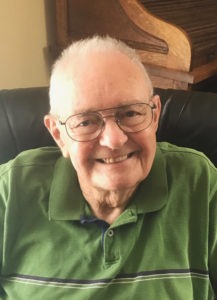 Growing up in rural Iowa, Verlyn knew the meaning of work and sacrifice. More so, because his father, Cornelius, was stricken with illness, and died when Verlyn was 6 years old, leaving his mother, Ethel, to provide and care for his family. They moved to the nearby town of Inwood, where Verlyn attended school; and later worked to help support his family.
Verlyn graduated from the University of South Dakota in Vermillion, with a degree in Business Administration. He was a member of the Naval Reserve, and worked full time. While attending USD, Verlyn met Sheila Klotz. She was "the Catholic girl" who would quickly become the love of his life. Sheila was from Howard, SD, and attending Presentation School of Nursing at McKennan Hospital in Sioux Falls. On November 23, 1960, the couple was married at Saint Agatha's Church in Howard, SD. God blessed them with 8 children; John, Dan, Koni, David, Bradley (deceased), Cara, Eric and Nicholas.
The Westra family established roots in Burlington, Iowa, and Verlyn worked in the accounting department at Murray Iron Works for 12 1/2 years. In 1974, the couple moved their young family to Lincoln, where Verlyn became Part Owner and CFO of Nebraska Boiler Company. Over the course of years to follow, Verlyn and Sheila made sacrifices to provide parochial education for their children; believing the values, religious foundation and academic excellence found in Catholic education would serve their children well for the rest of their lives. All 7 Westra children graduated from Pius X High School. Over time, Verlyn felt drawn to embrace the fullness of the Catholic faith for himself.
As a founding parishioner of Saint Joseph's Church, and with the guidance of Monsignor Holloman, Verlyn converted to Catholicism before the church building was completed. The new parish brought opportunities for involvement, and like Saint Joseph, Verlyn lived his faith with a quiet and humble strength. He served as an usher, prayed weekly at his Perpetual Adoration hour, served at Matt Talbot, volunteered for DDP, and helped whenever called upon.
An outstanding Catholic community leader, Verlyn has been blessed to share his financial success. Notable gifts include funding for Our Lady, Seat of Wisdom Library to Saint Gregory the Great Seminary, and the Saint Peter window to Saint Thomas Aquinas (Newman Center @ UNL). Most recently, Verlyn retired from the "Crossing the Threshold" Board, as well as the Catholic Social Services Board of Advisors, after 20 years of committed service.
If asked, Verlyn would say he believes in stewardship. Giving of himself in time, talent and treasure has been a way of life, and a legacy for his children and grandchildren to emulate.